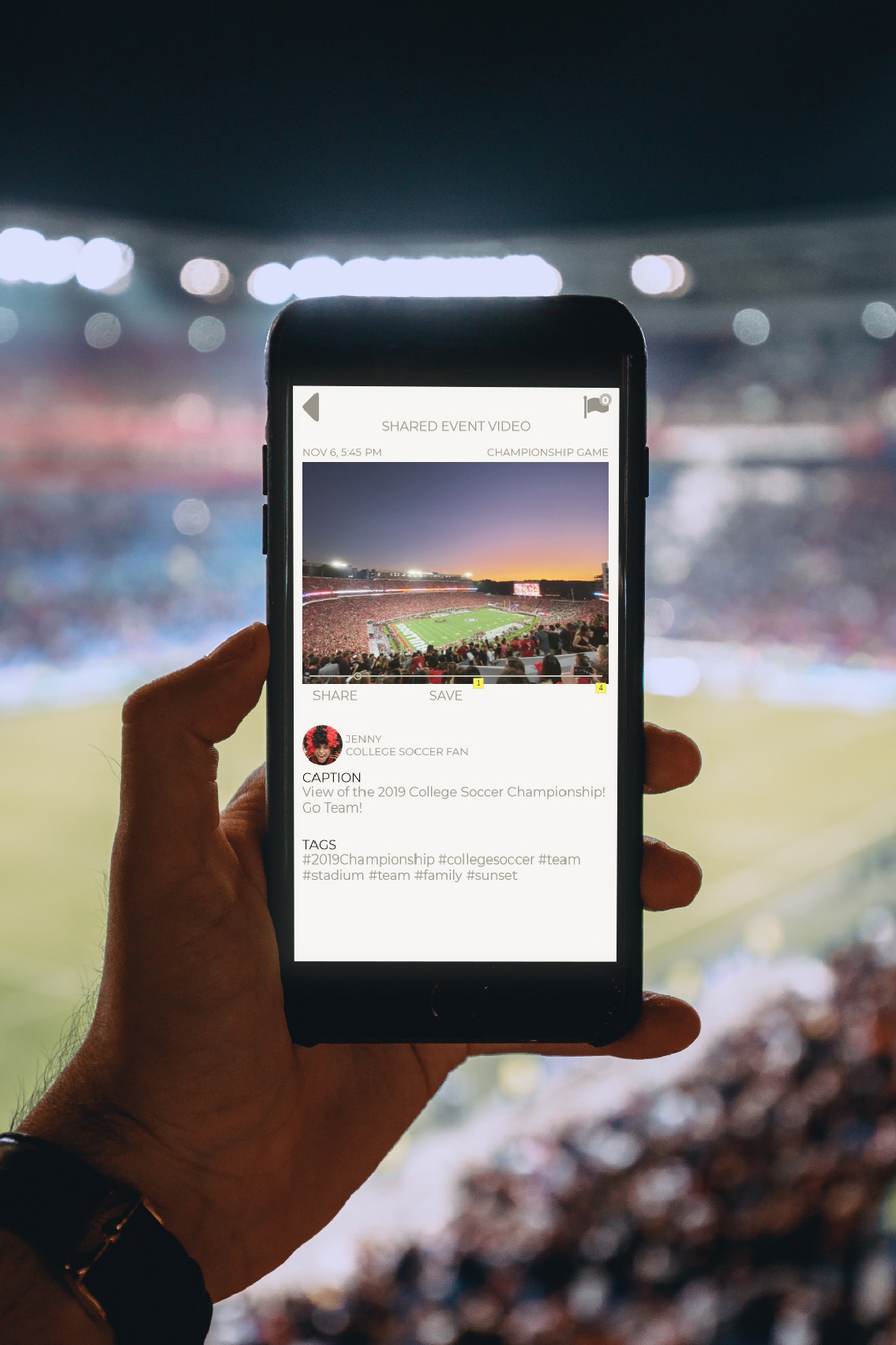 Background
Case study that explores how soccer players can use an app to help them capture critical moments, connect with others, and improve their skills.
Soccer players struggle to capture footage of themselves due to the incredibly fast paced sport where memorable moments happen very quickly and unexpectedly. Users lack the tools that allow them to easily manage and access sport and training related data and information that can significantly aid them in improving their existing skills
Objectives
Design an app that helps users capture accurate, high quality, and memorable moments that can be easily shared with others or for personal use.  The goal is to create a product that not only helps users capture critical and memorable moments but also connects users with others and helps them to improve their sport related goals.   
My Role
Research, Lead UI and UX Designer
SCOPE
Graduate coursework group assignment
​​​​​​​
COMPETITION ANALYSIS
The goal of this competition analysis is to gain an understanding of the existing competition.  By understanding what users are currently using and what was readily available on the market I could better understand the needs and wants of the users.
​​​​​​​
 I completed a review of 10 different competitors and other designs that were relevant to the product's design and capabilities.  From this analysis I was able to understand the unique way competing or relevant solutions attempt to solve different aspects of the motivating problem.
A total of 10 different competitor strengths, weaknesses, and opportunities were analyzed.  
​​​​​​​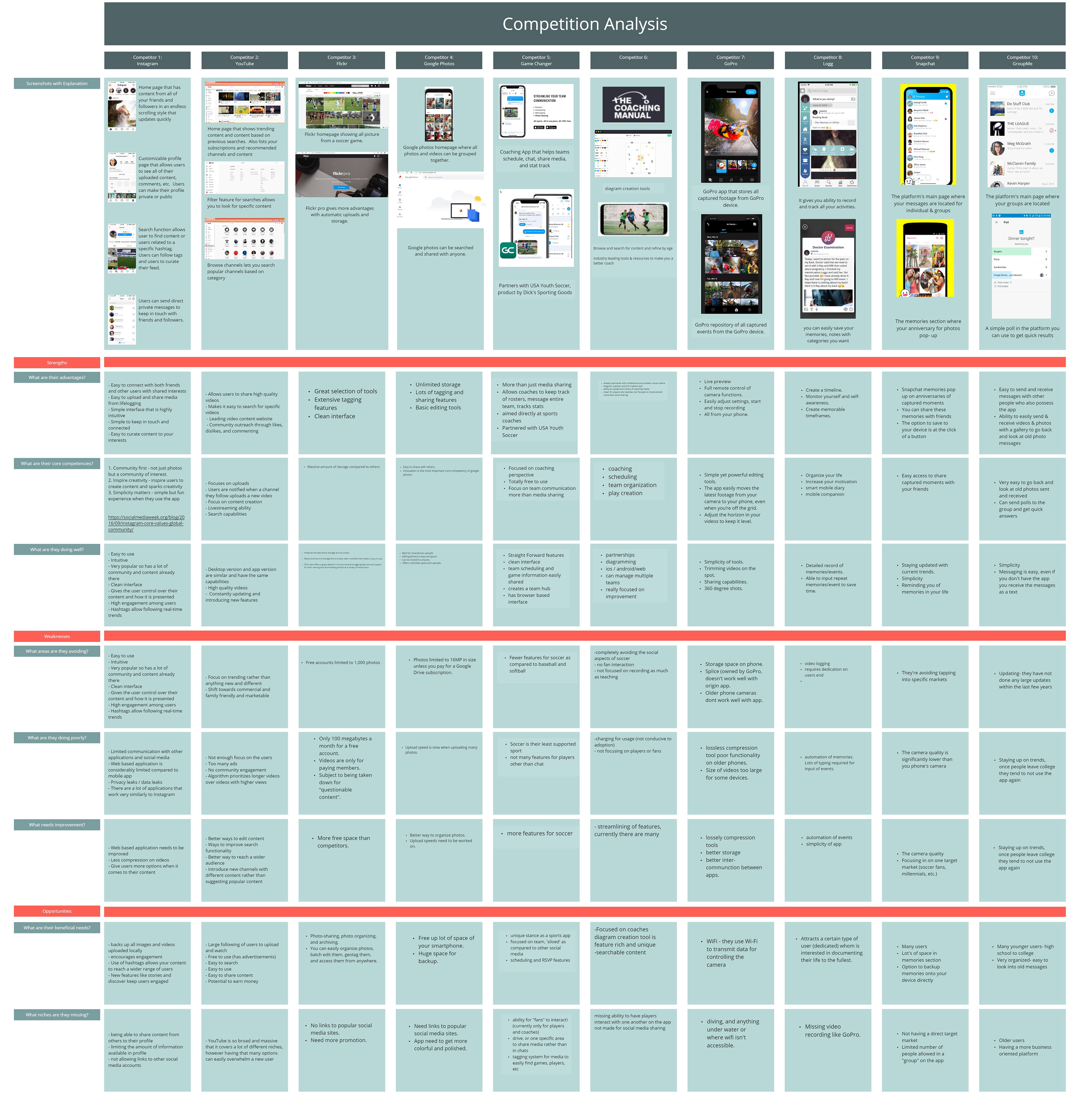 INTERVIEWS
Interviewing potential future users of the app - in this case soccer players - allows researchers to better understand the wants and needs of users.  The main goal of the interviewing processes is to understand:
1. What moments are important for the user to capture while playing or practicing soccer?
2. What technologies do they currently use to capture those moments?
3. What are difficulties they experience when trying to capture the moments?
4. What is the ultimate goal of capturing memorable moments?
A total of 10 soccer players of various backgrounds and skill levels were interviewed.  Information was extracted from the interviews and categorized.  Similarities in interviews were grouped together and insights were extracted.
Quotes were also extracted to help with the creation of personas.
Four main user goals were discovered:
1. Users interested in documenting and recording memories
2. Users actively trying to improve their skills
3. Users who play casually and wish to share their love of the sport with others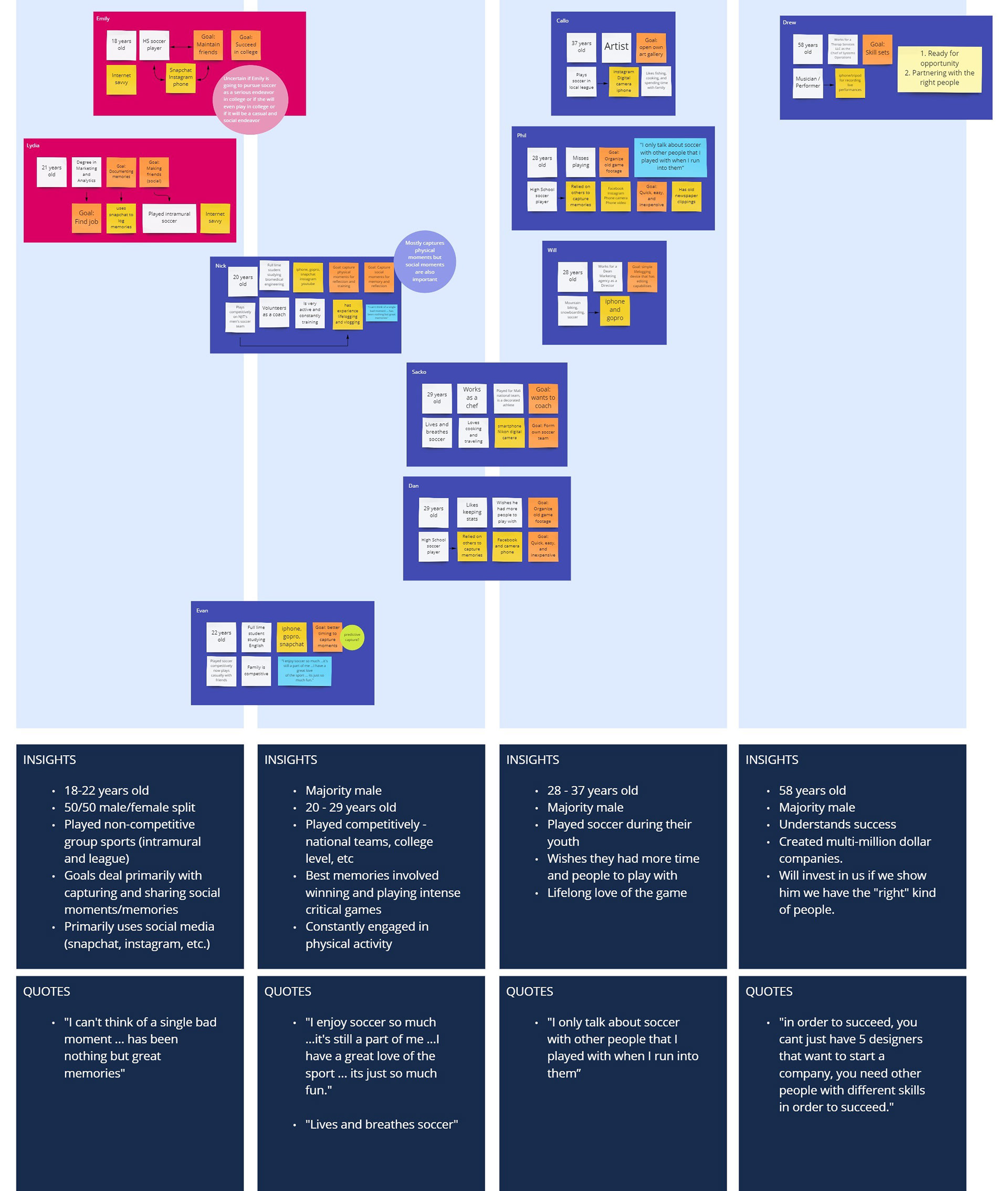 PERSONAS
A persona or user persona is essentially a representation of the app or software's ideal user base. Personas acts as a benchmark for UX design teams to work with in order to create the best user experience. Personas are fictitious profiles based on the type of people who would be the primary users of your product. Personas are crucial to the design and development of the product because they allow designers insights as to how potential users will interact with your product.
Personas were developed based on the interviews and will act as fictitious users of the app.  
Based on the insights and quotes extracted from the interviews, three personas were developed, 
each with their own goals, background, and narrative.
1. Nicole Hamm (Social User)
2. Julian Lloyd (Ambitious User)
3. Albert Francis (Generational User)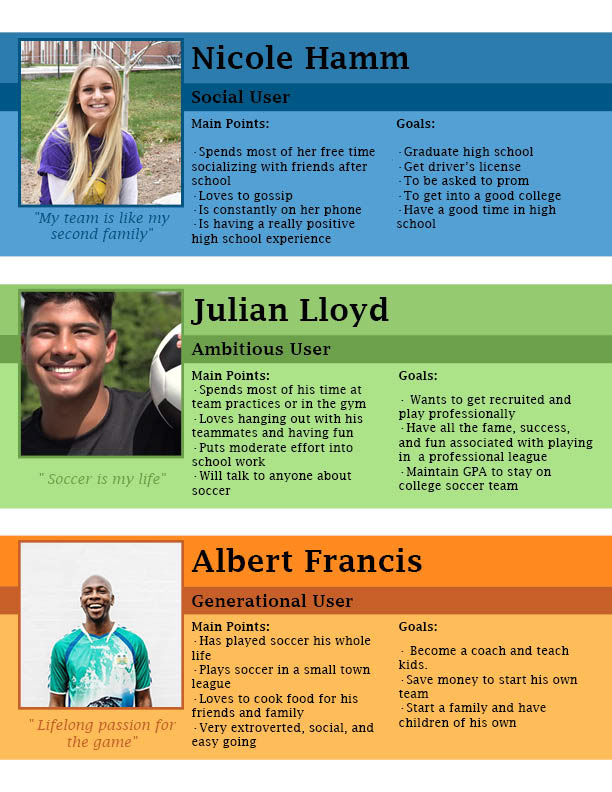 A user journey map is a visualization of the process that a person goes through in order to accomplish a goal. It's used for understanding and addressing user needs and pain points.
For each persona, situations, actions, thoughts,  and feelings were mapped and evaluated.  A claims analysis was also carried out for examining the positive and negative consequences of design features described in the scenarios of use.
There are many pain points with all three journey maps. Problems with capturing quality footage and difficulty finding and sharing footage once it has been captured are common in all three journey maps.  Based on these issues, opportunities and possible features to solve these problems were noted.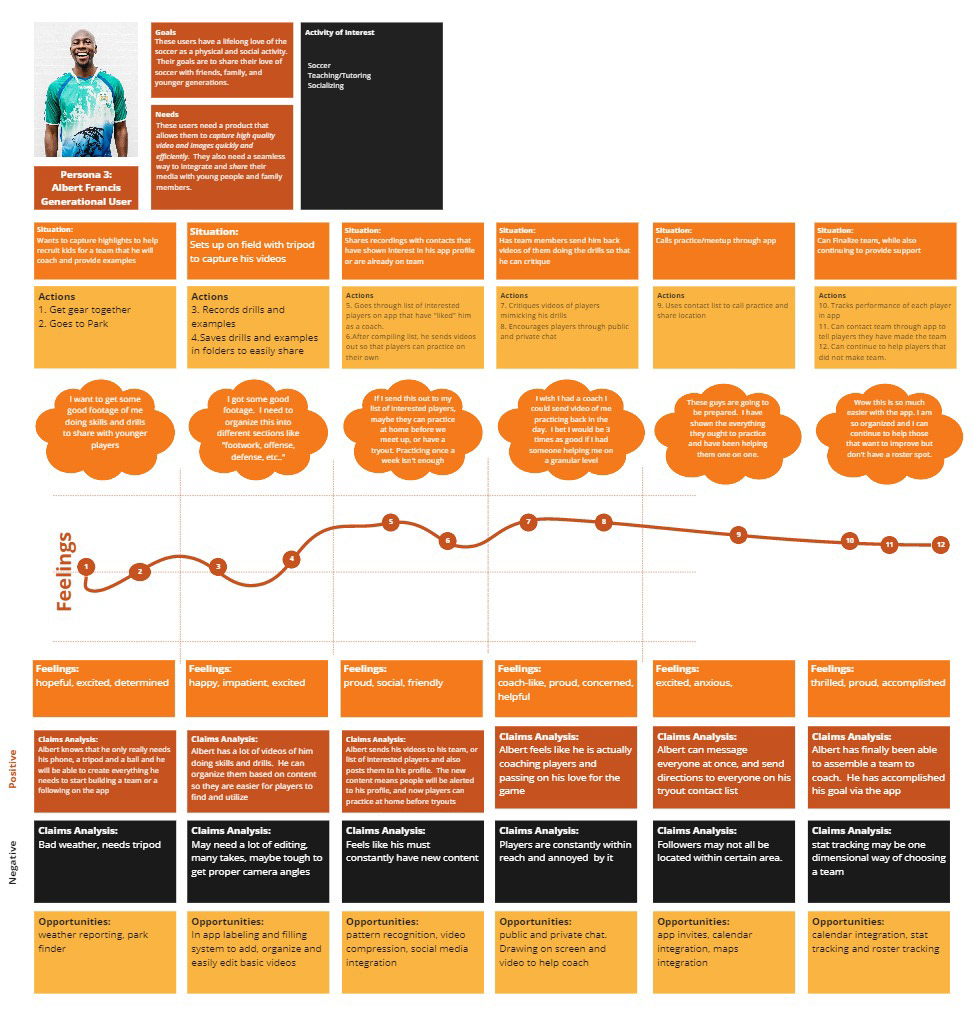 A storyboard is a tool that visually predicts a user's experience with a specific software or product. Problem scenario storyboards allow designers and marketers to foresee the potential problems that users will encounter while interacting with current software and products available.
Storyboards were drawn to show what each persona is going through during their journey map.  Two storyboards were developed:
1. Problem Scenario Storyboard - storyboard that shows the problems users experience while trying to accomplish their goals
2. Activity Scenario Storyboard - storyboard that shows the proposed solutions to problems explored in the problem scenario storyboard.
Based on the journey map, frames of the storyboard were drawn onto index cards and scanned for easy management.  
Laying out the journey map in this way allows for a deeper understanding of how exactly users are interacting with the product.  By using a problem scenario storyboard, designers can easily identify and address problems by creating an activity scenario storyboard.
The activity scenario storyboard went through multiple rounds of iterations to ensure it is accurate and reflective.  It will guide the development of the key path scenario and the prototype.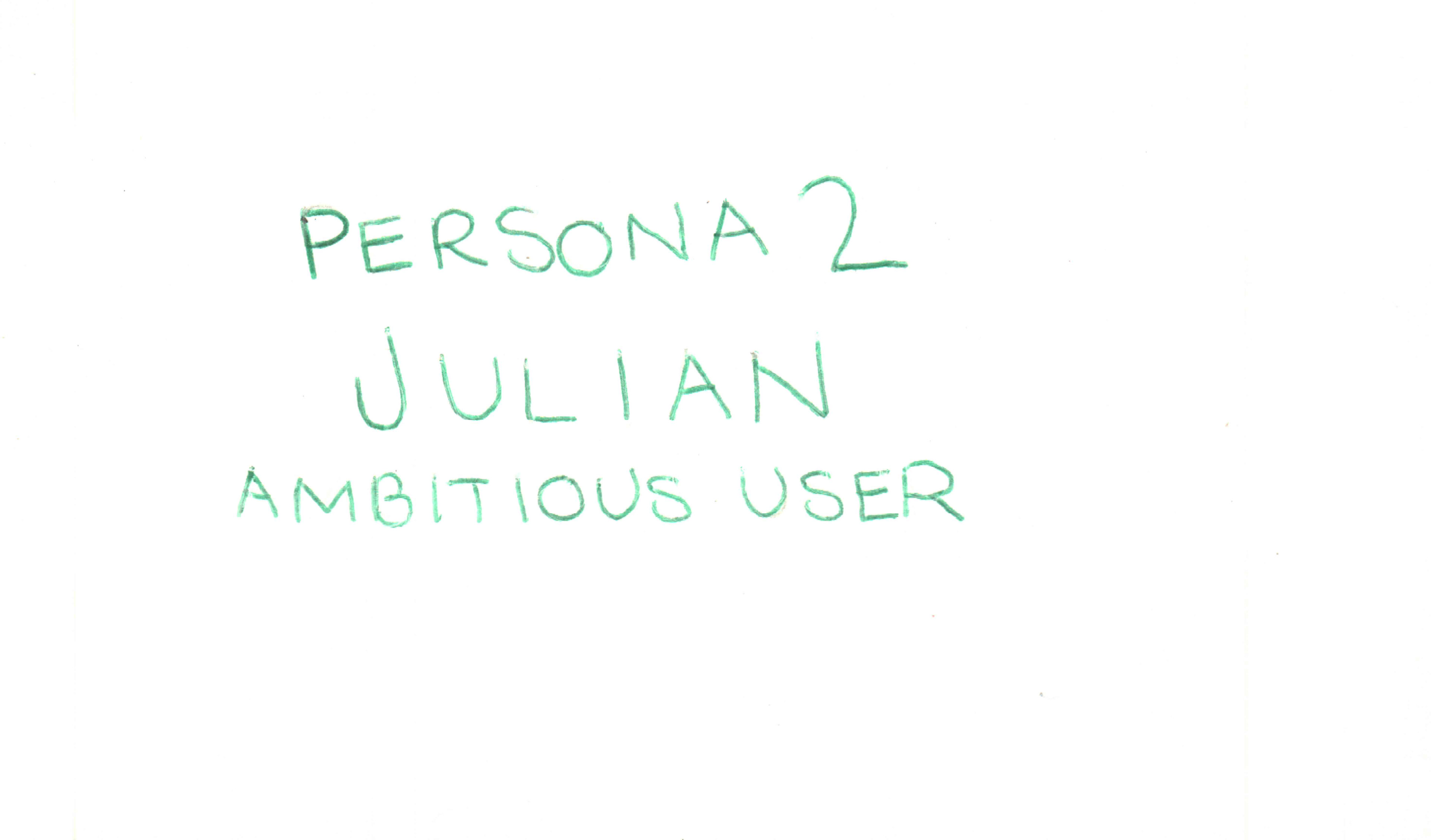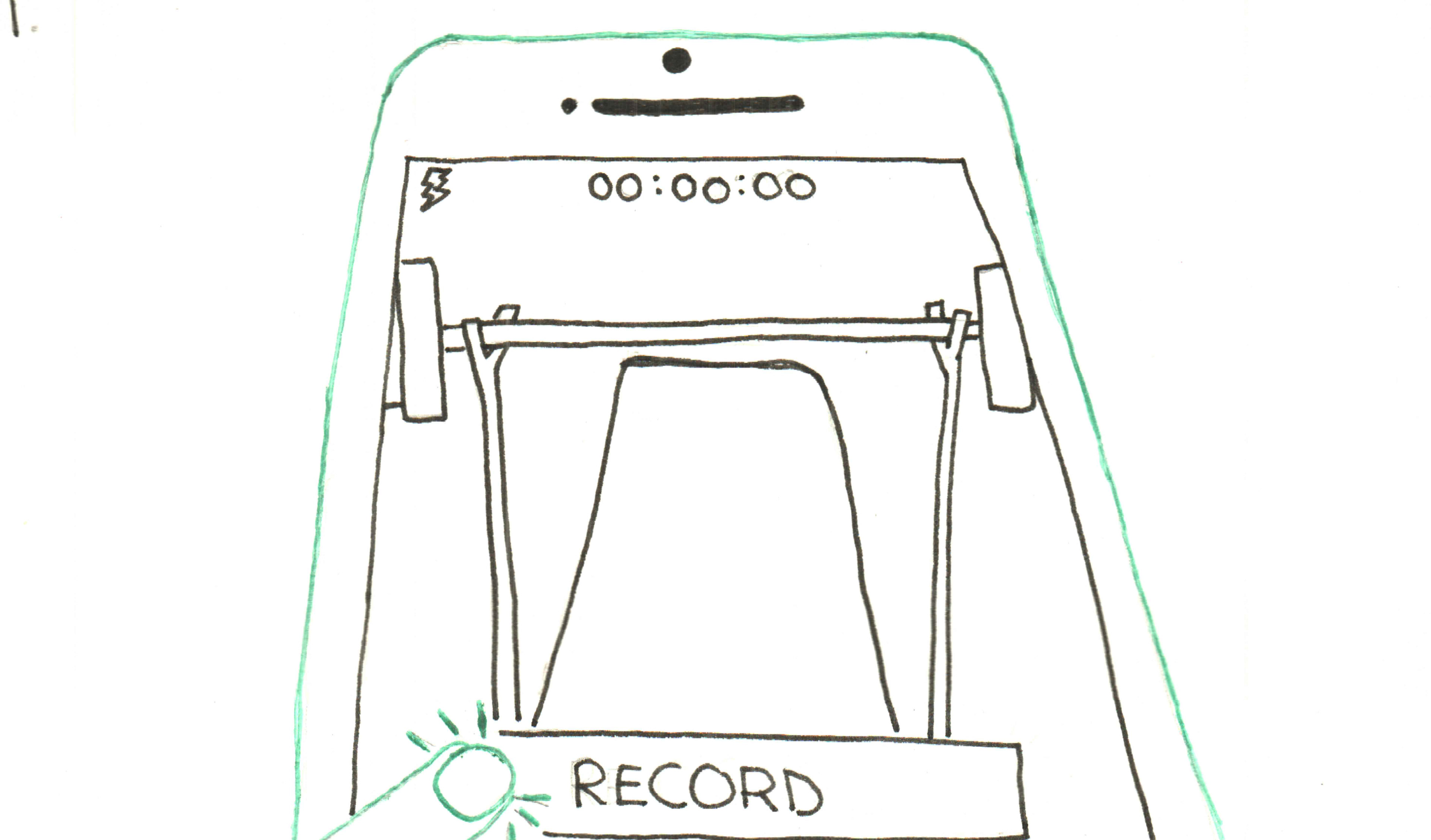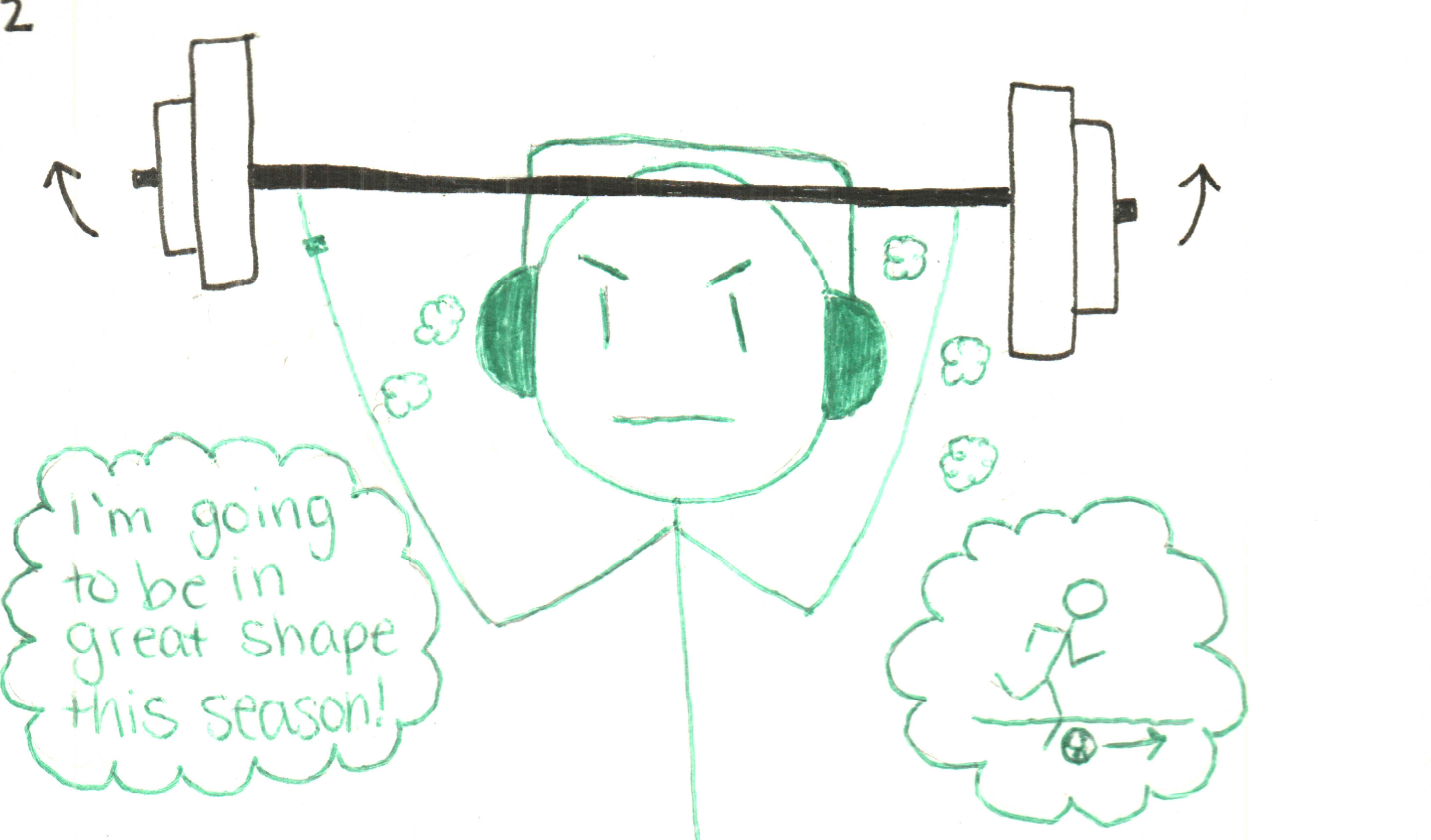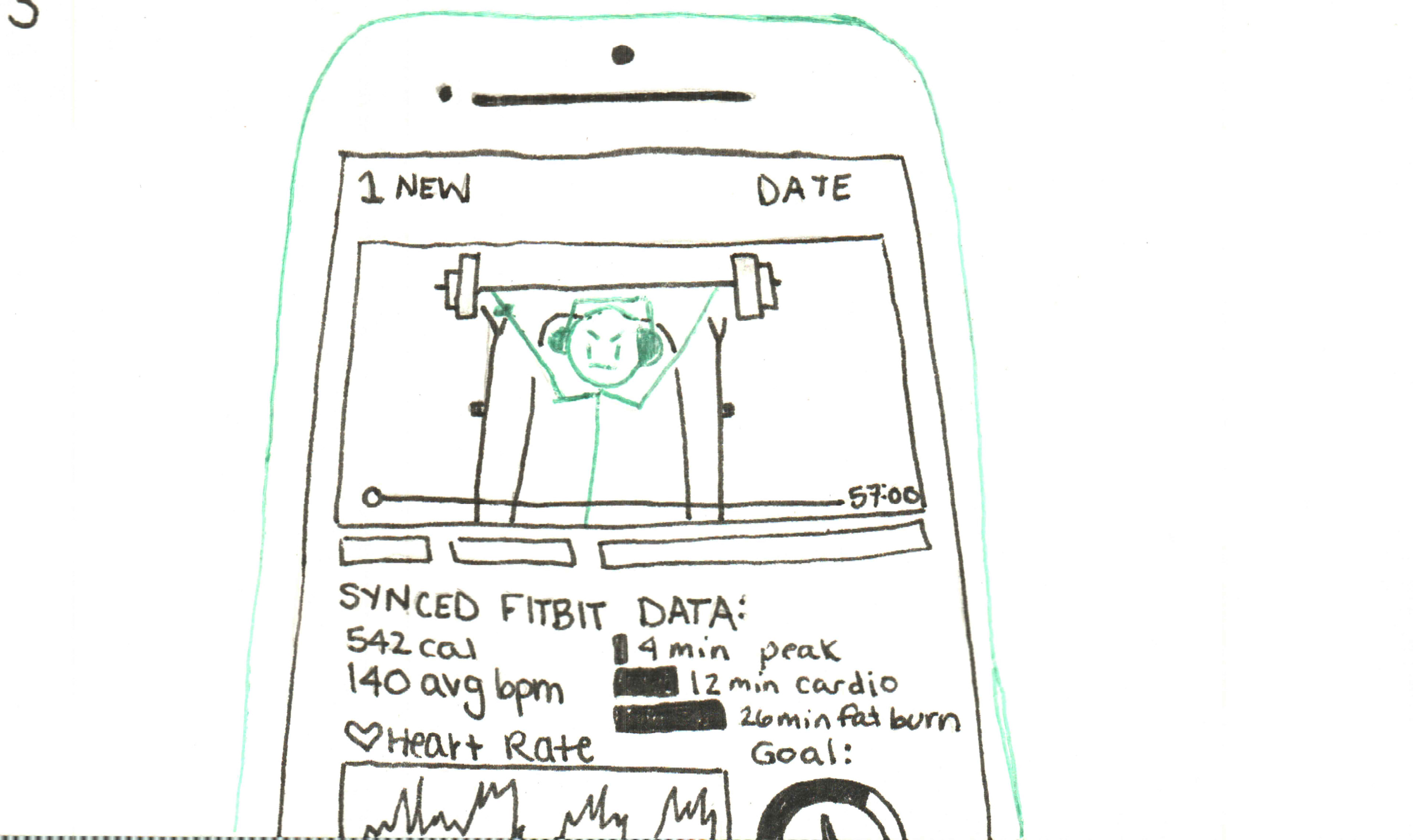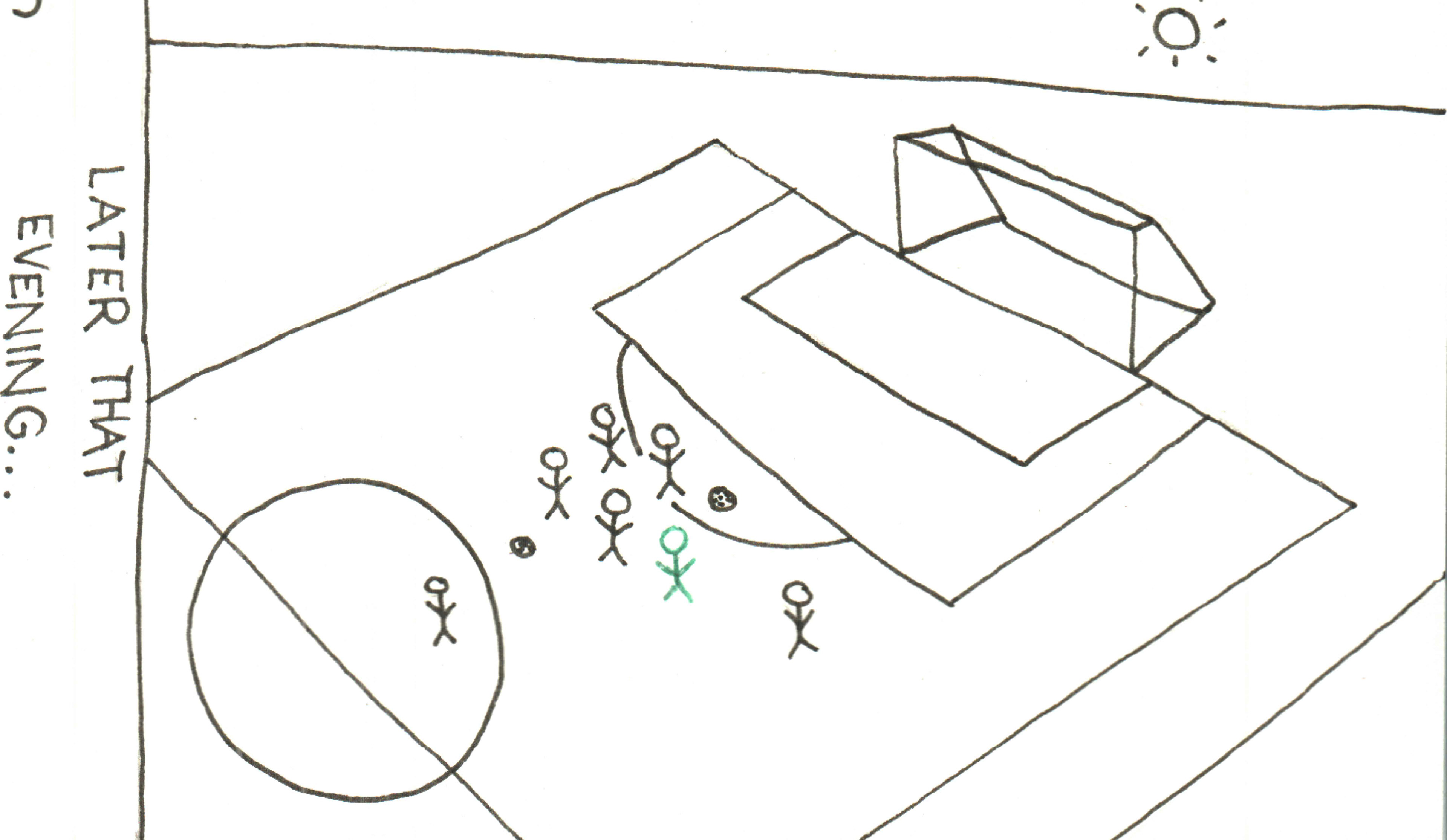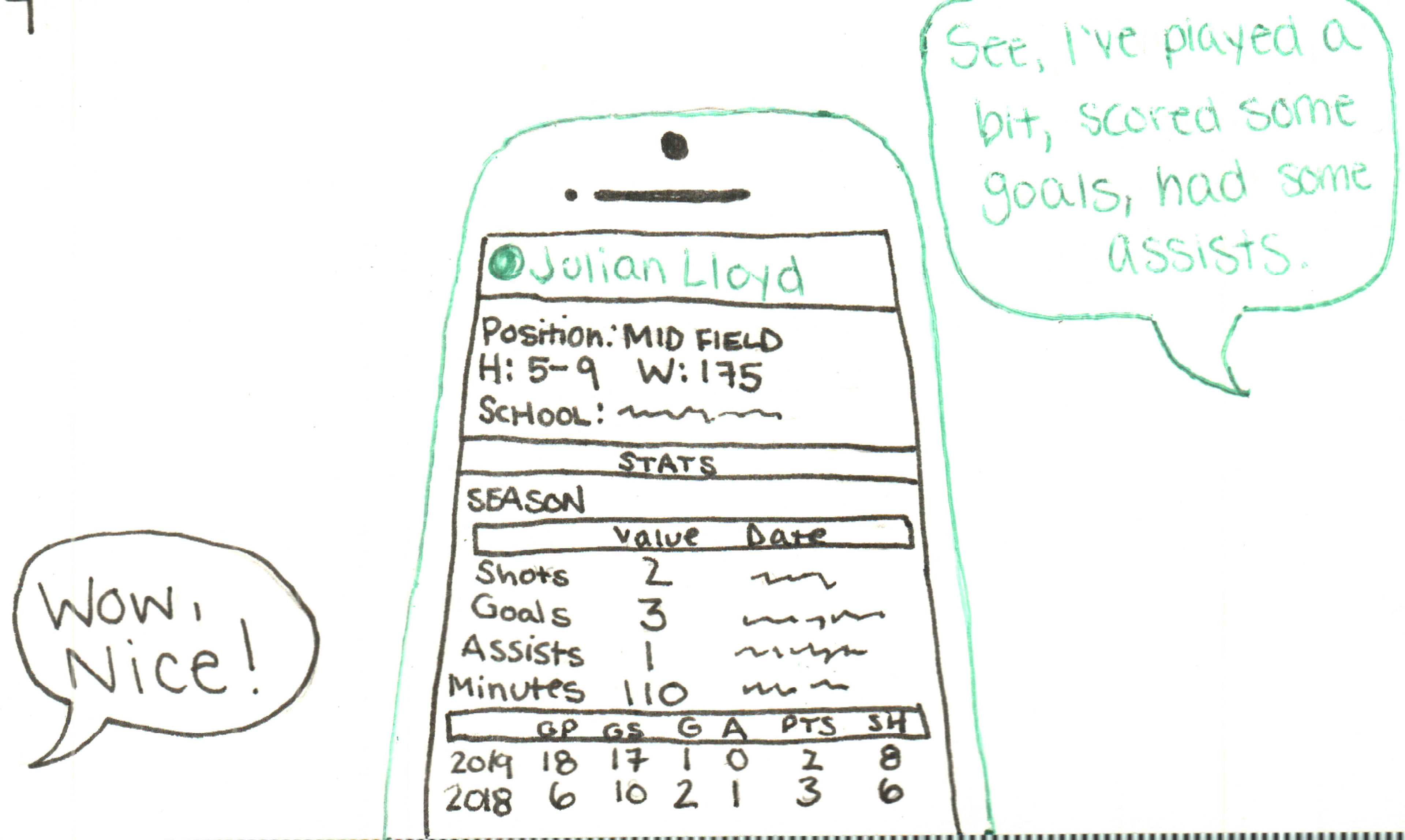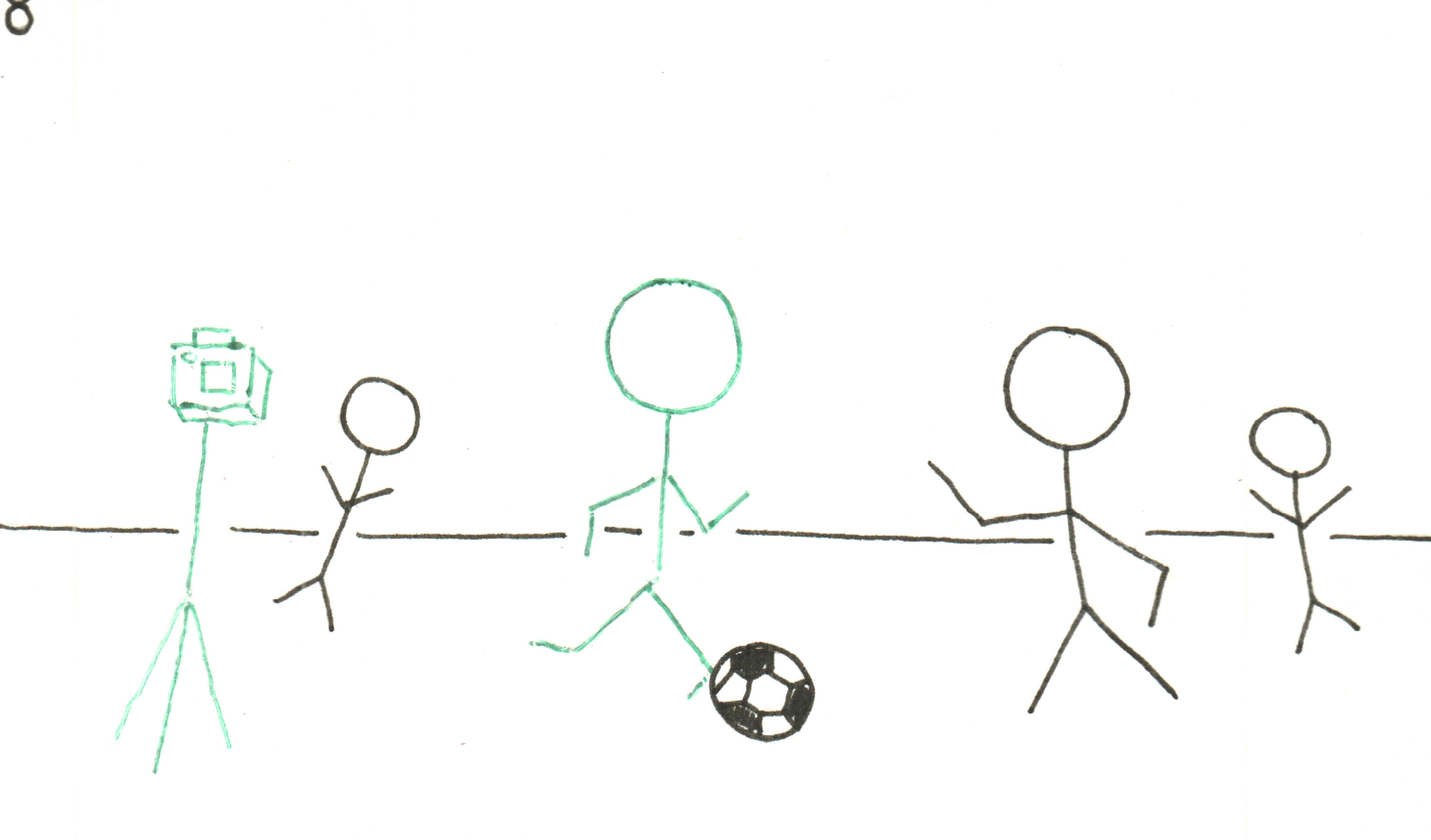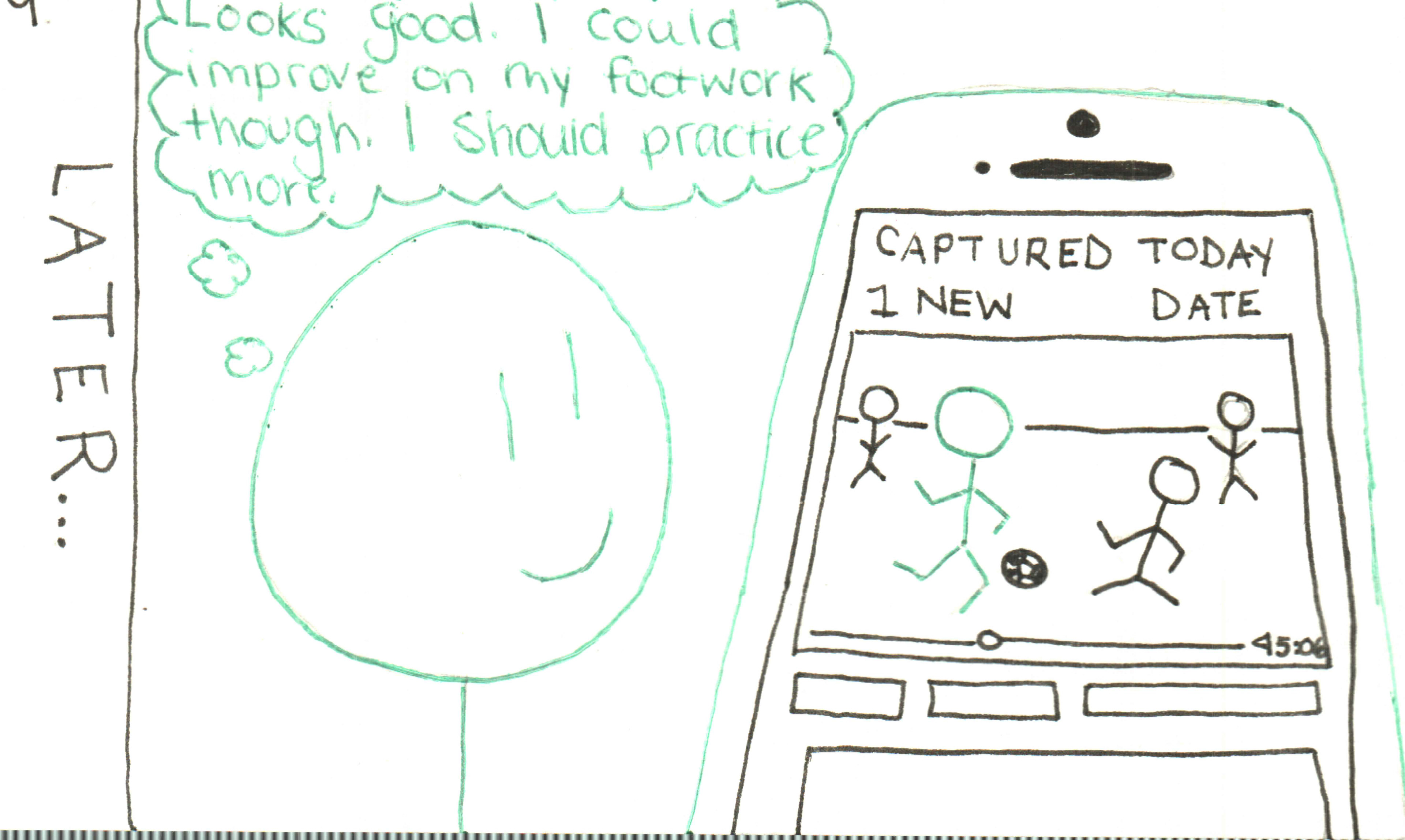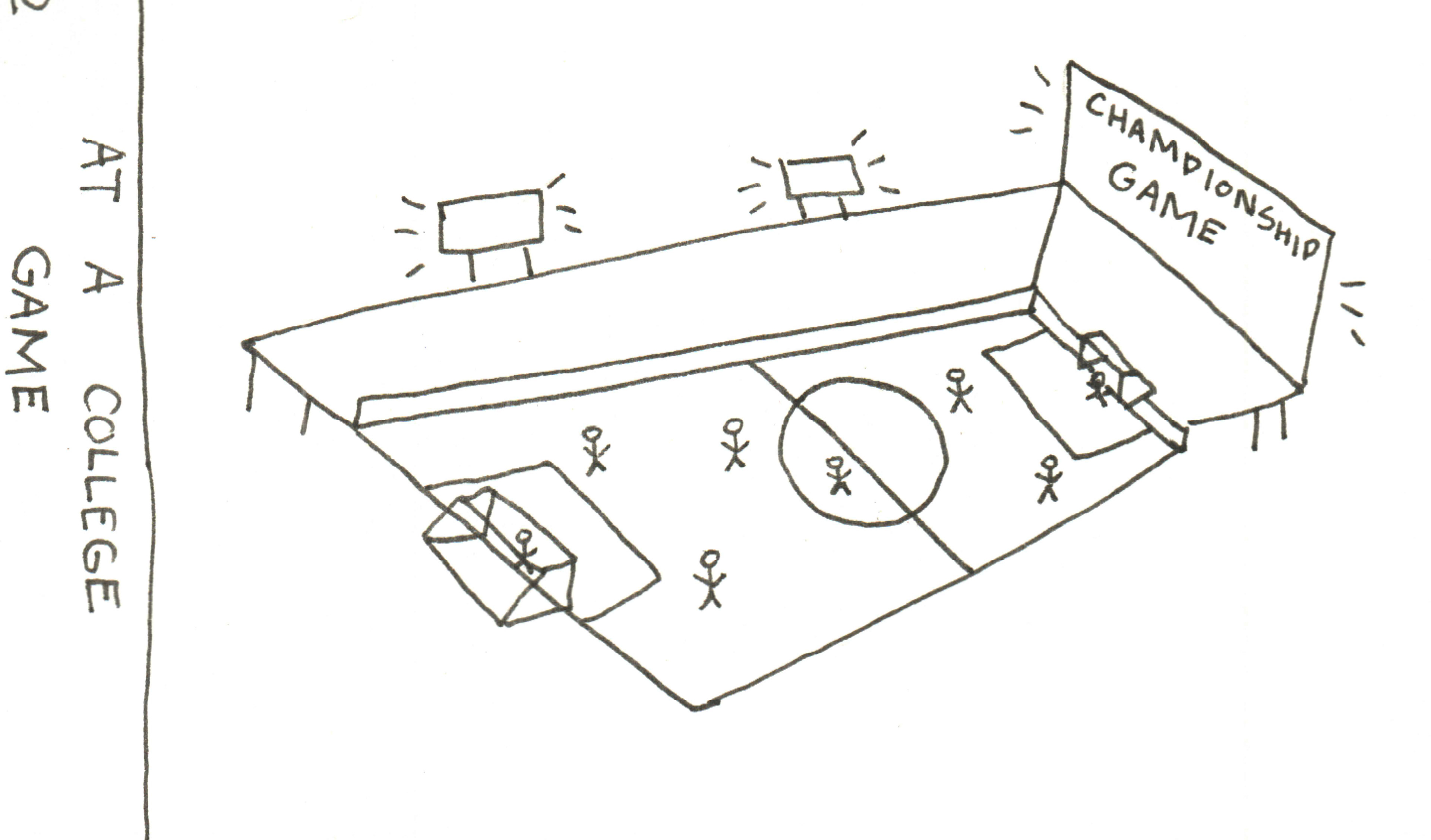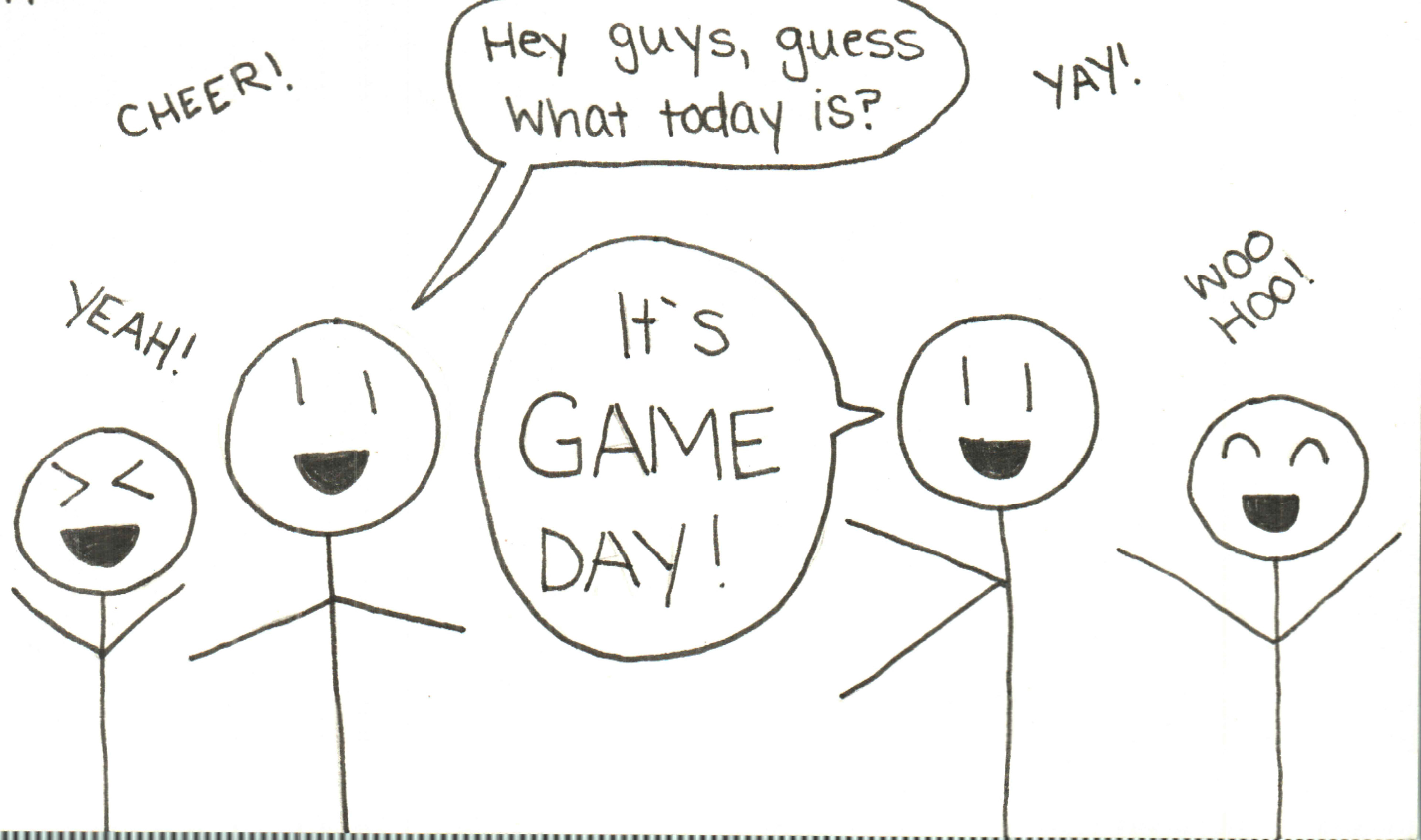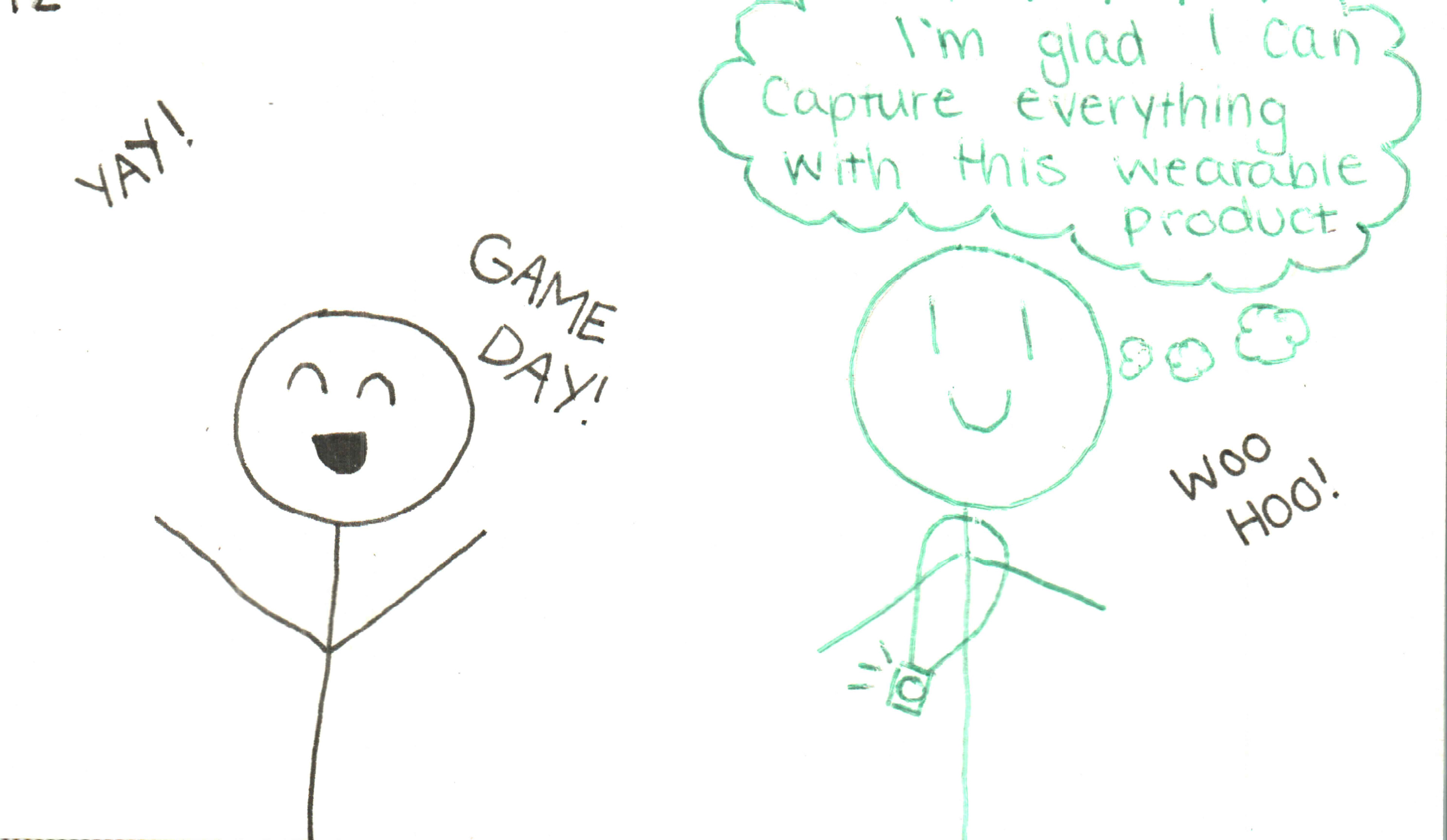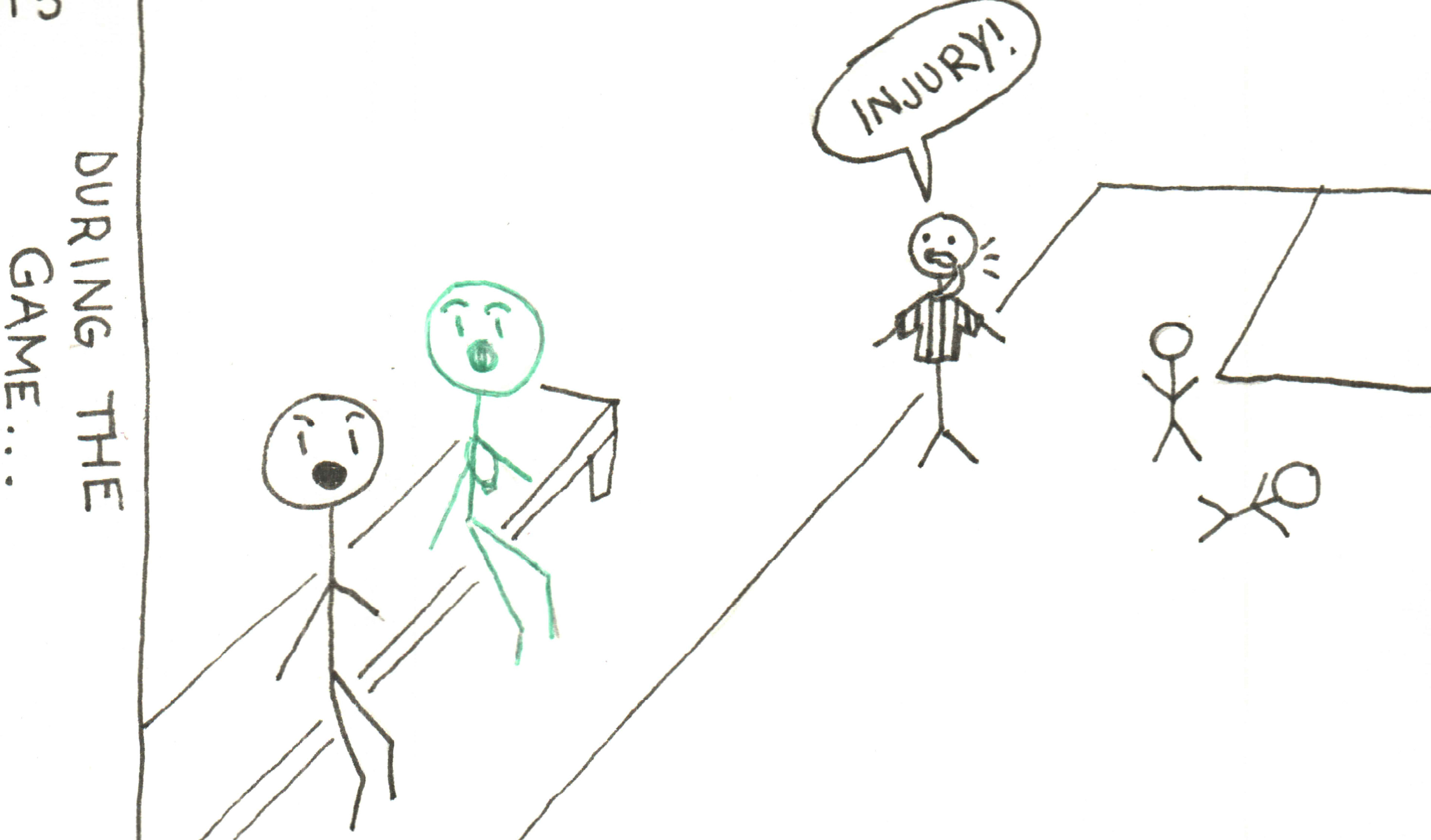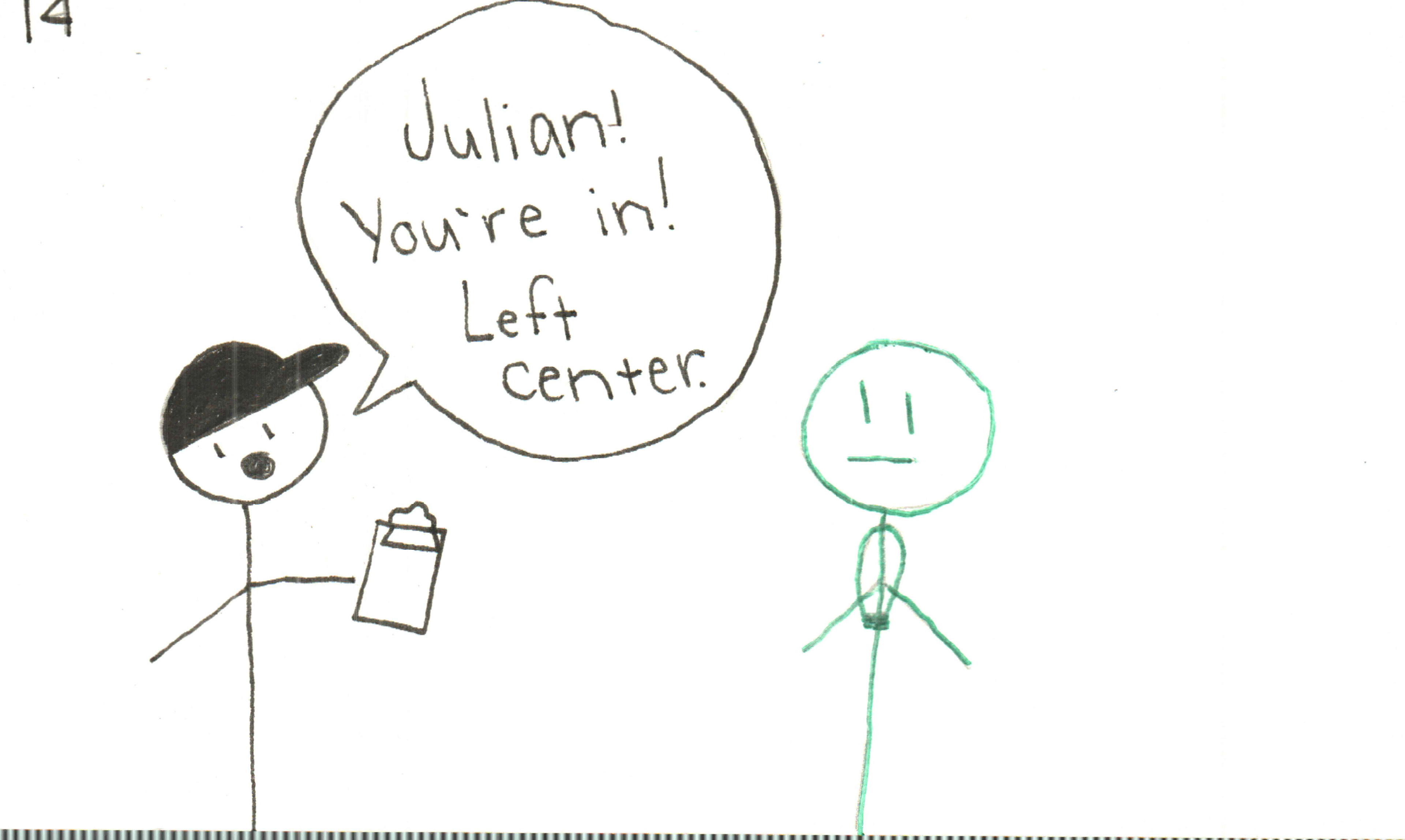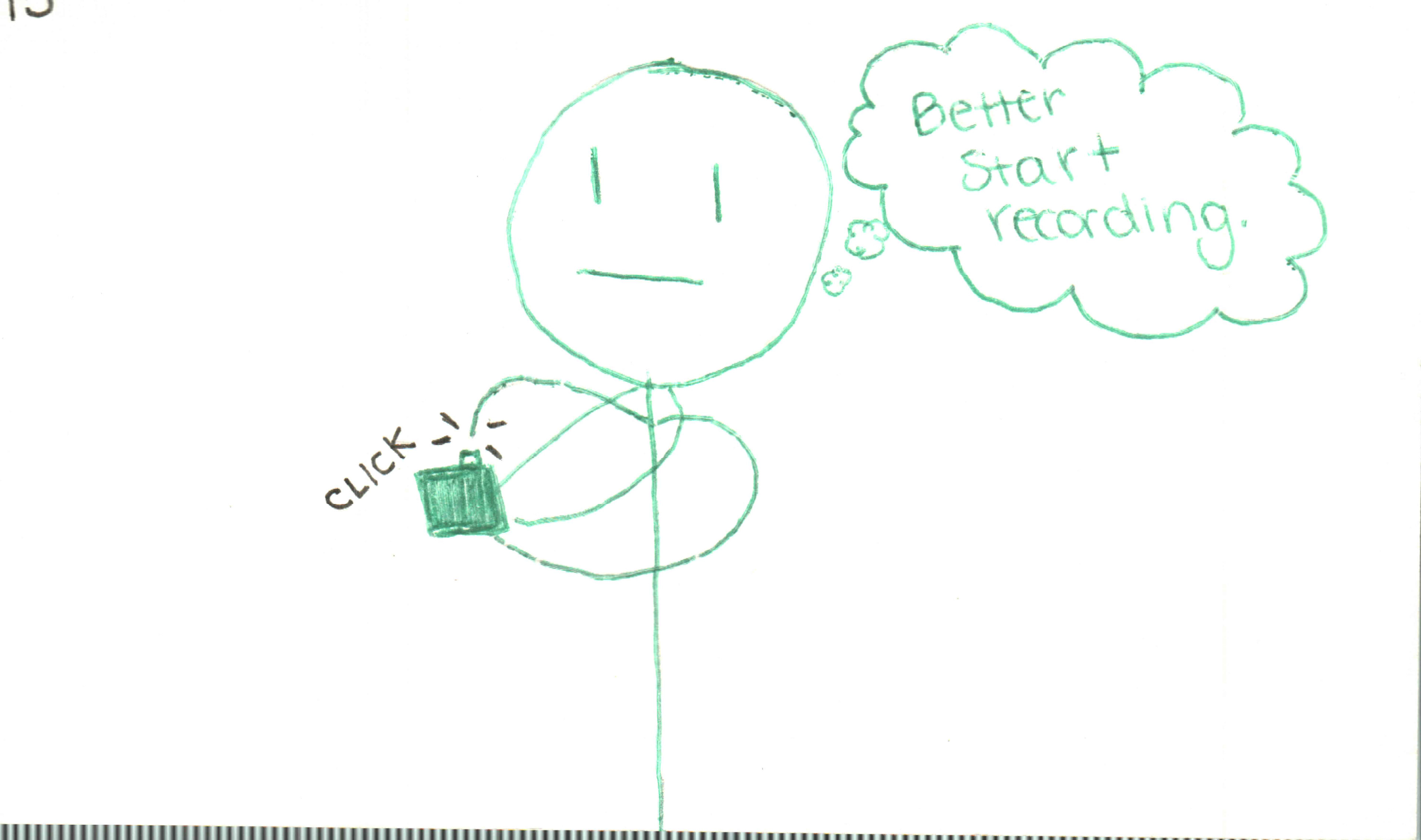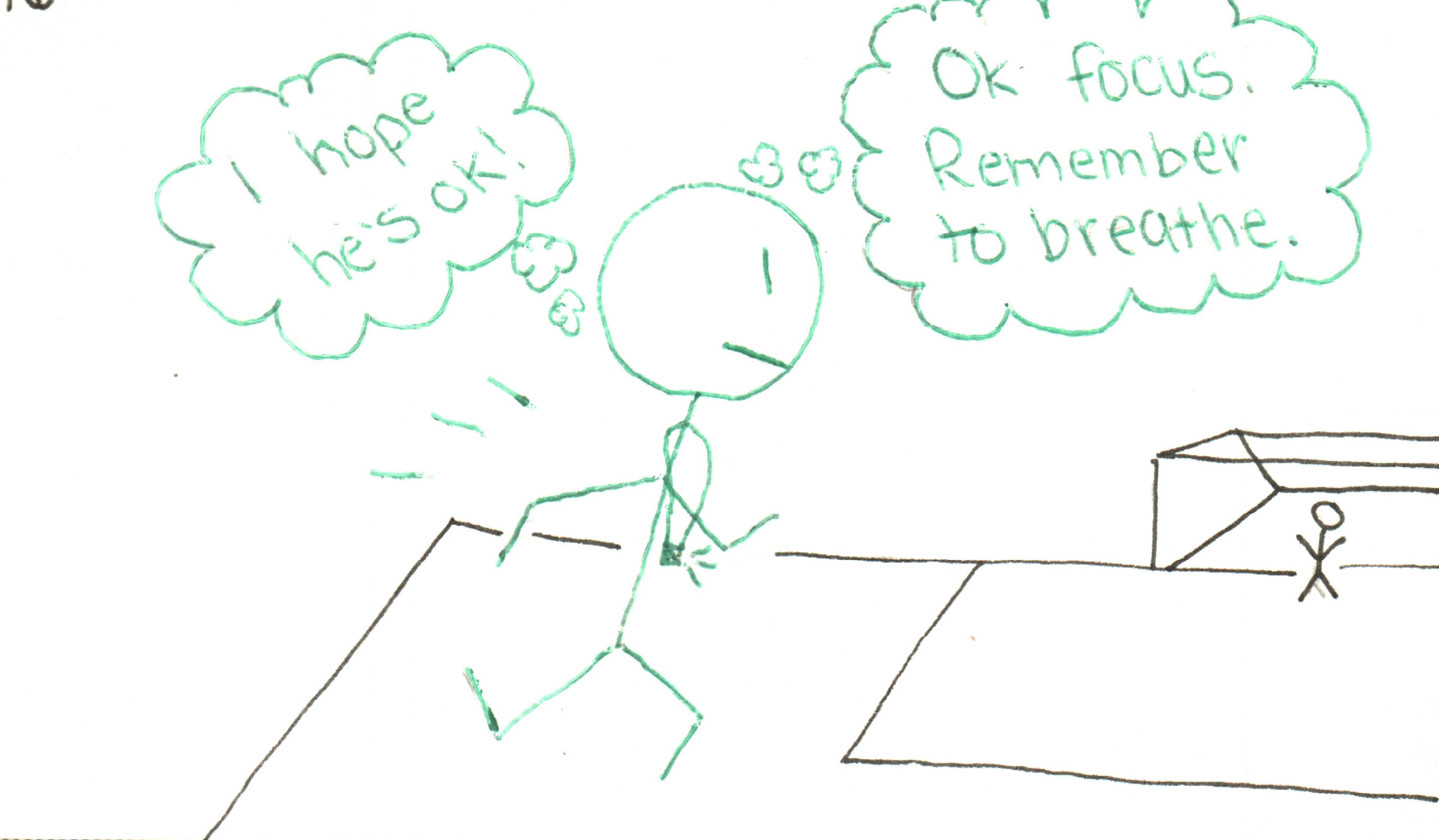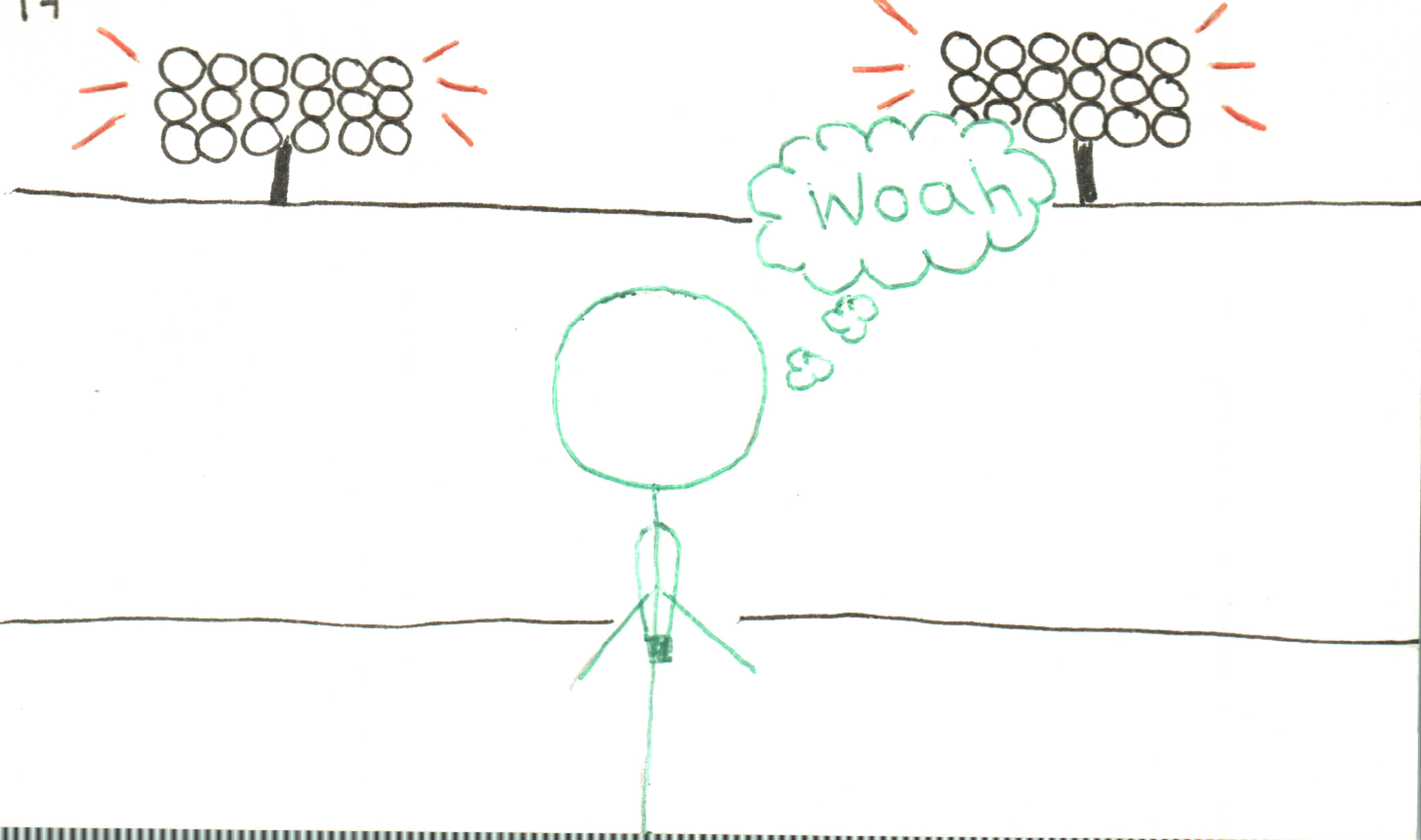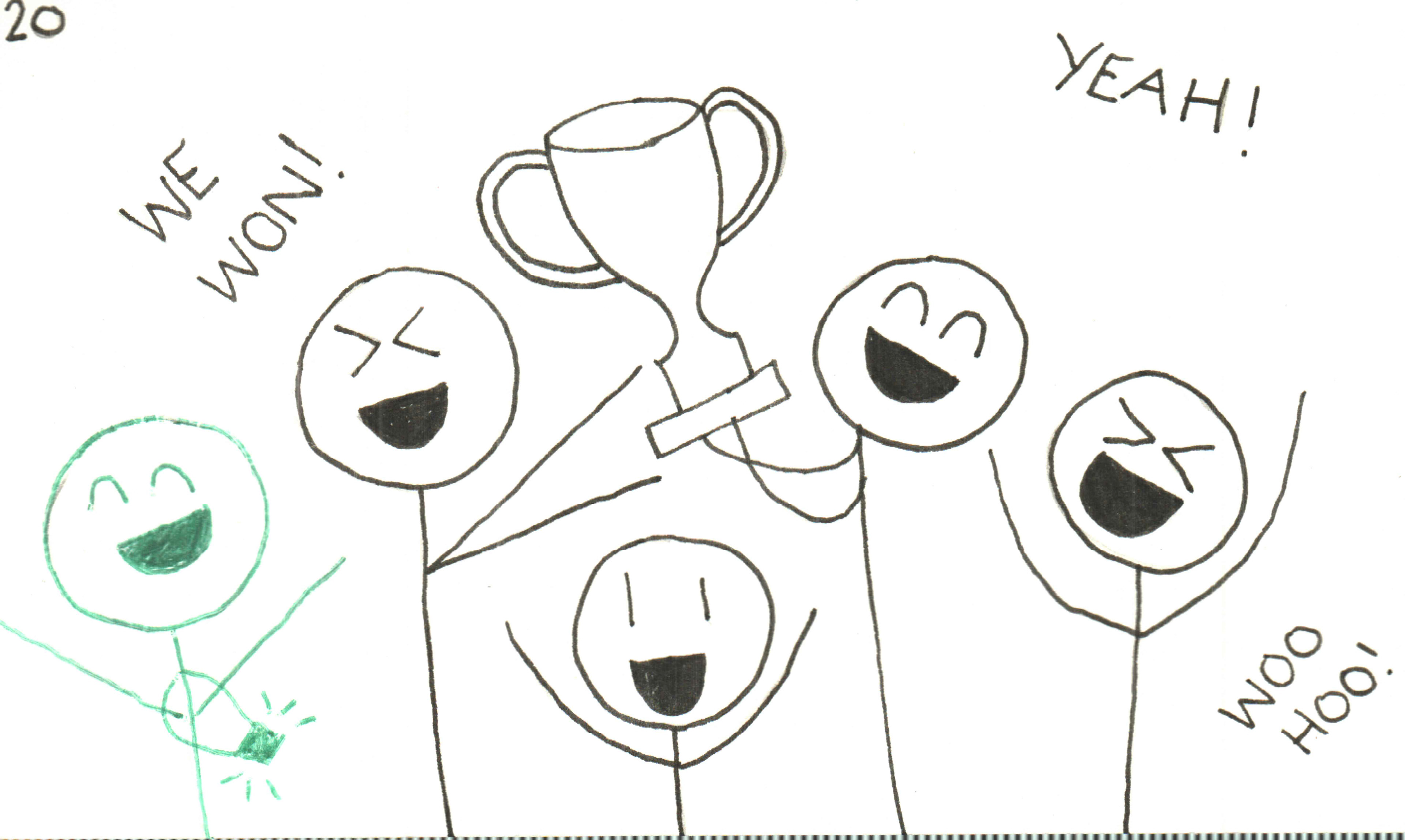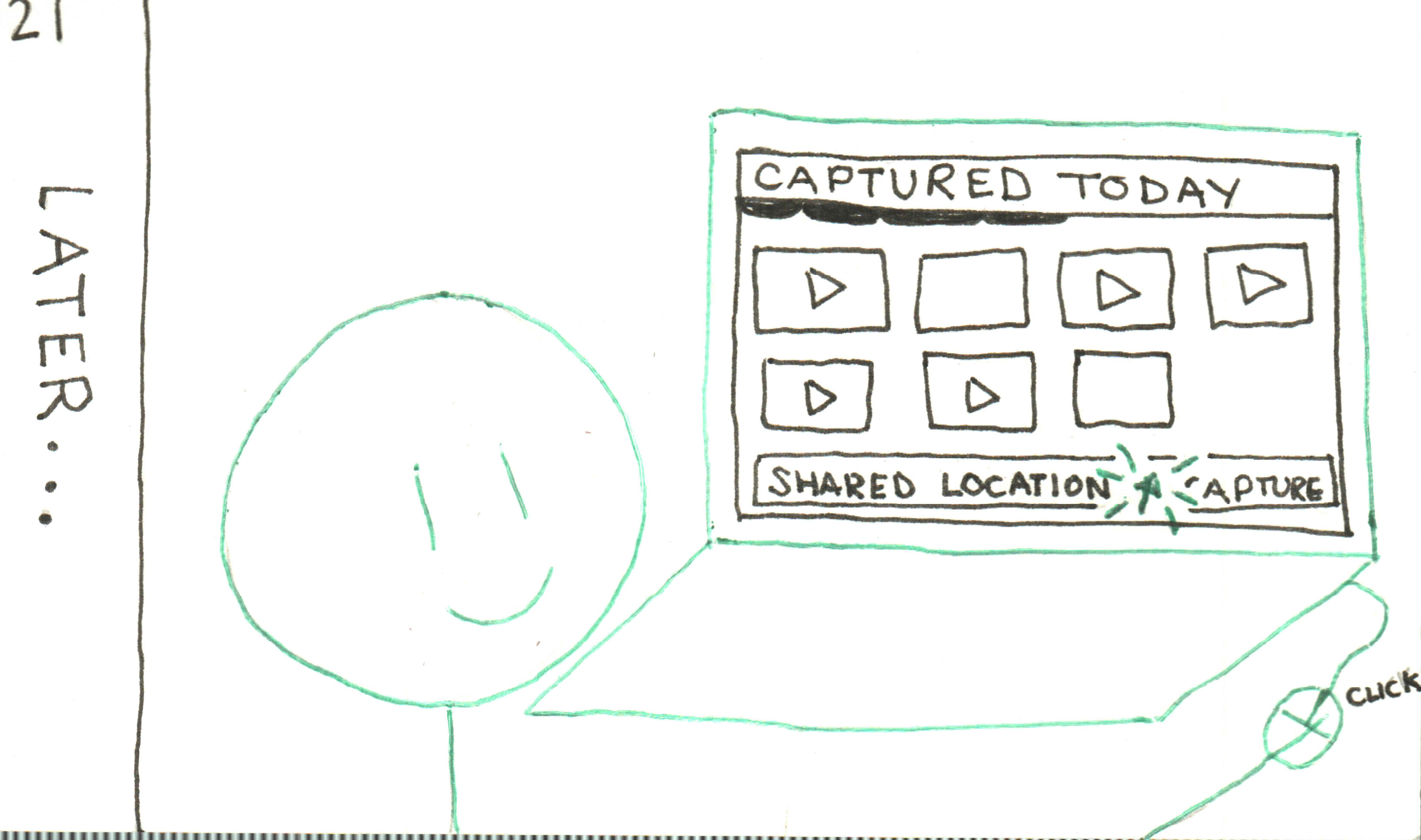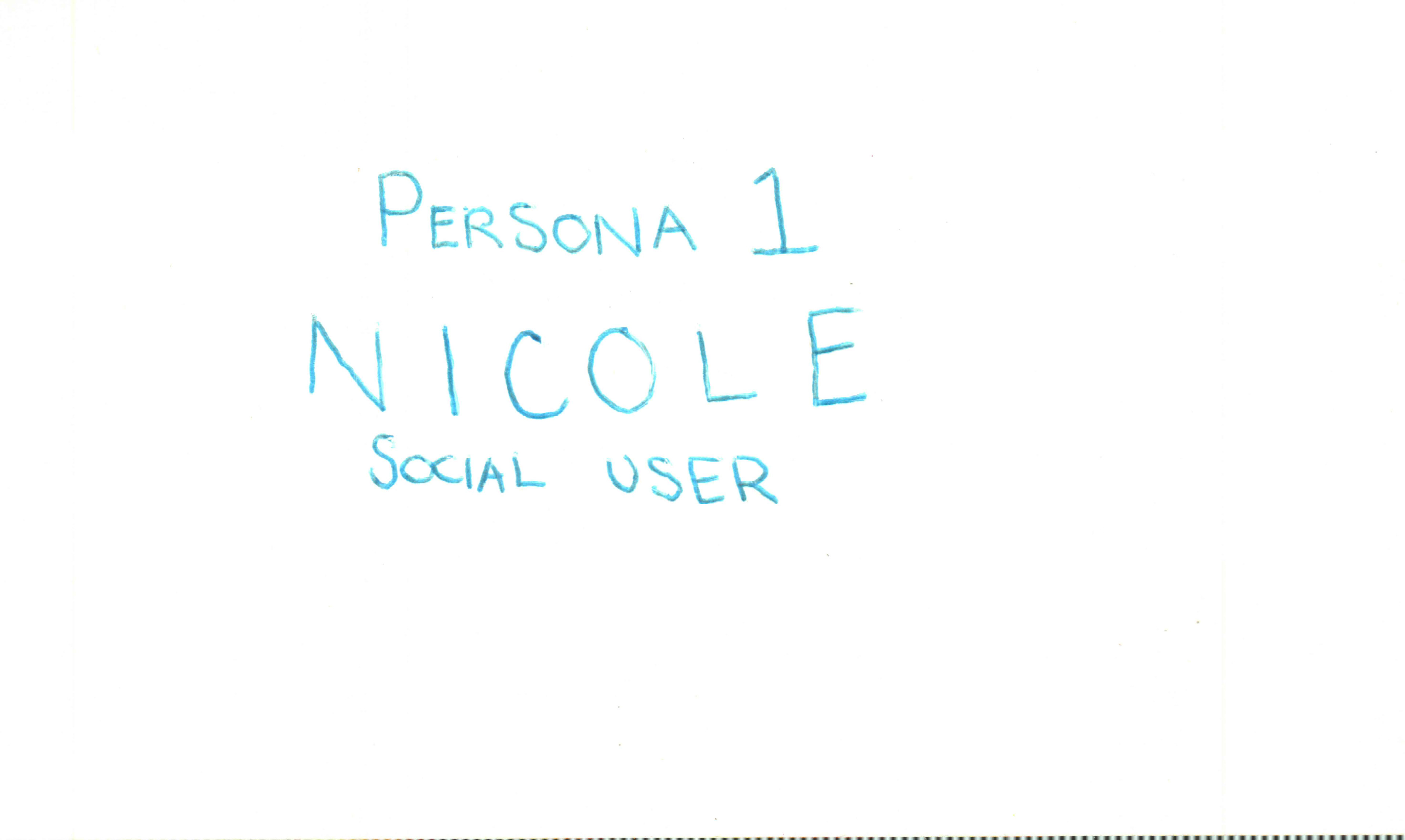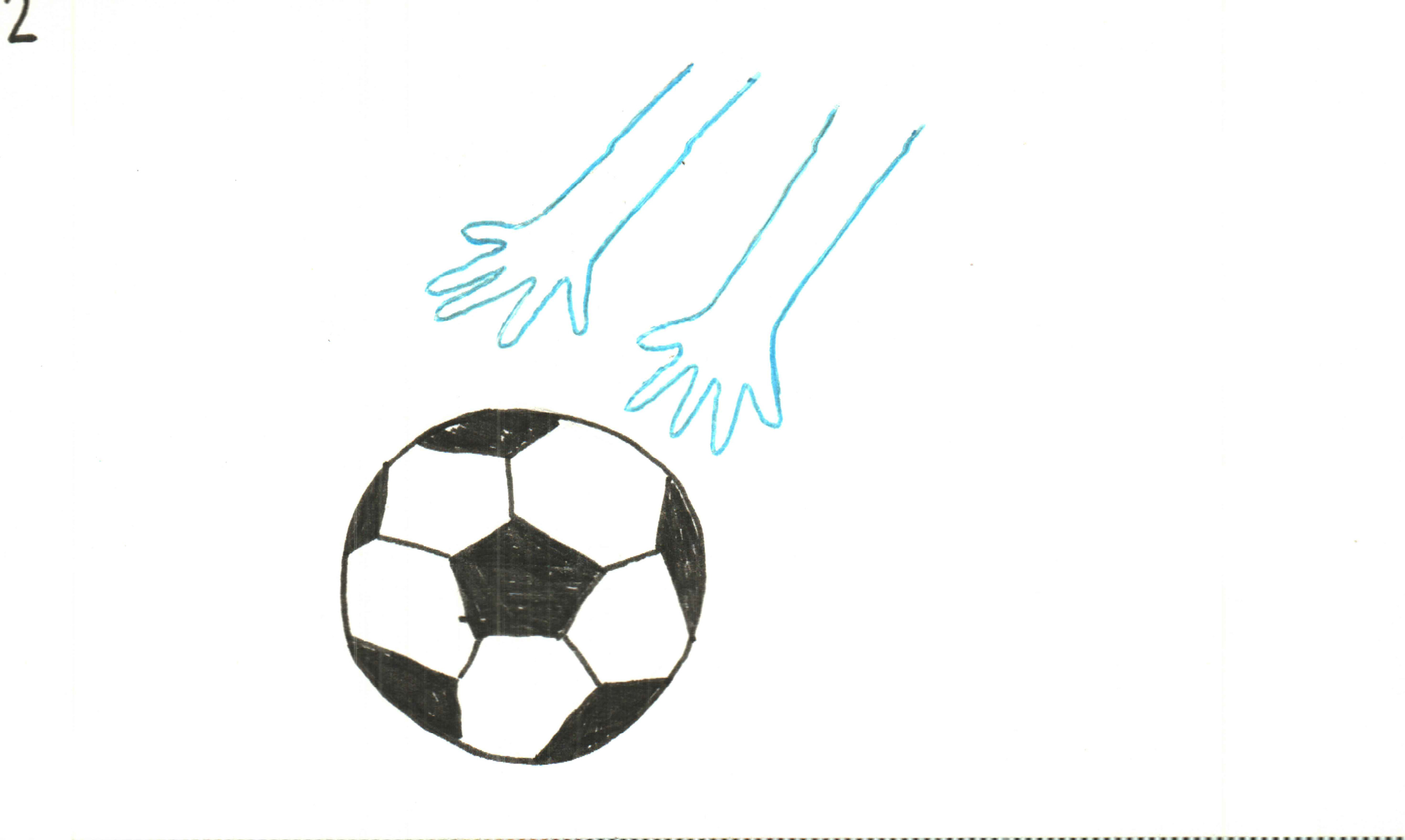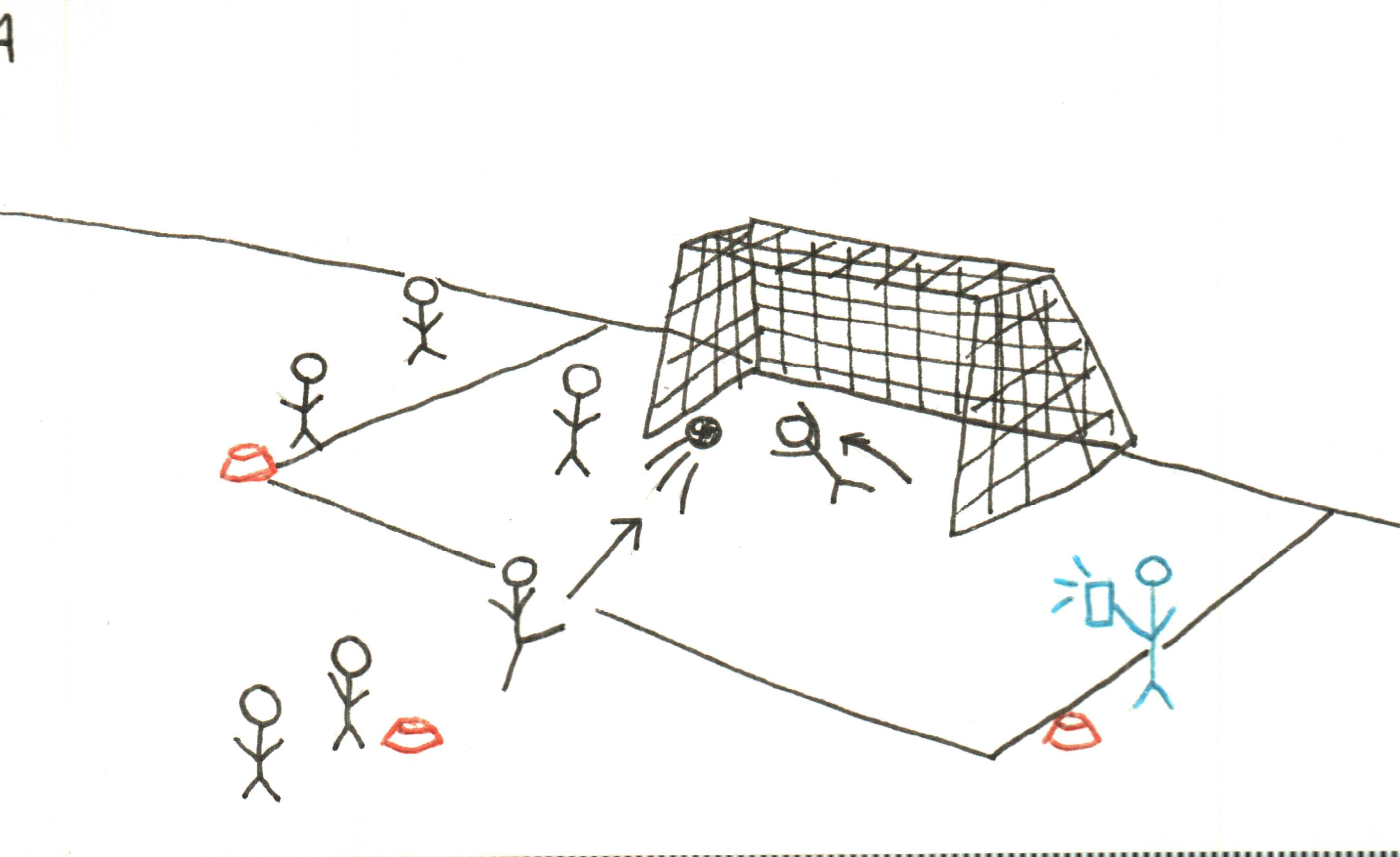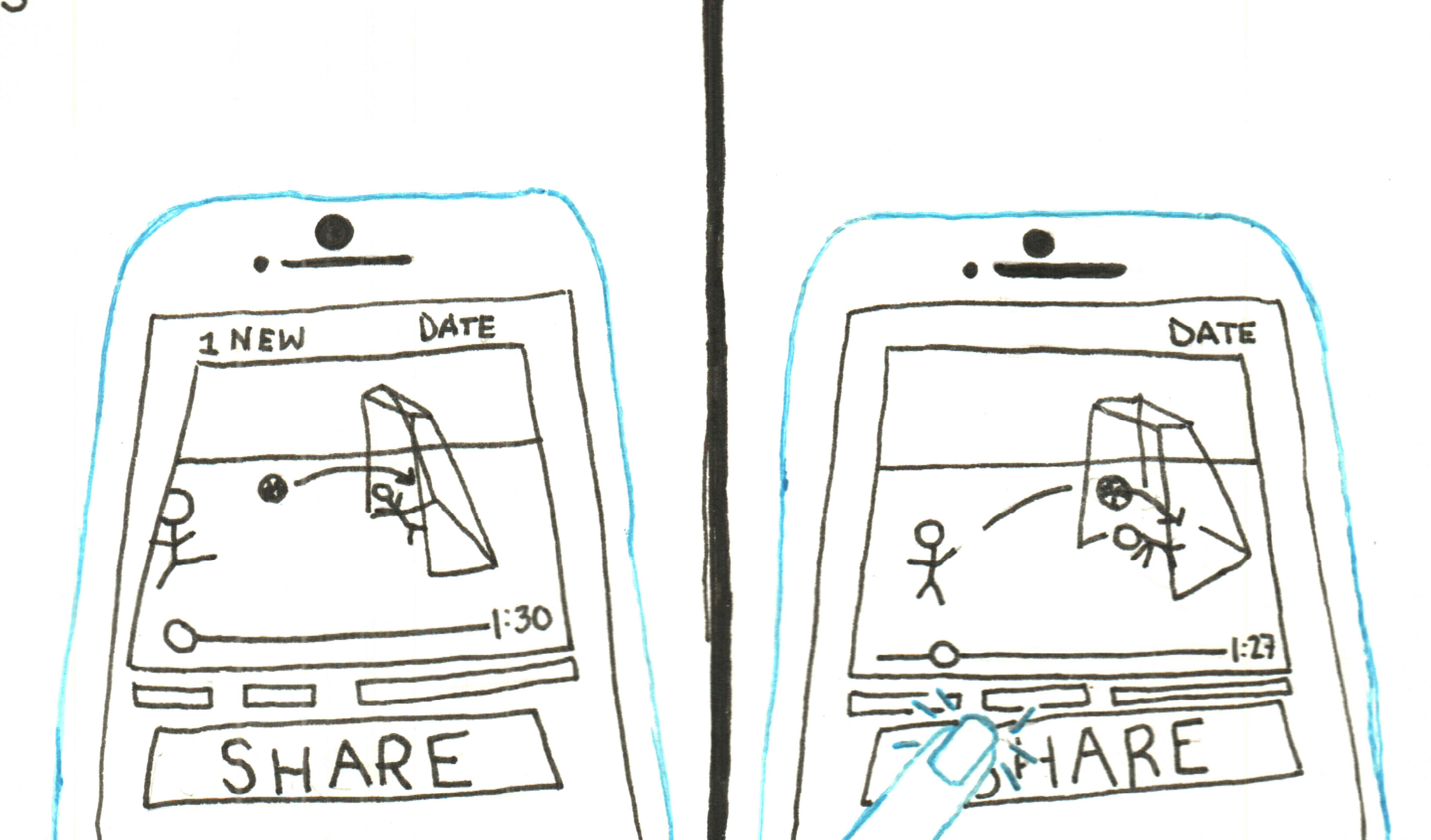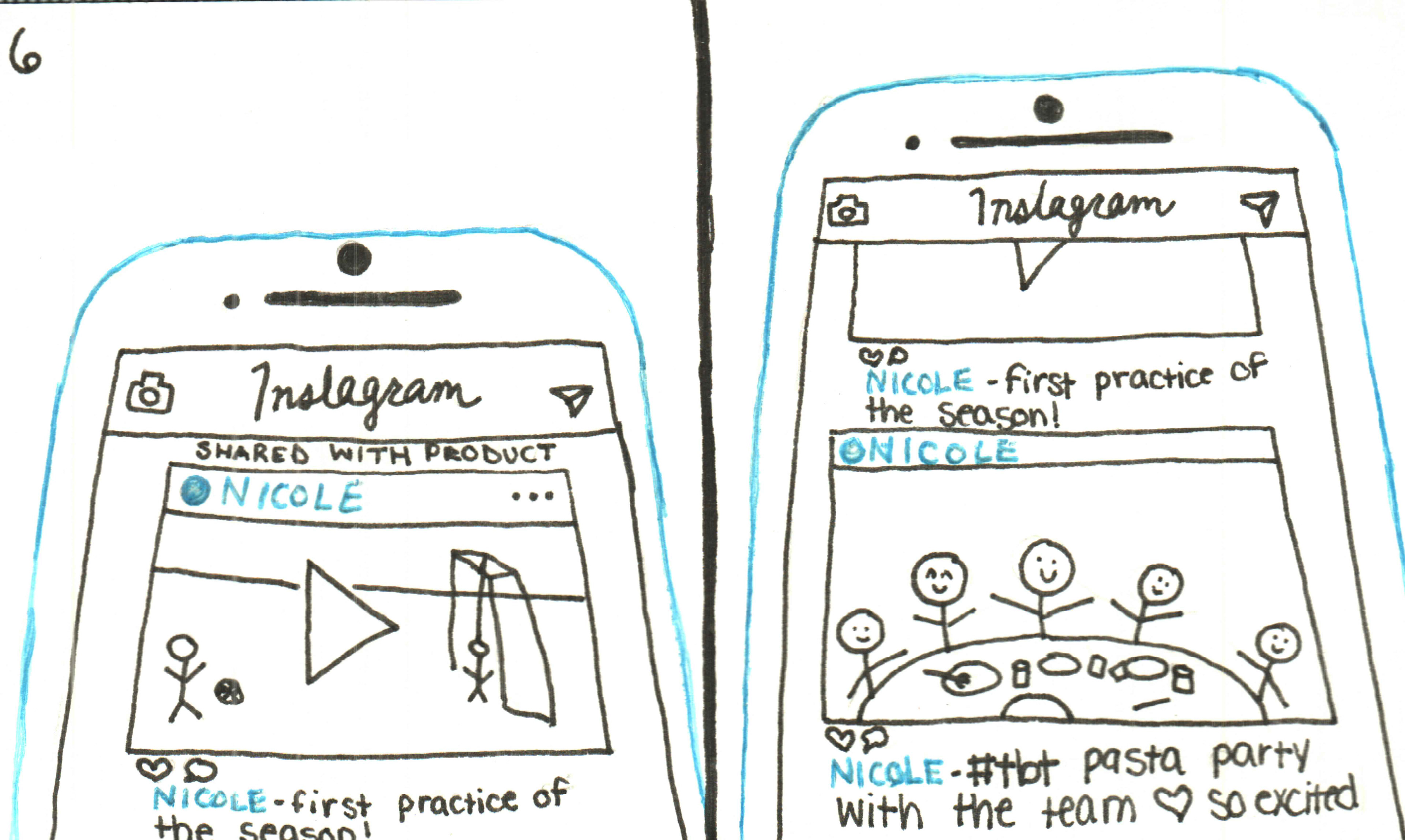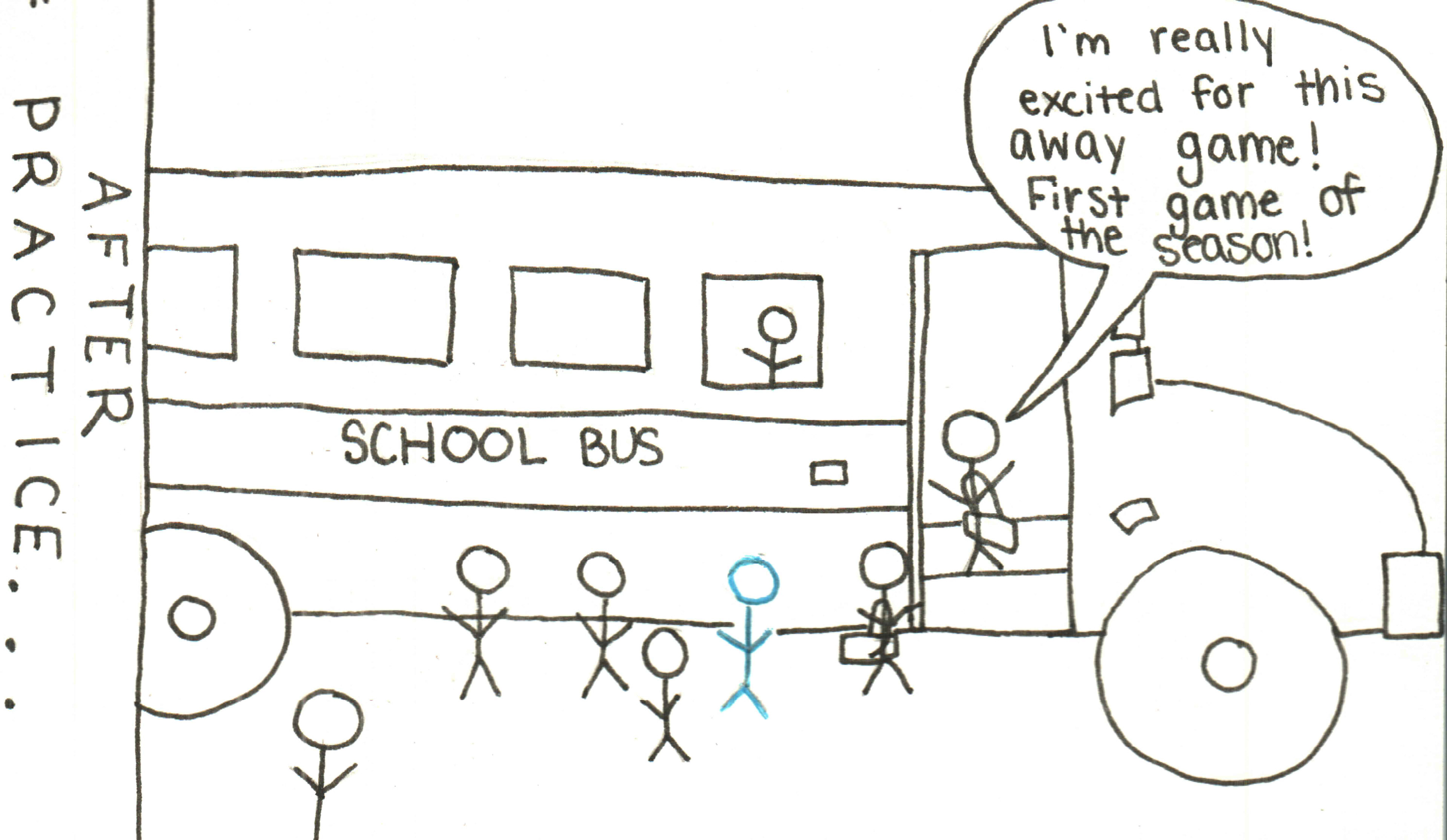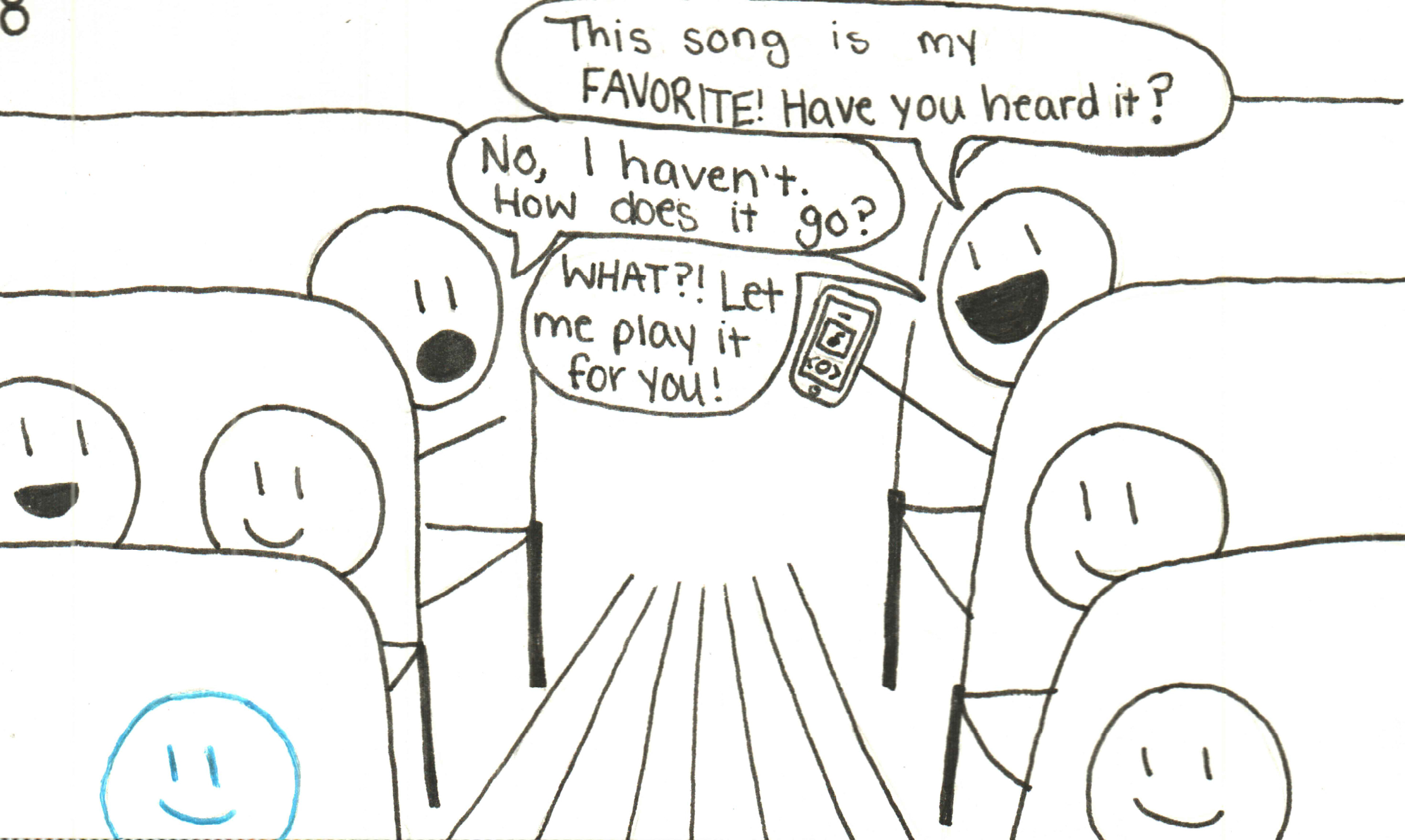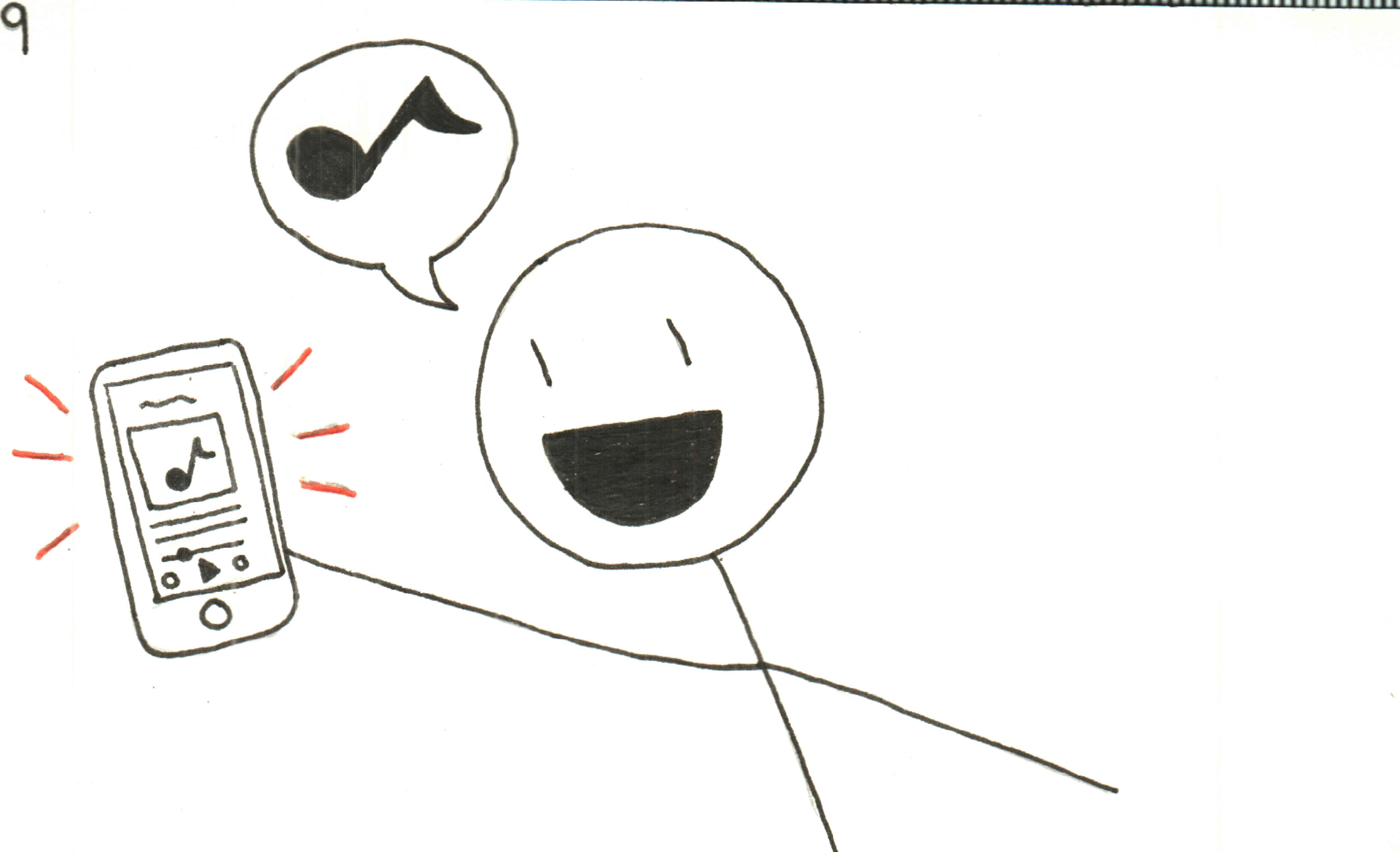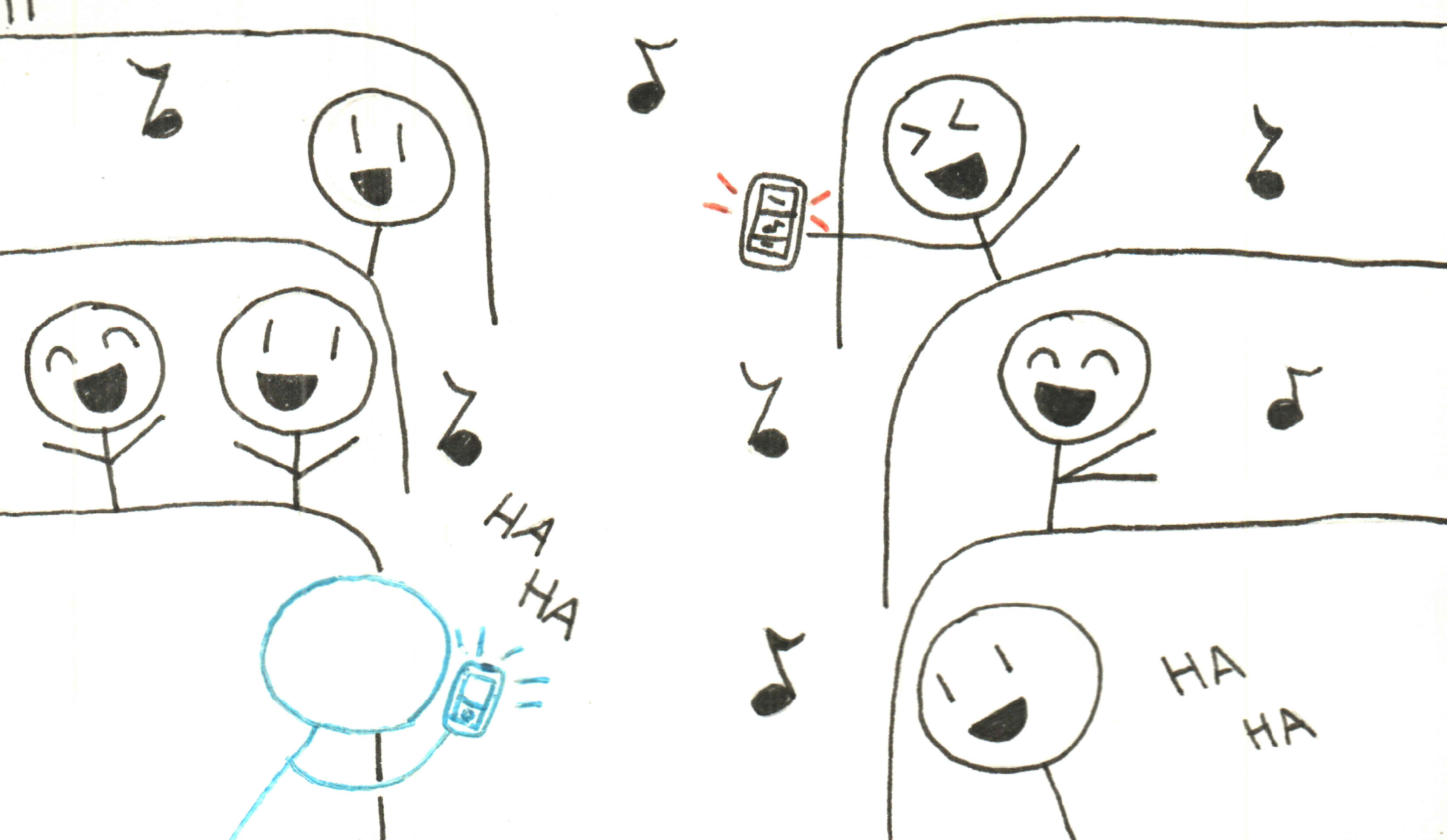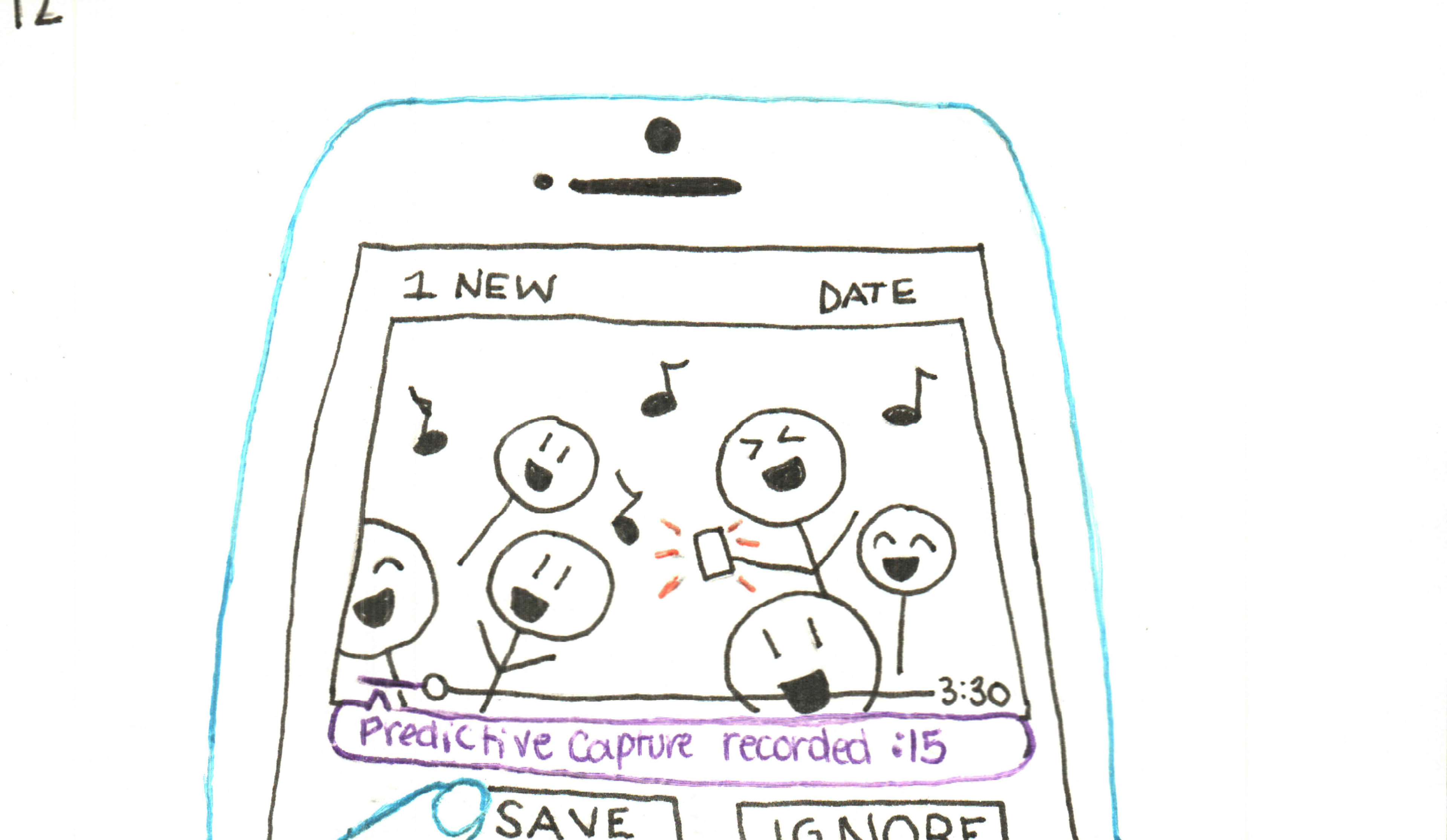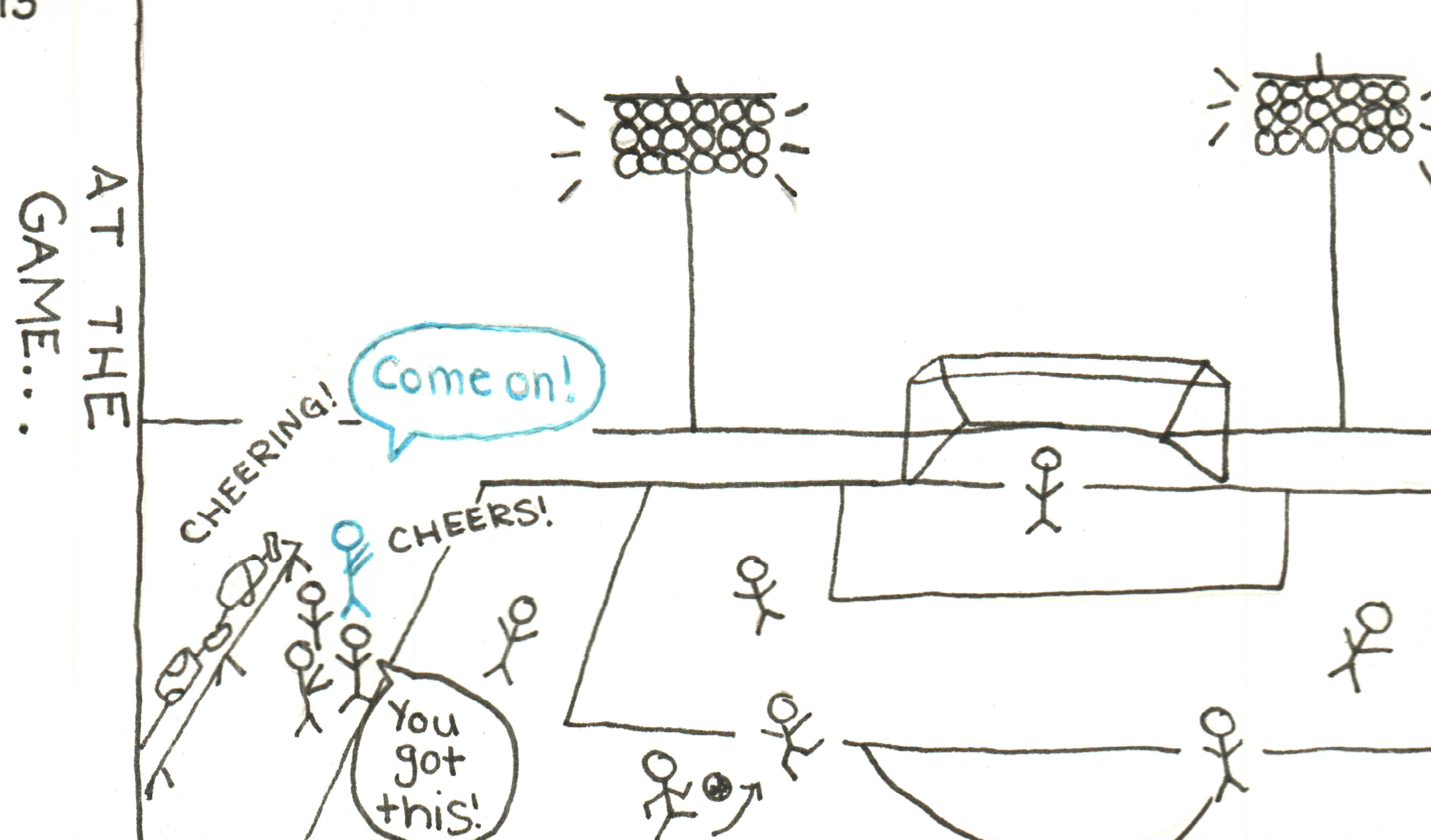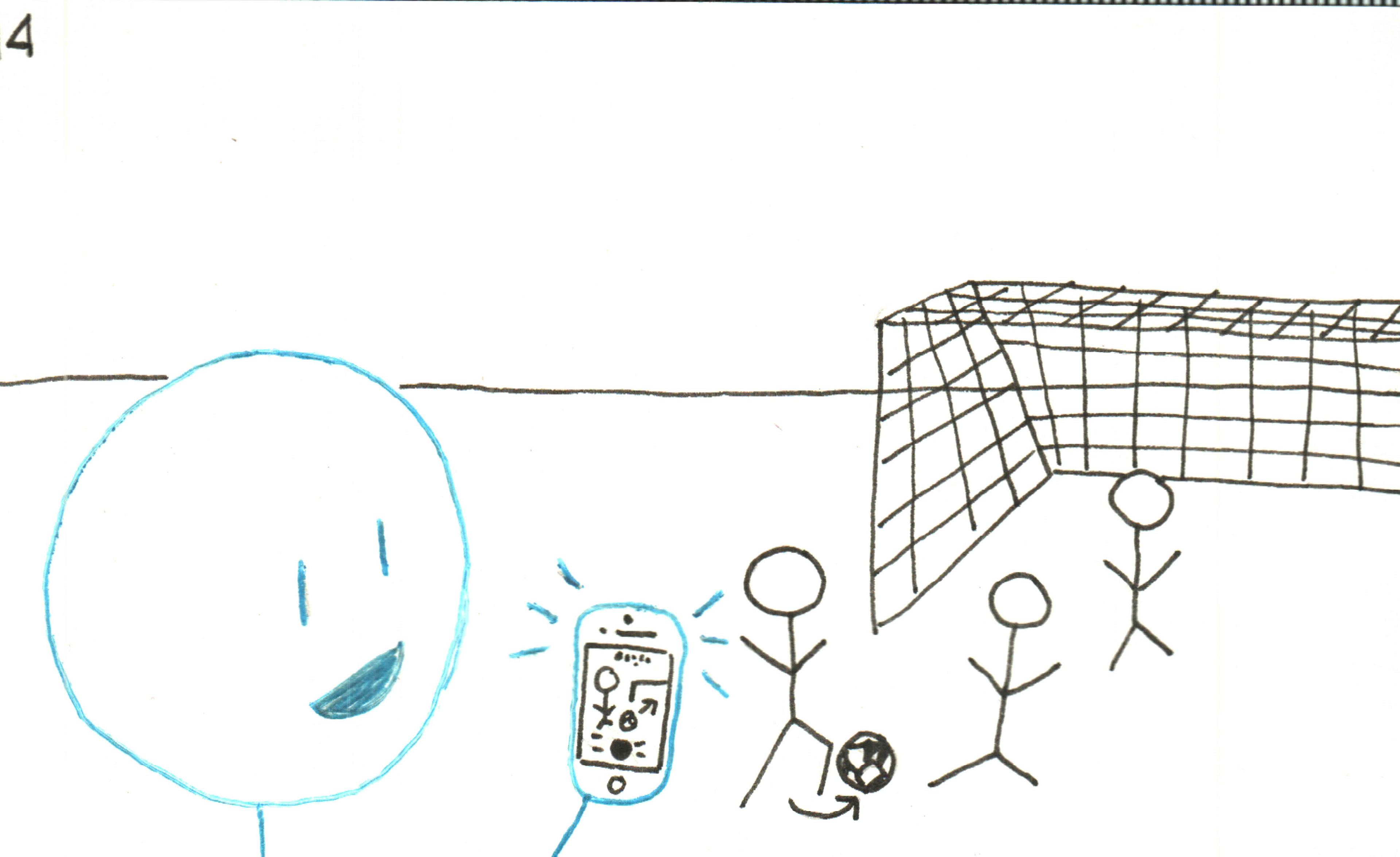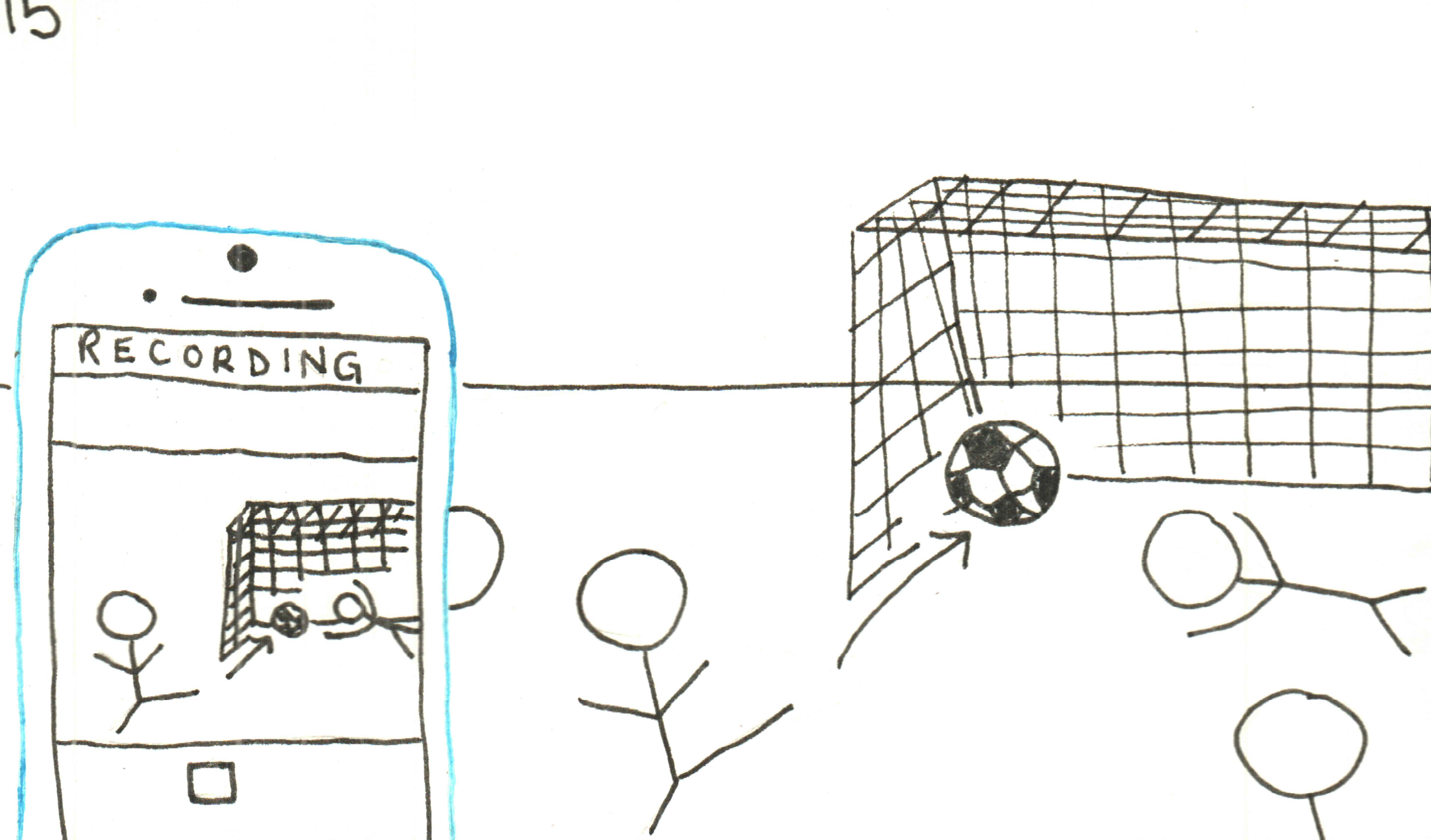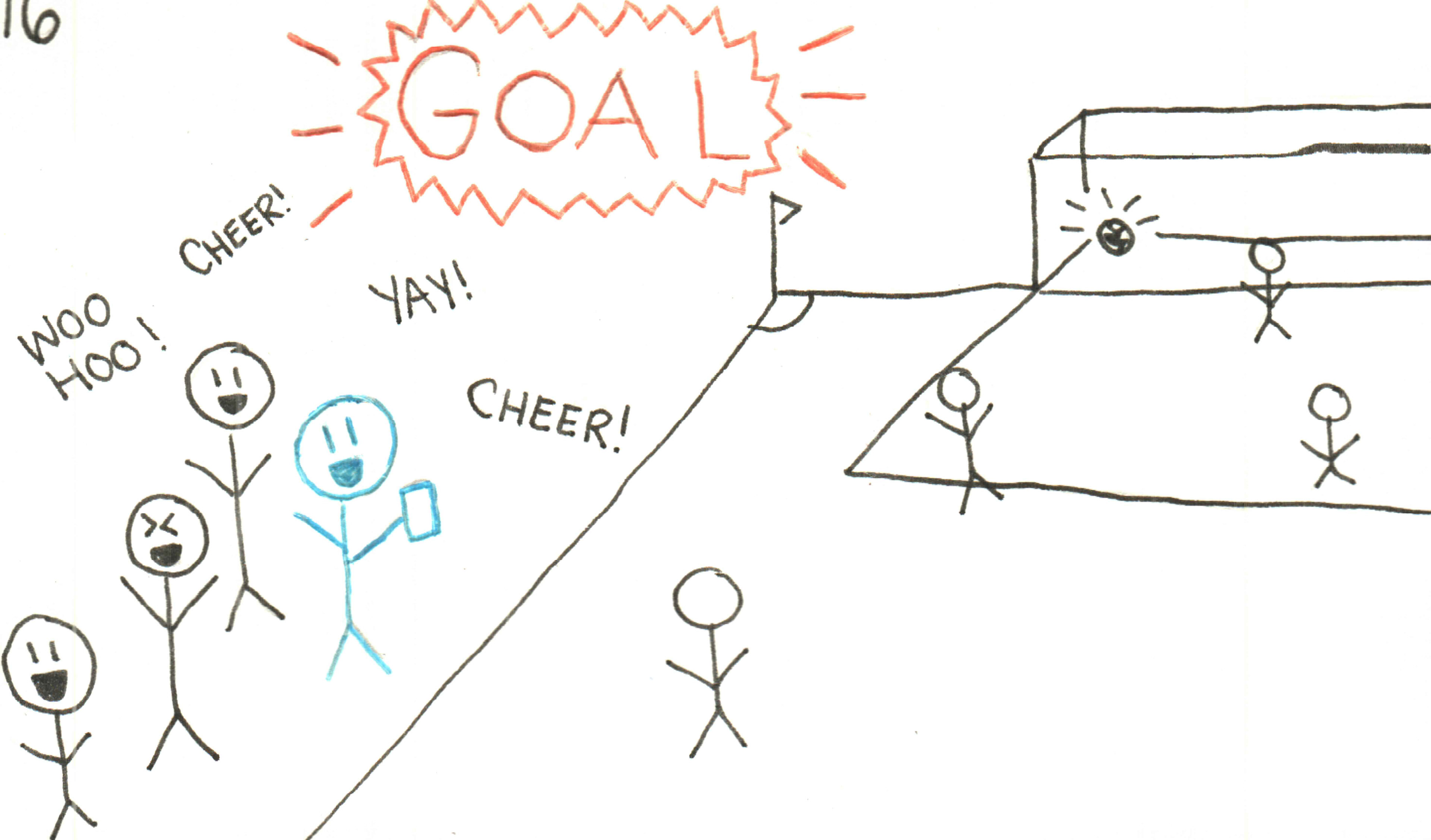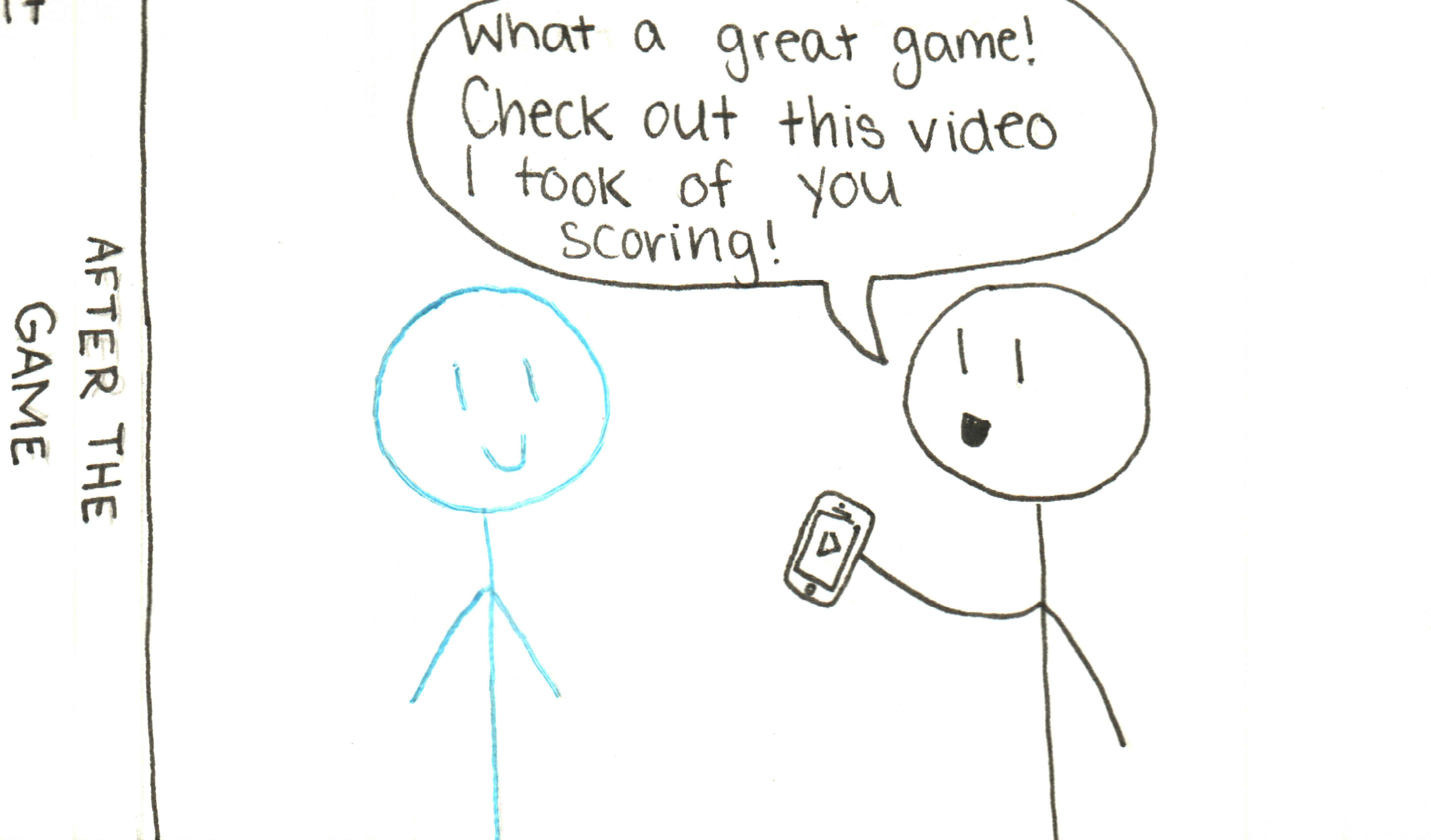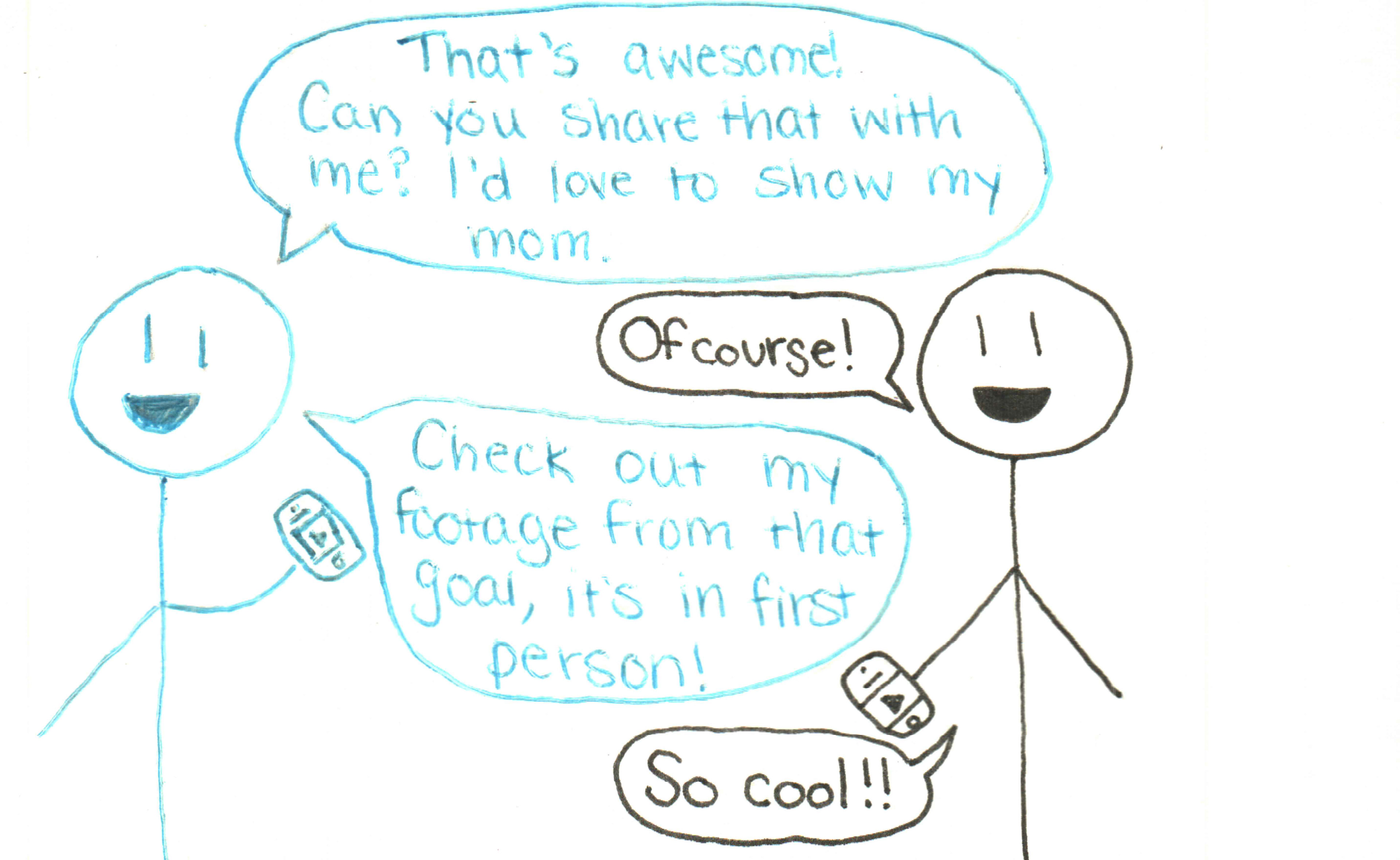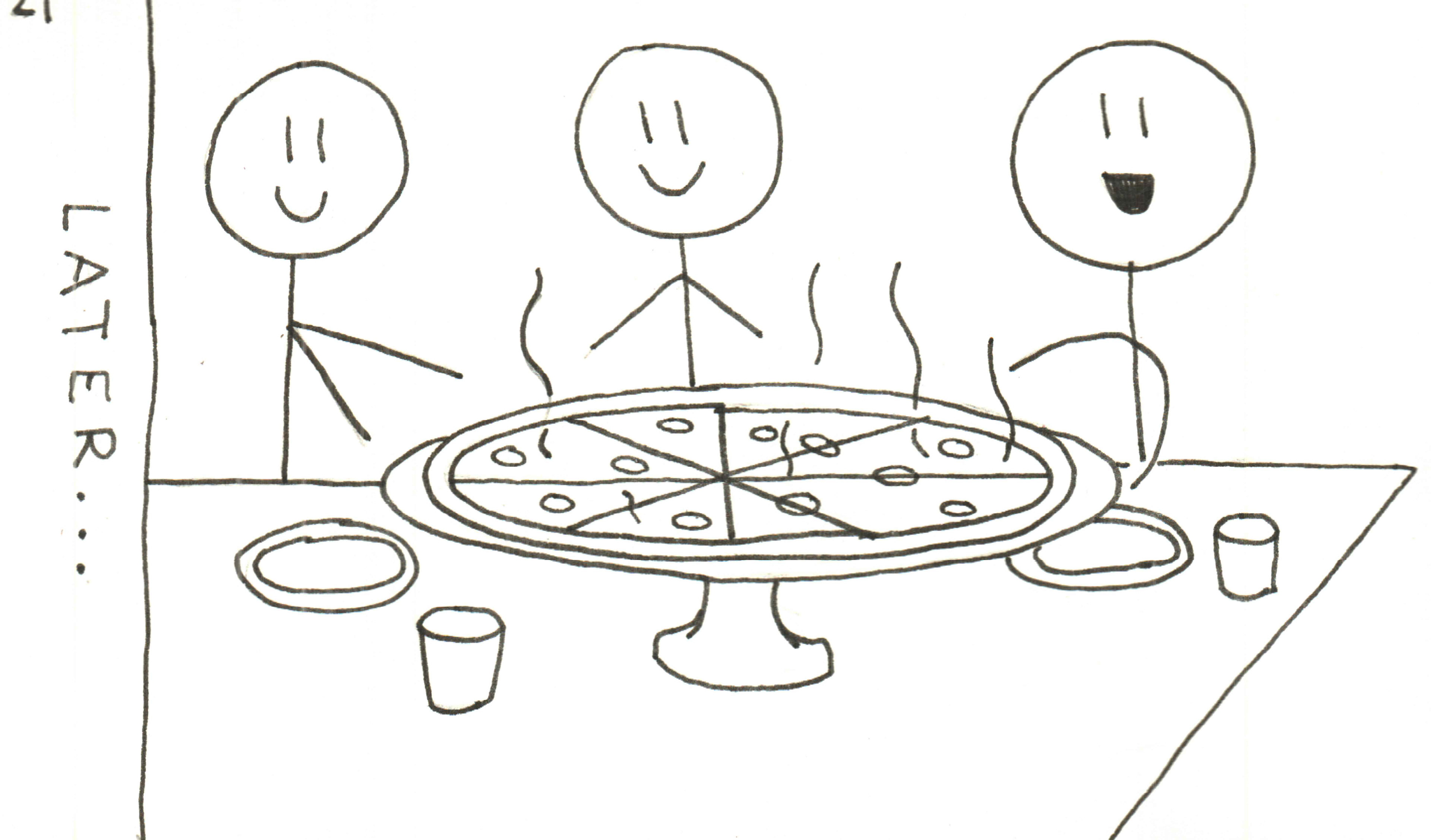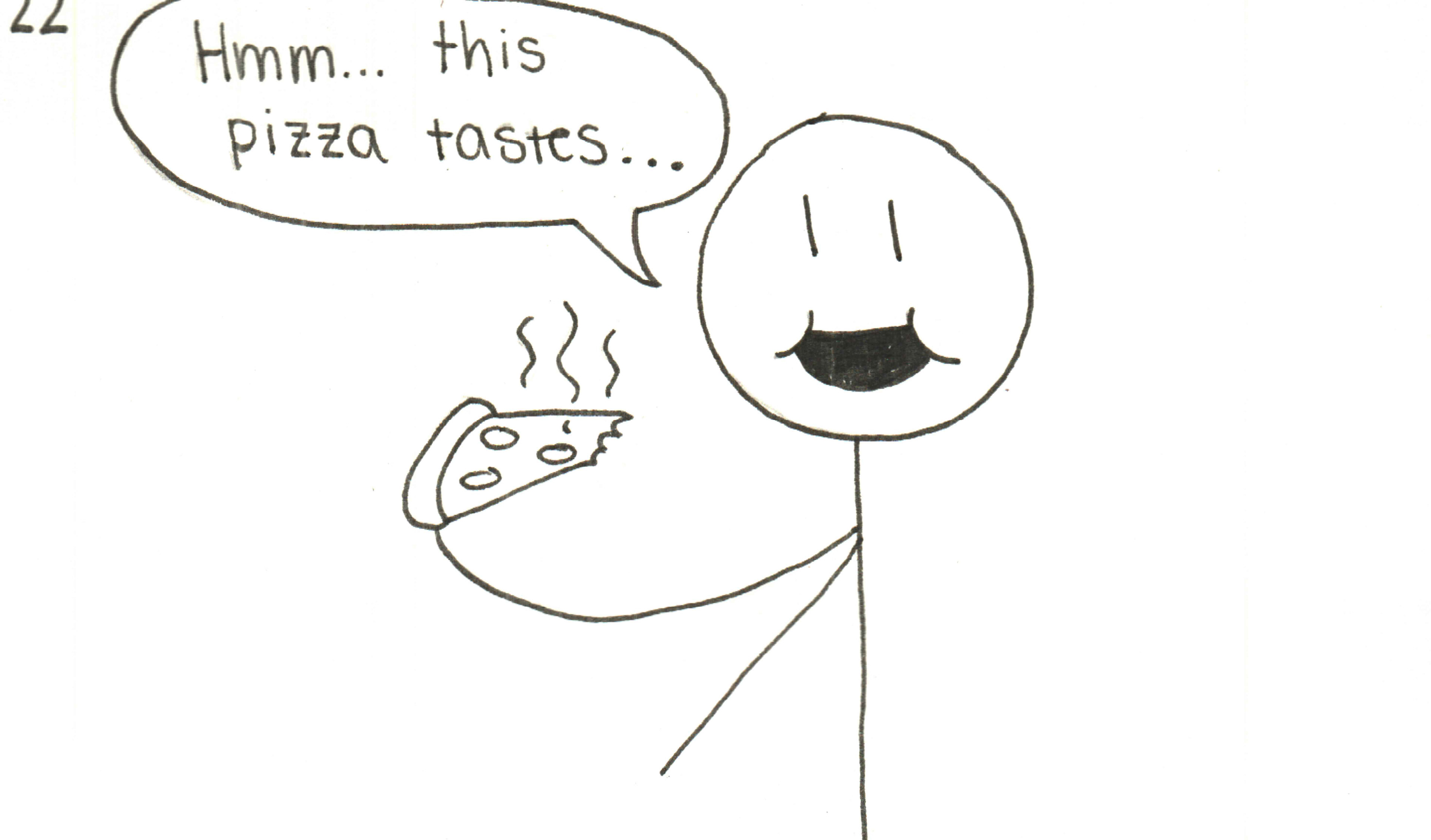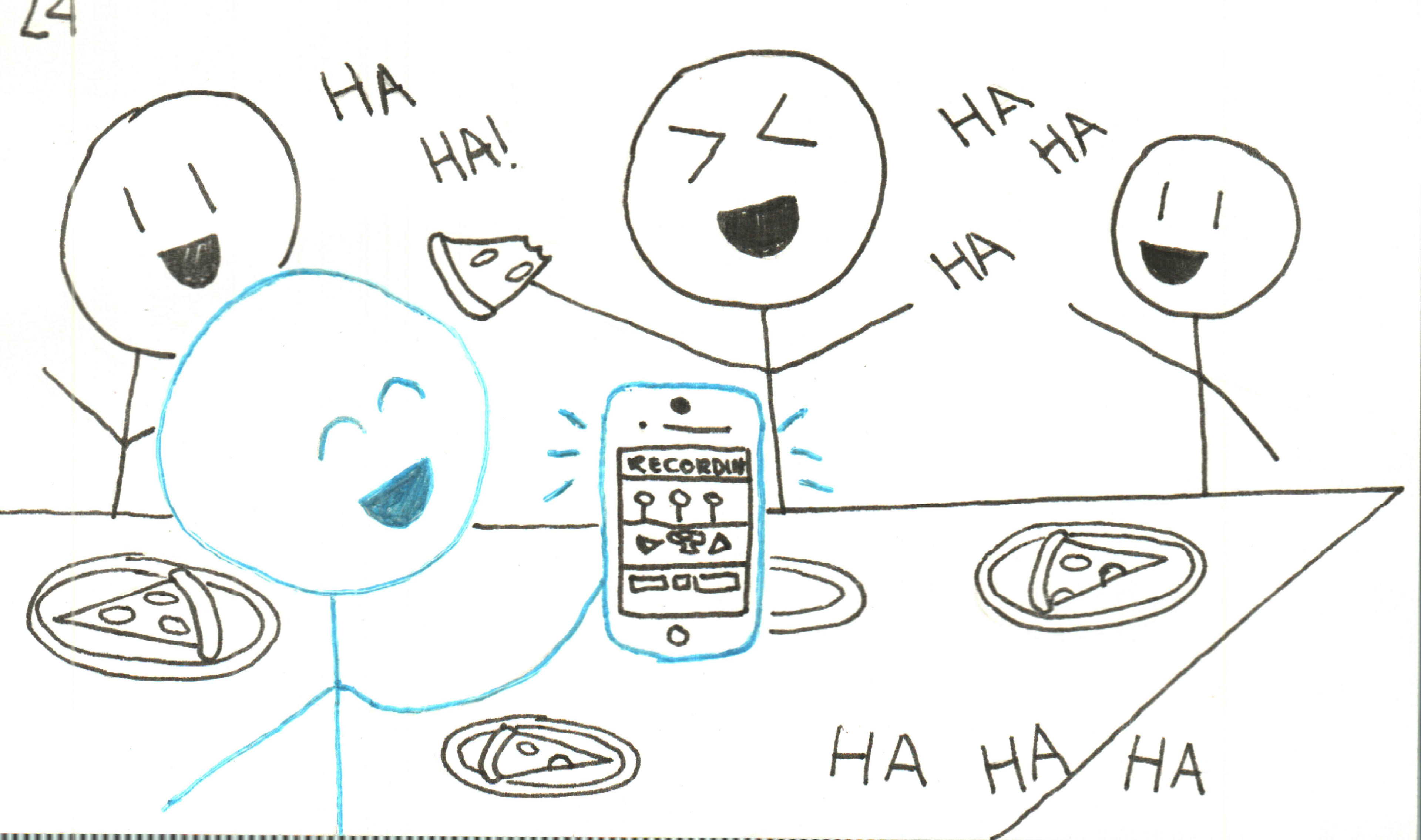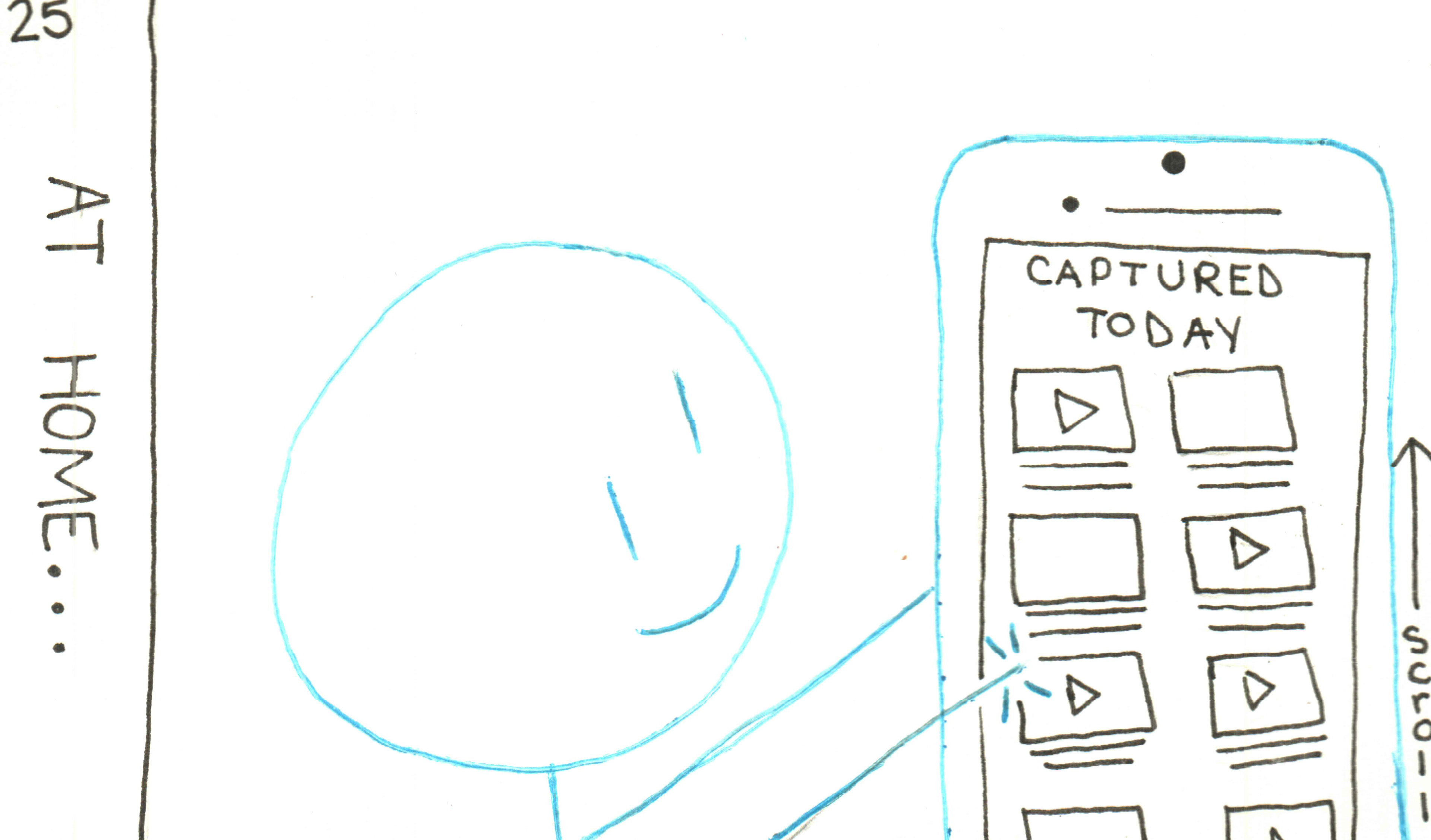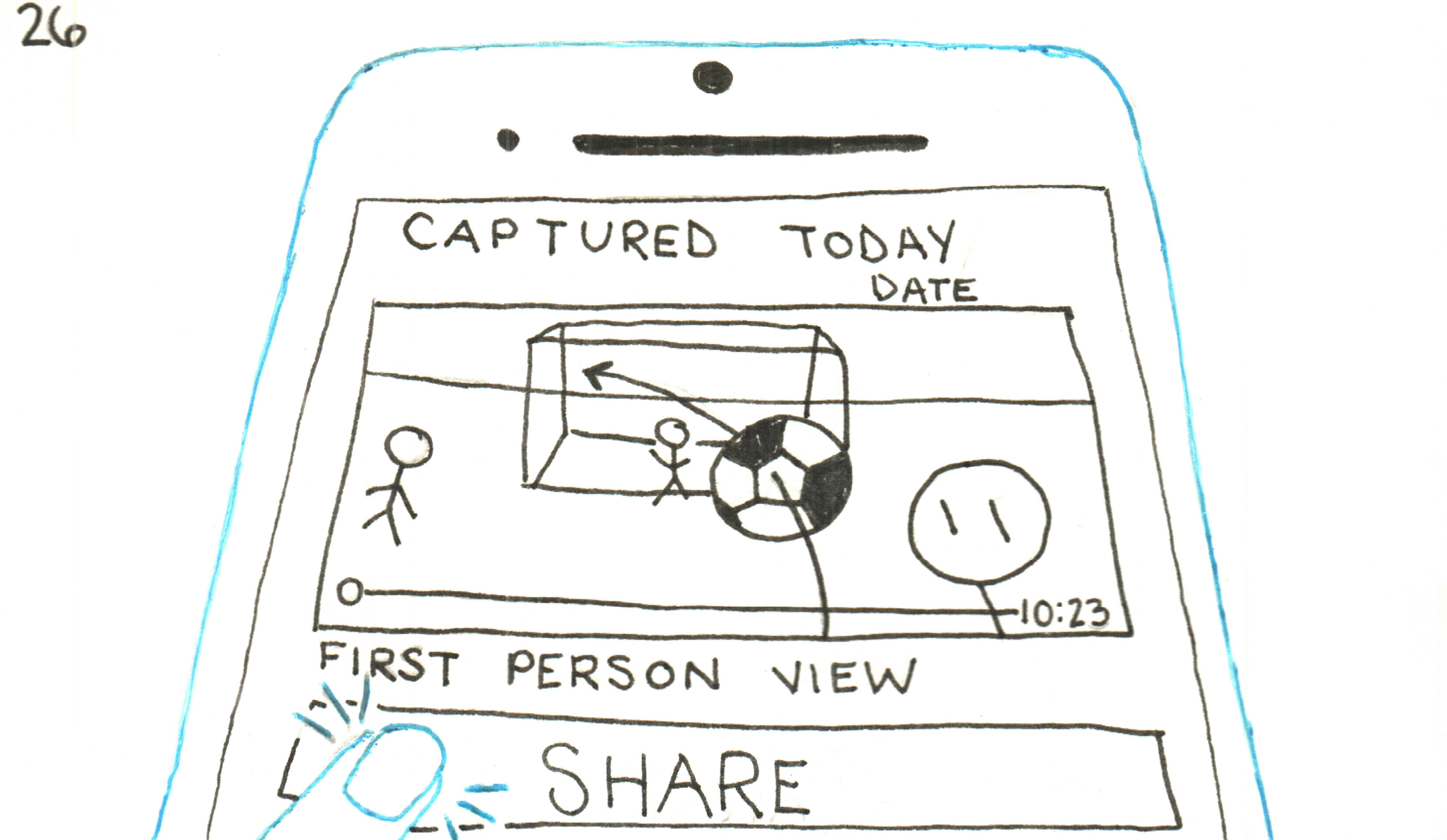 A key path scenario is a collection of design mockups to show the user's interaction with the software or product during an activity scenario. This final step allows the designers to encapsulate the potential interactions the user will before the designs are sent into development.
Design mockups were developed that follow the user's interaction within the proposed app as they go through each activity scenario from the previously developed storyboards. 
Using Axure RP 9, a prototype was developed that addresses eleven different scenarios that the Ambitious User (Julian Lloyd) journeys through in the activity scenario storyboard.
The prototype addresses a wide range of functionality that will be utilized by the user.
Several rounds of iteration were needed before a prototype was fully developed.  A interactive model of this prototype can be found here.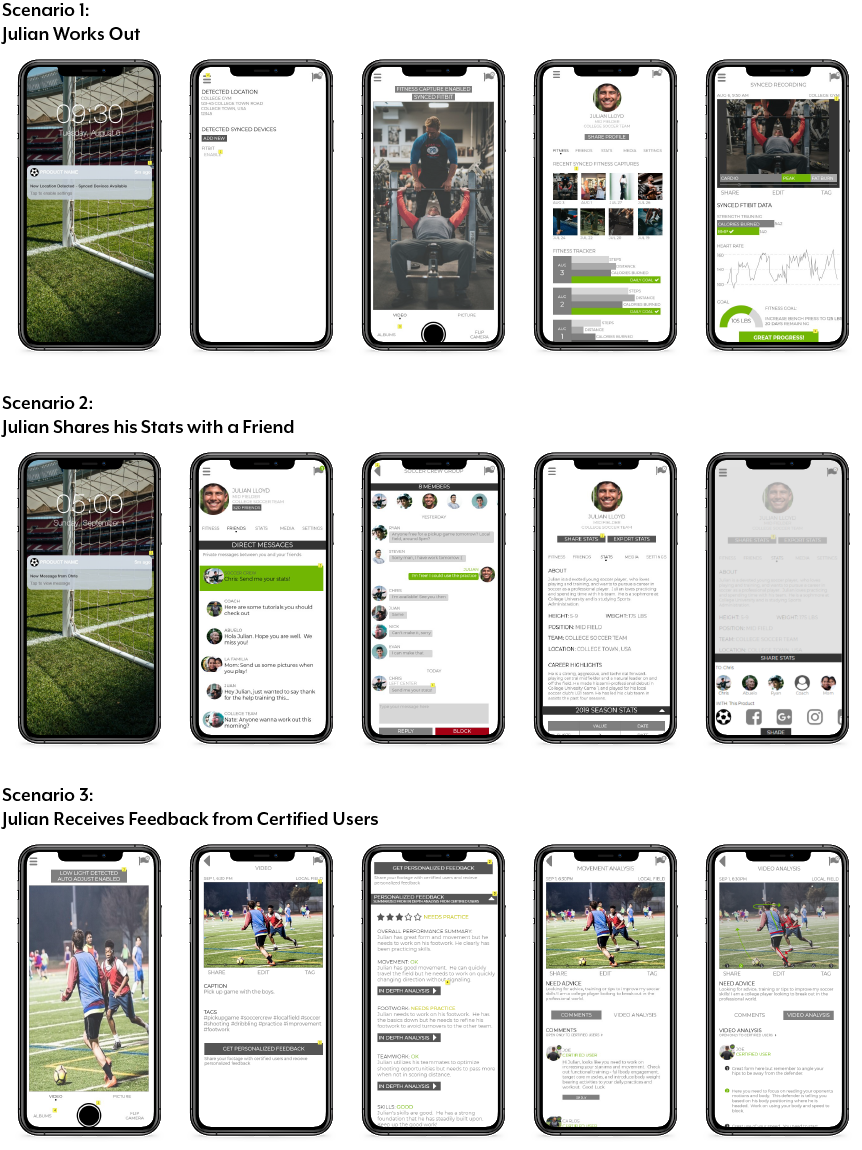 The concept of this product design allows the user to focus on what activity they are doing while not missing any memorable moments. This product provides solutions for users like Julian who look for apps that help solve problems they face when working towards a goal. With this product, Julian was able to rapidly and efficiently improve his skills, which would lead to his team winning the Championship game and a professional opportunity for Julian.  Even though he was working hard to accomplish his goals, this product ensured that Julian had a support system in place if he ever needed help or support in the form of certified users providing feedback and in depth video analysis.
This product provided Julian with not only the means of improving his soccer skills but also a way of building connections with professional opportunities.  By having his college soccer records and stats available upon request, Julian can market himself to recruiters who use the app to find talent and skill.  In addition to professional opportunity, this product also makes it easy for Julian to share his accomplishments and memorable moments with his friends and loved ones.  Julian can easily share media and keep in touch with those who are most important to him.