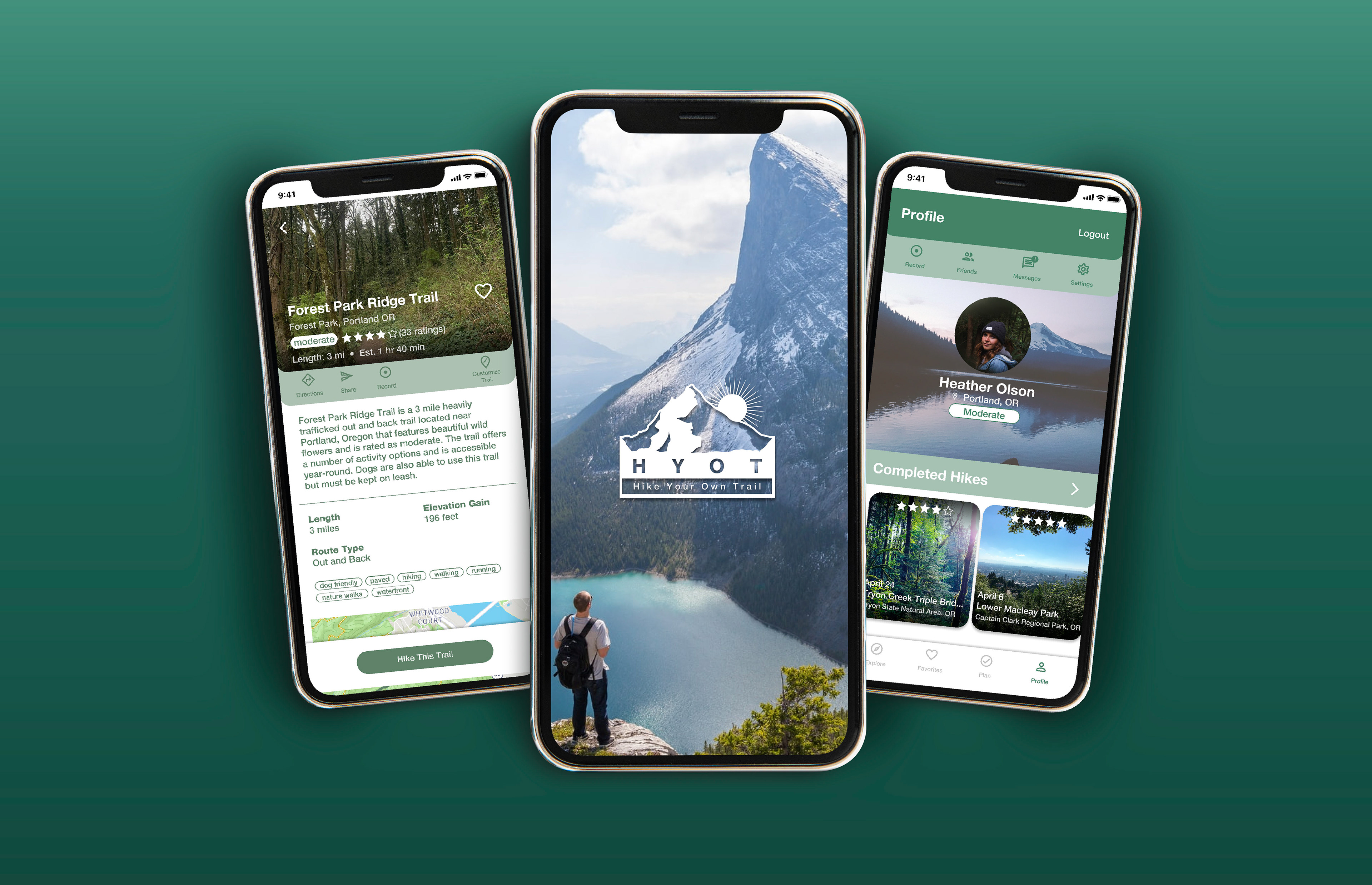 Background
Case study that explores how users can use an app to help them plan hiking excursions. 
Objectives
Provide information concerning public parks and recreation locations in a specific area. This can include information like: 
1. Number of people at a specific location
Allow users to connect with each other about events and various groups centered around recreational activities.  Additionally users will be able to share images and posts with others similar to a social media platform.
My Role
Research, Lead UI and UX Designer
SCOPE
Graduate coursework individual assignment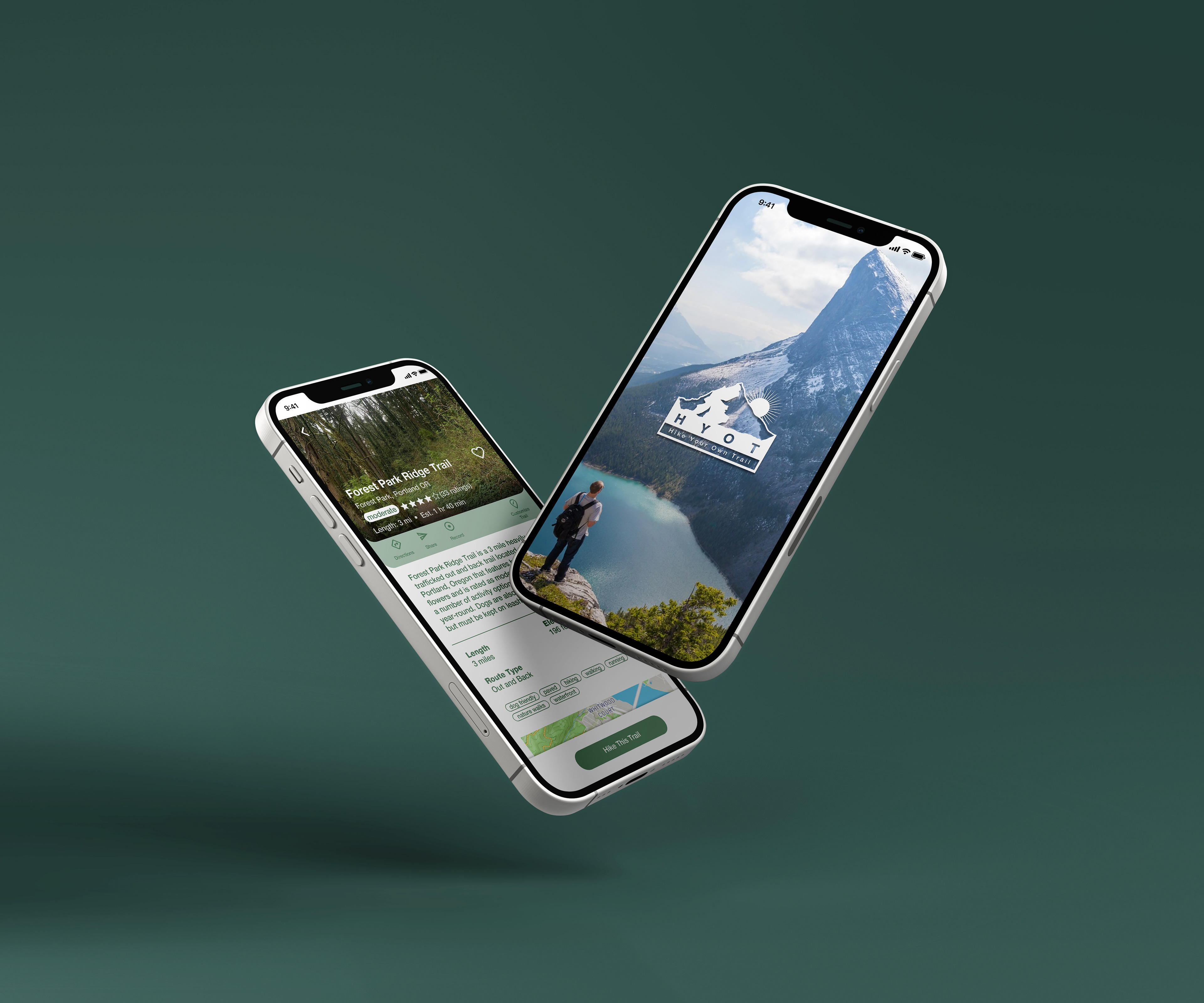 COMPETITION ANALYSIS
The goal of this competition analysis is to gain an understanding of the existing competition.  By understanding what users are currently using and what was readily available on the market I could better understand the needs and wants of the users.
​​​​​​​
 I completed a review of 3 different competitors and other designs that were relevant to the product's design and capabilities.  From this analysis I was able to understand the unique way competing or relevant solutions attempt to solve different aspects of the motivating problem.
​​​​​​​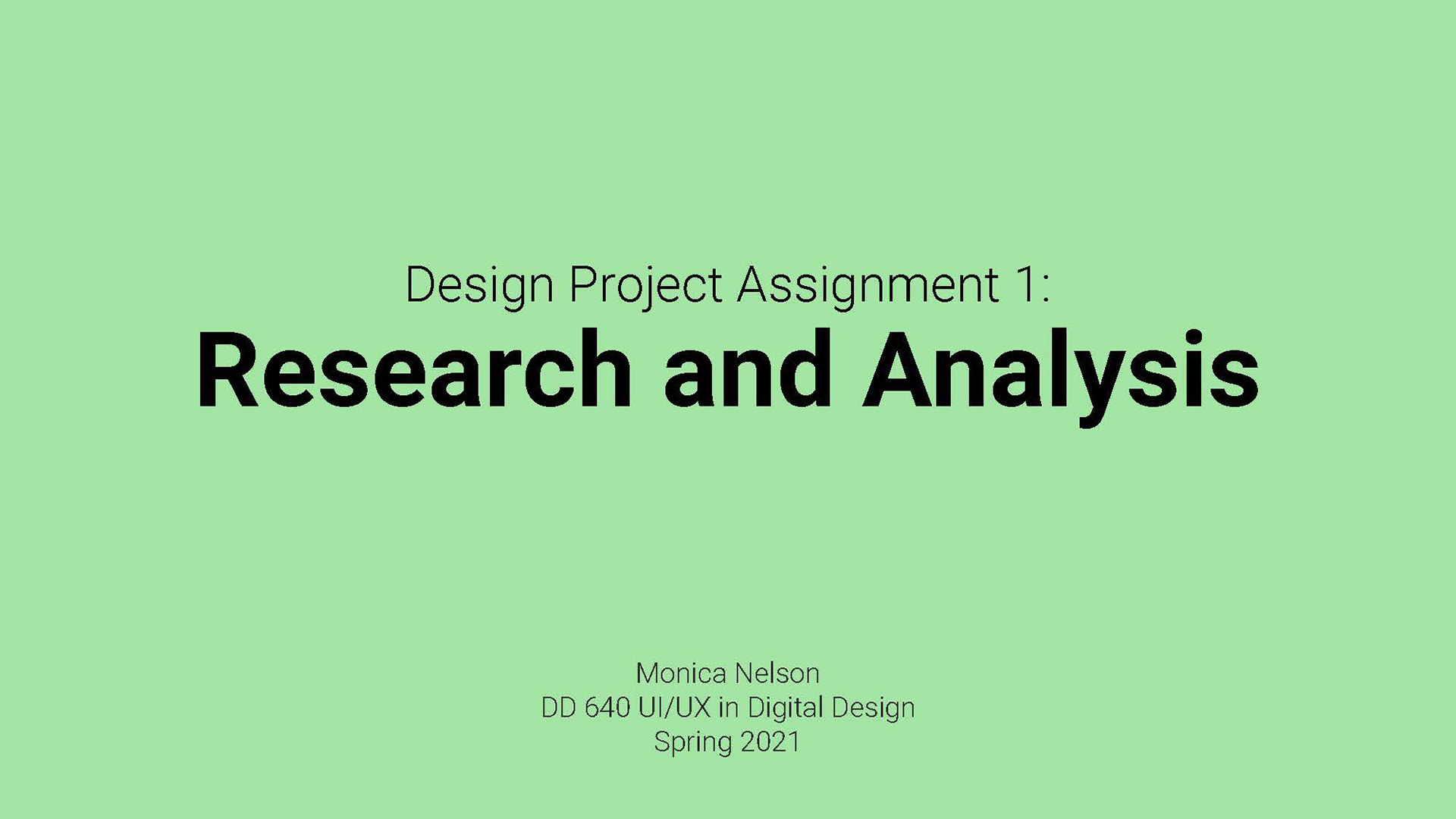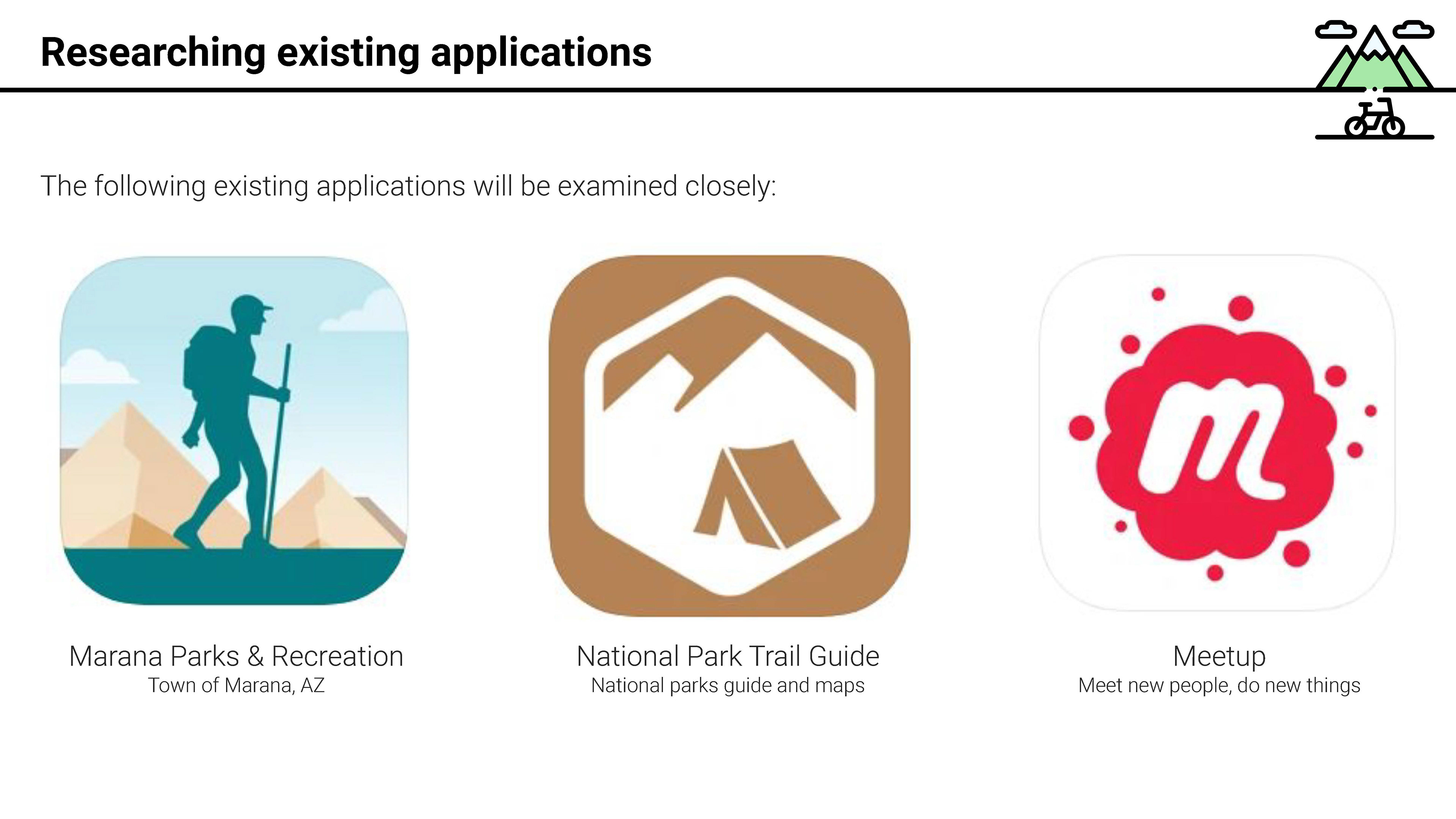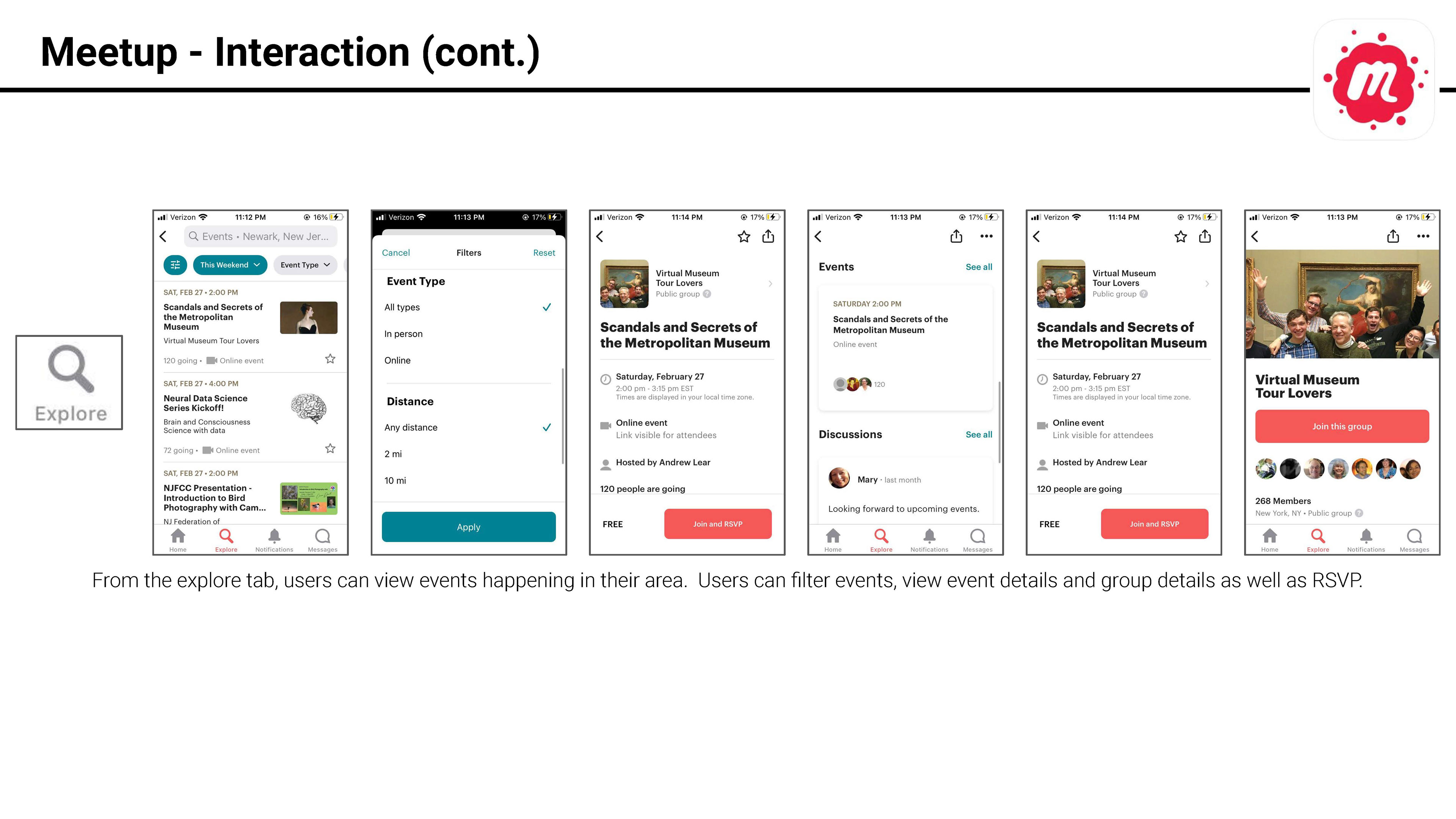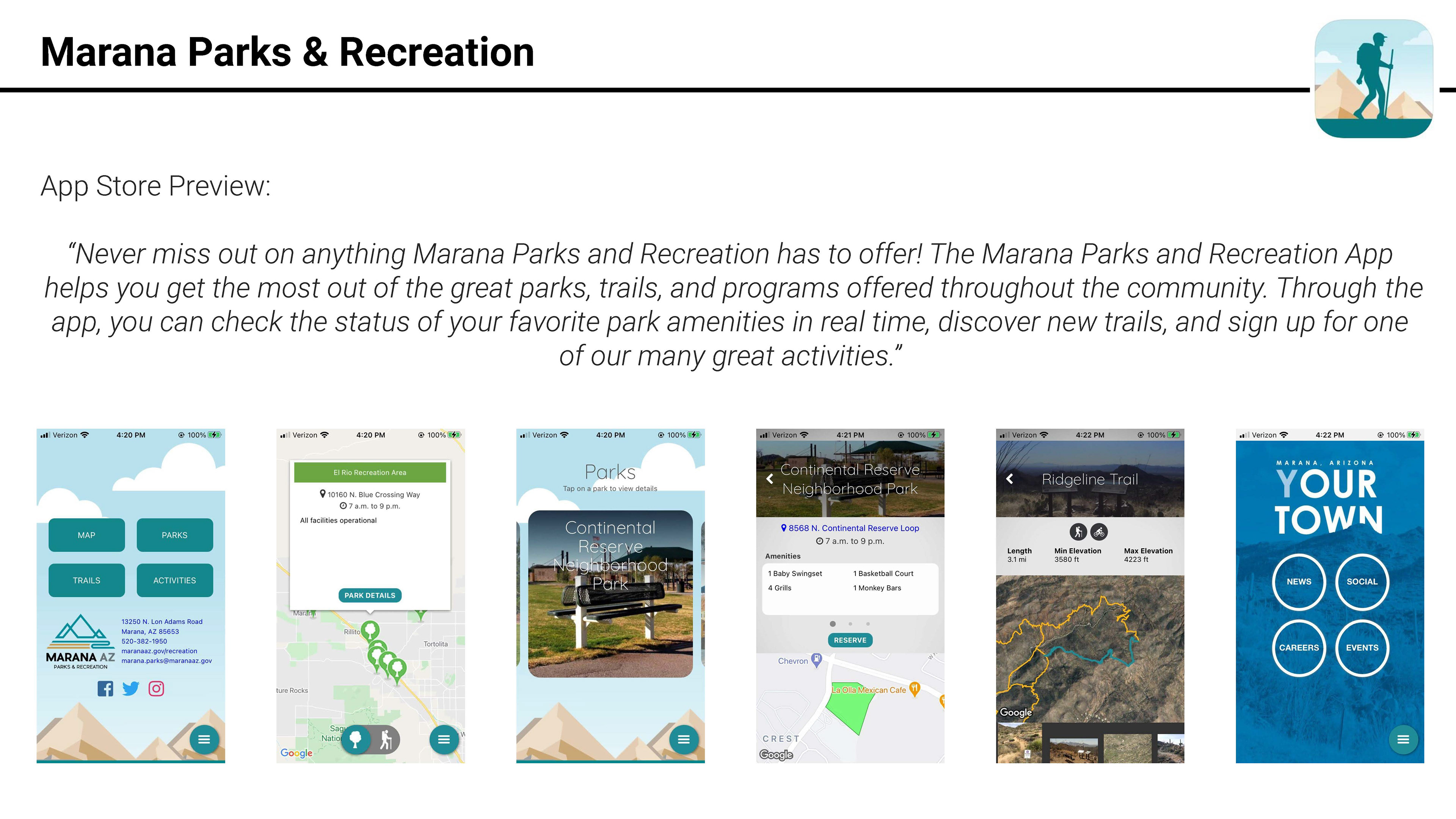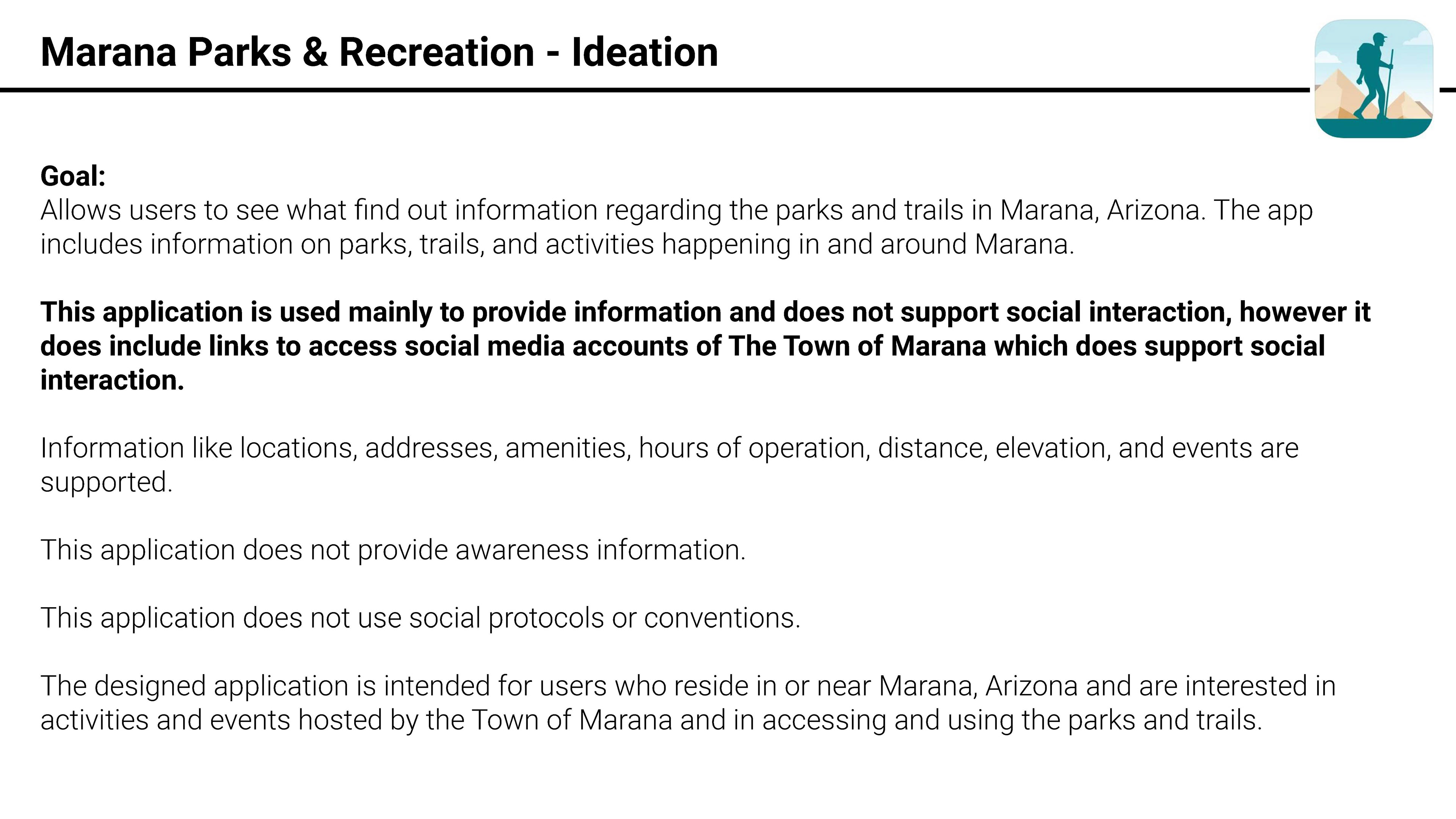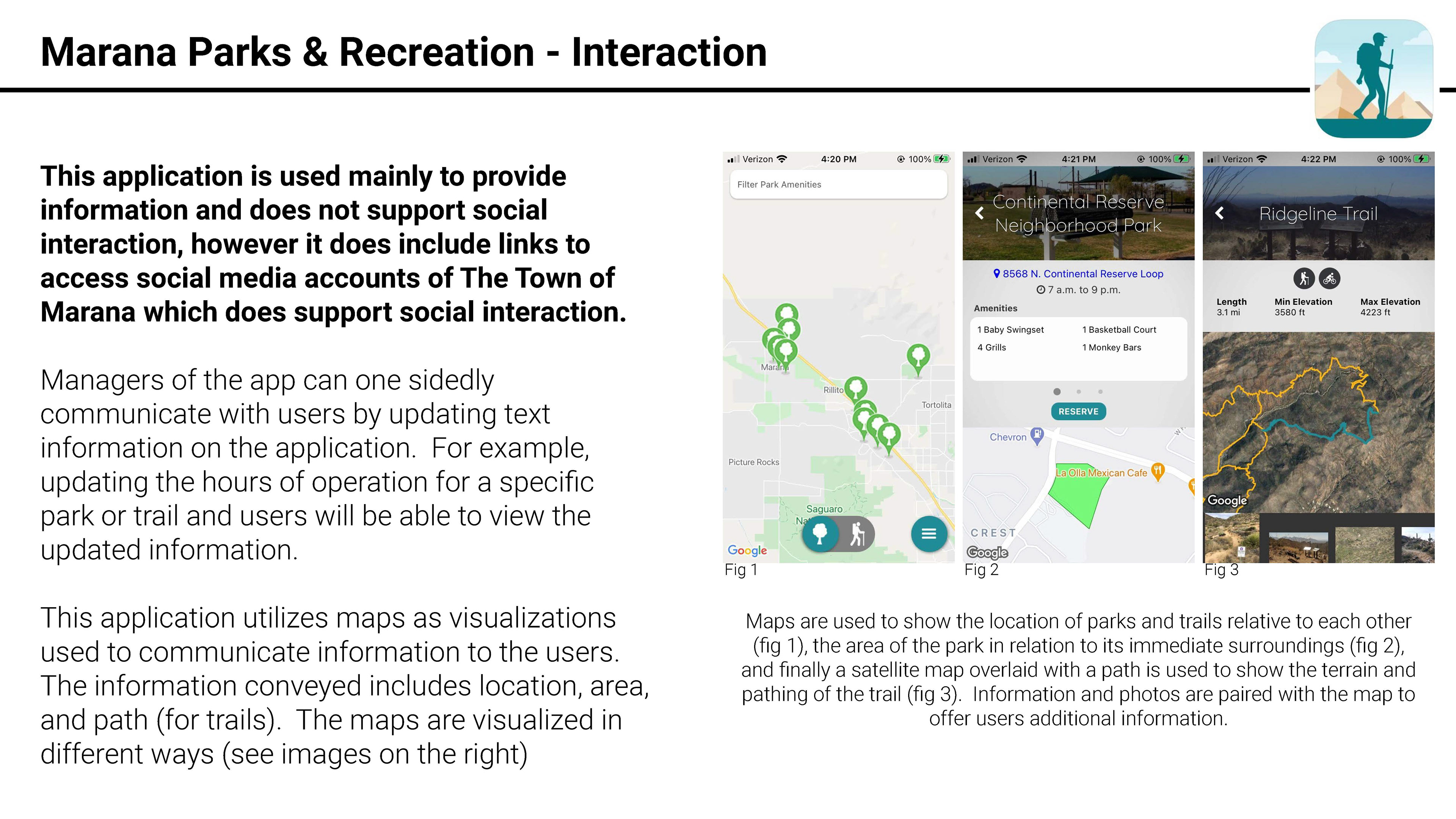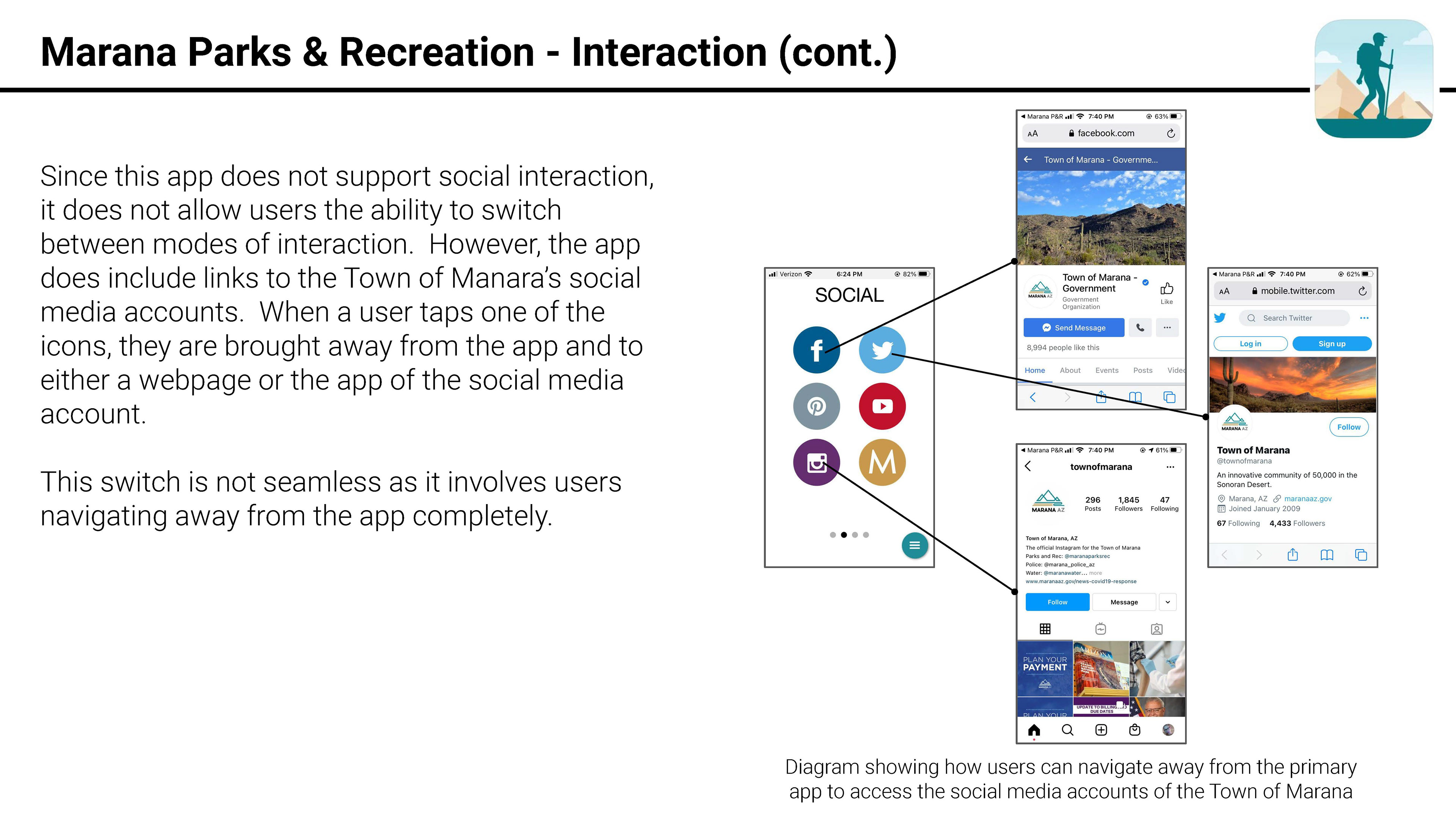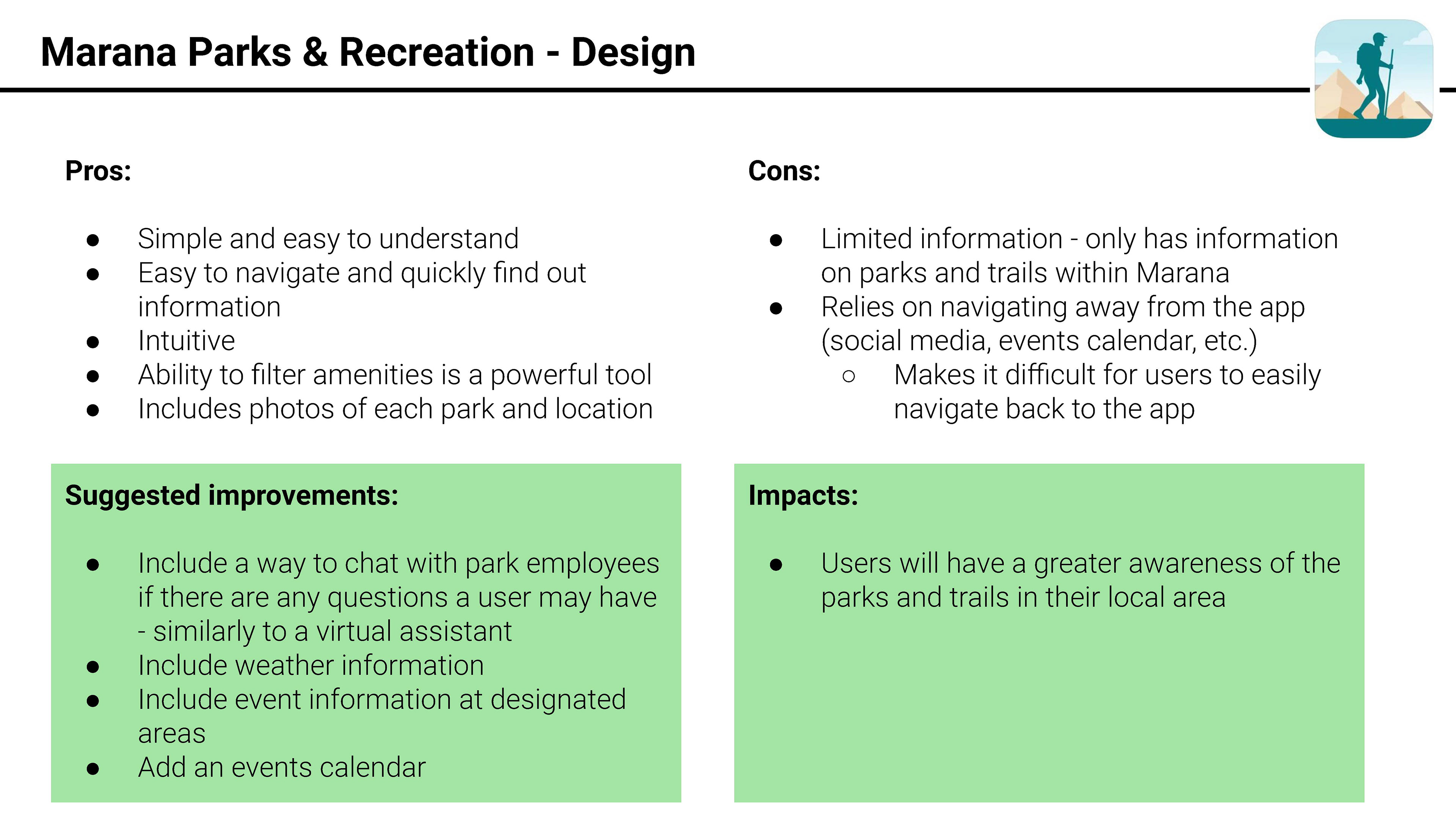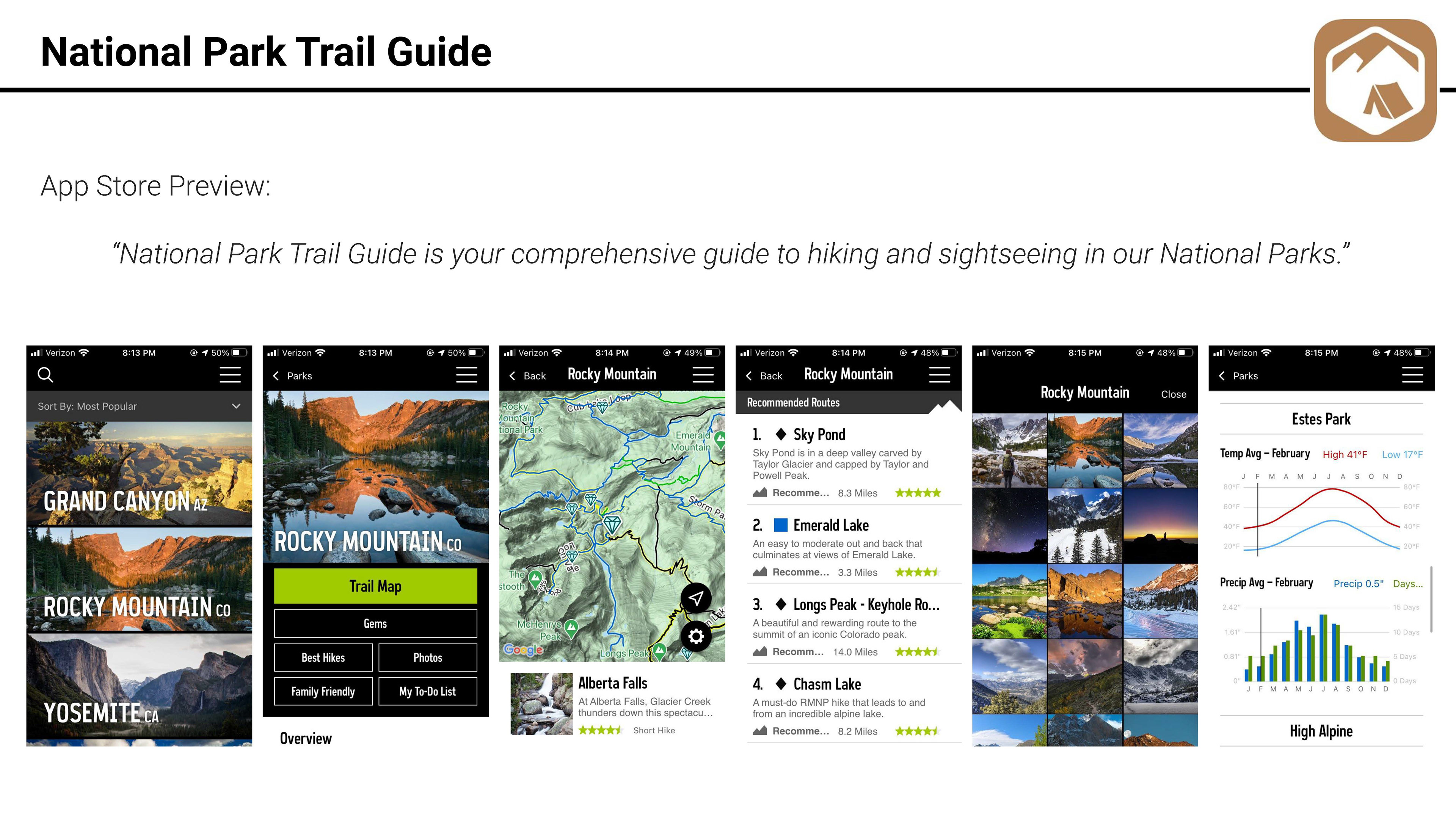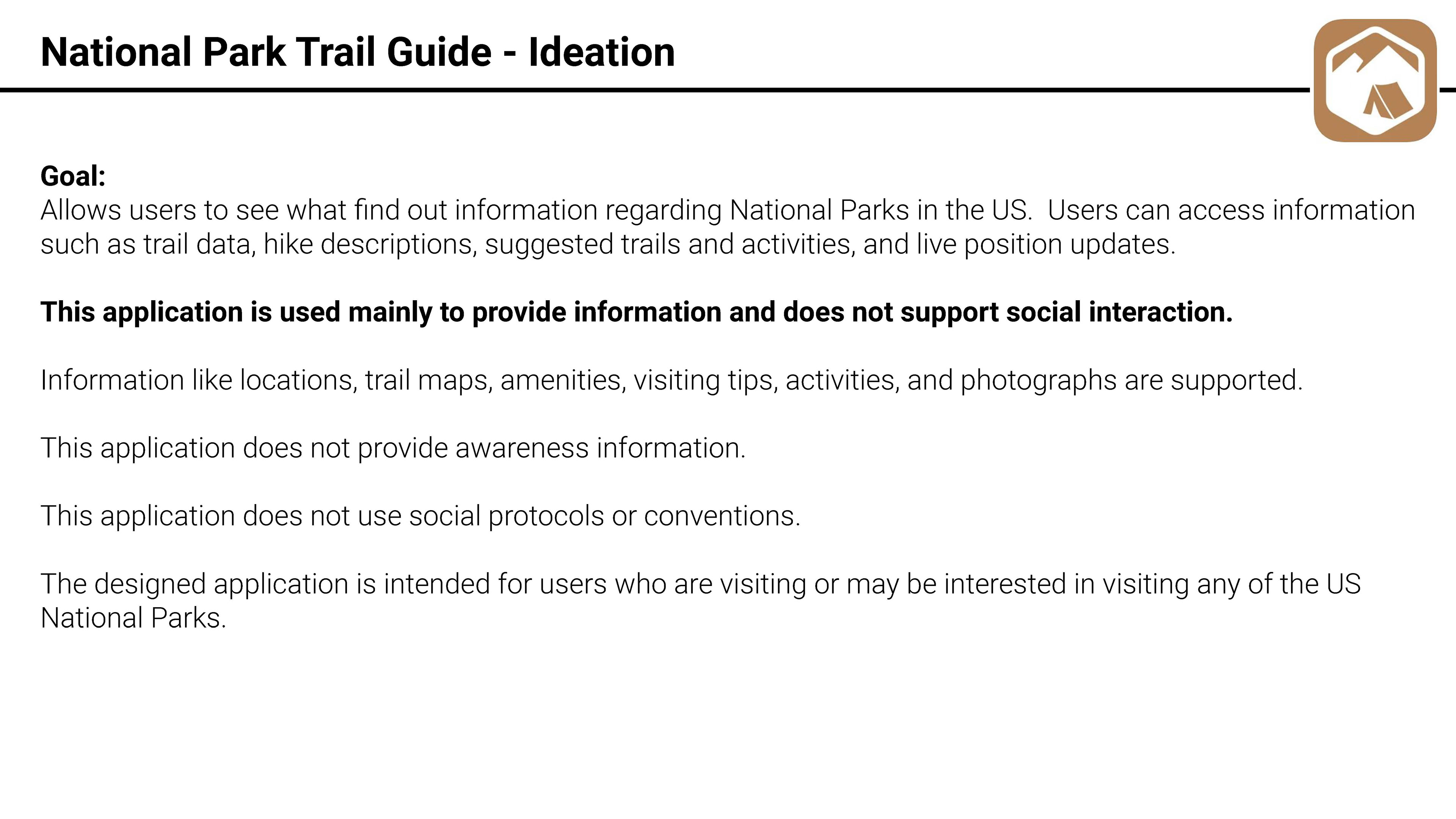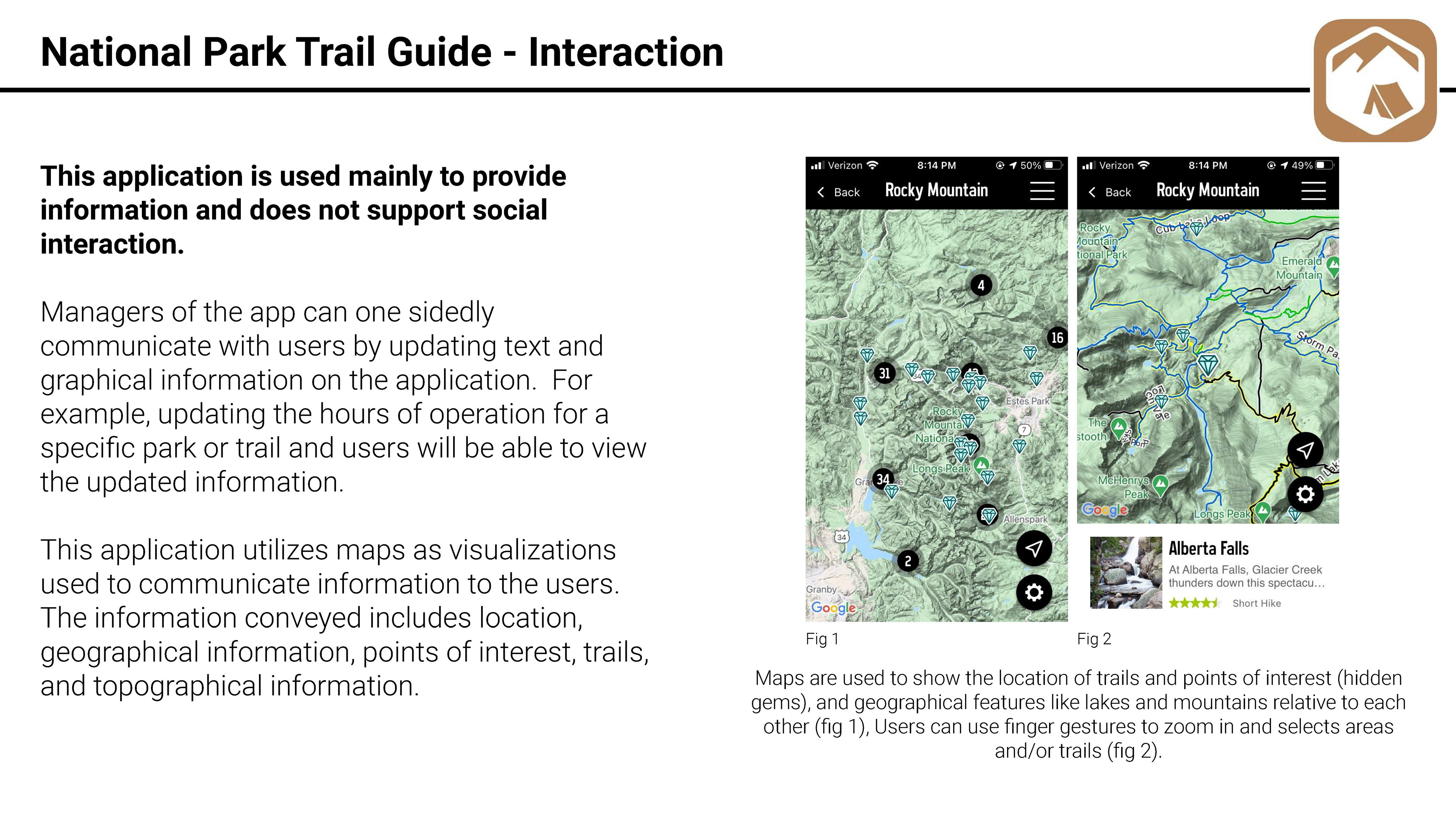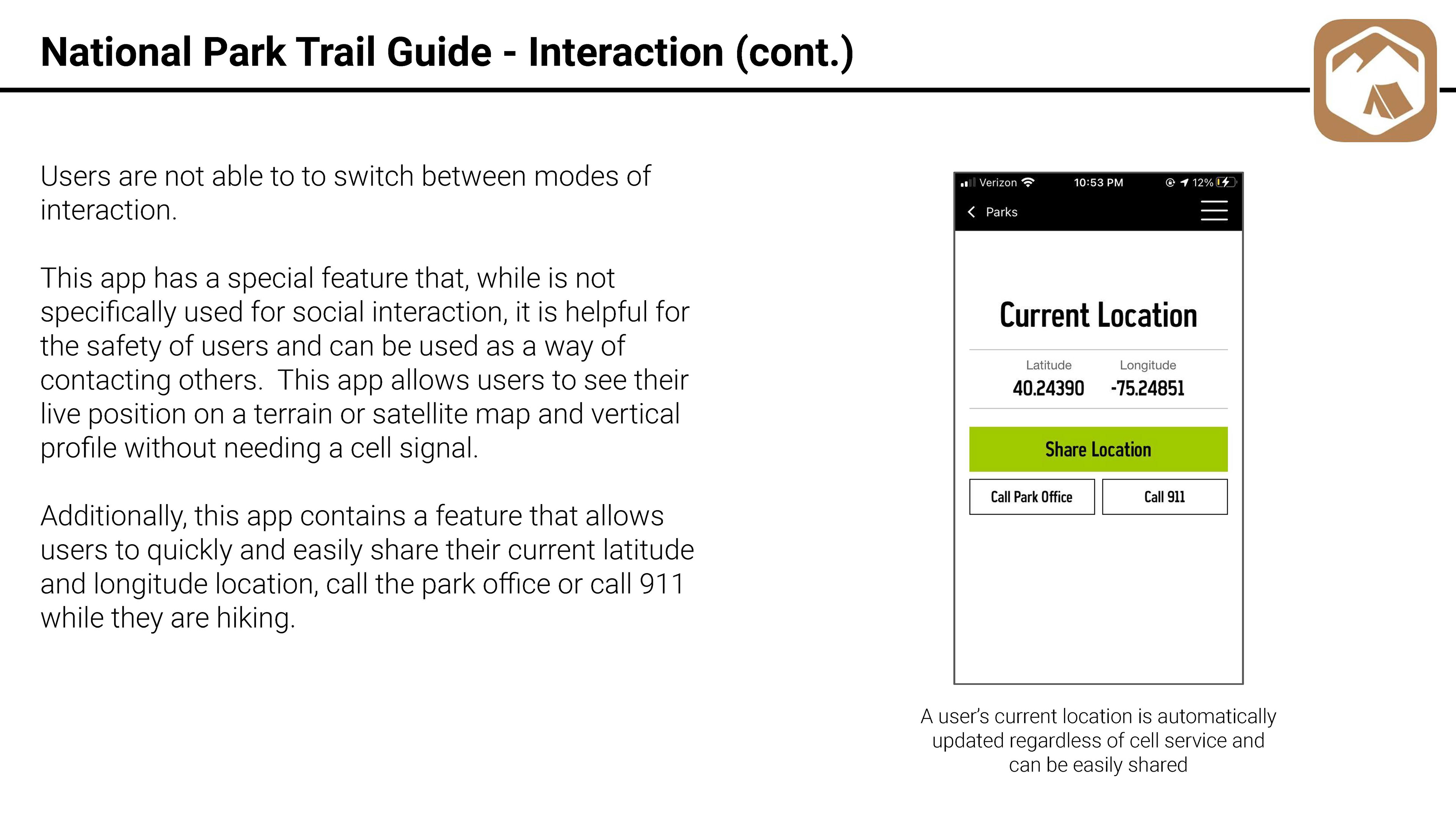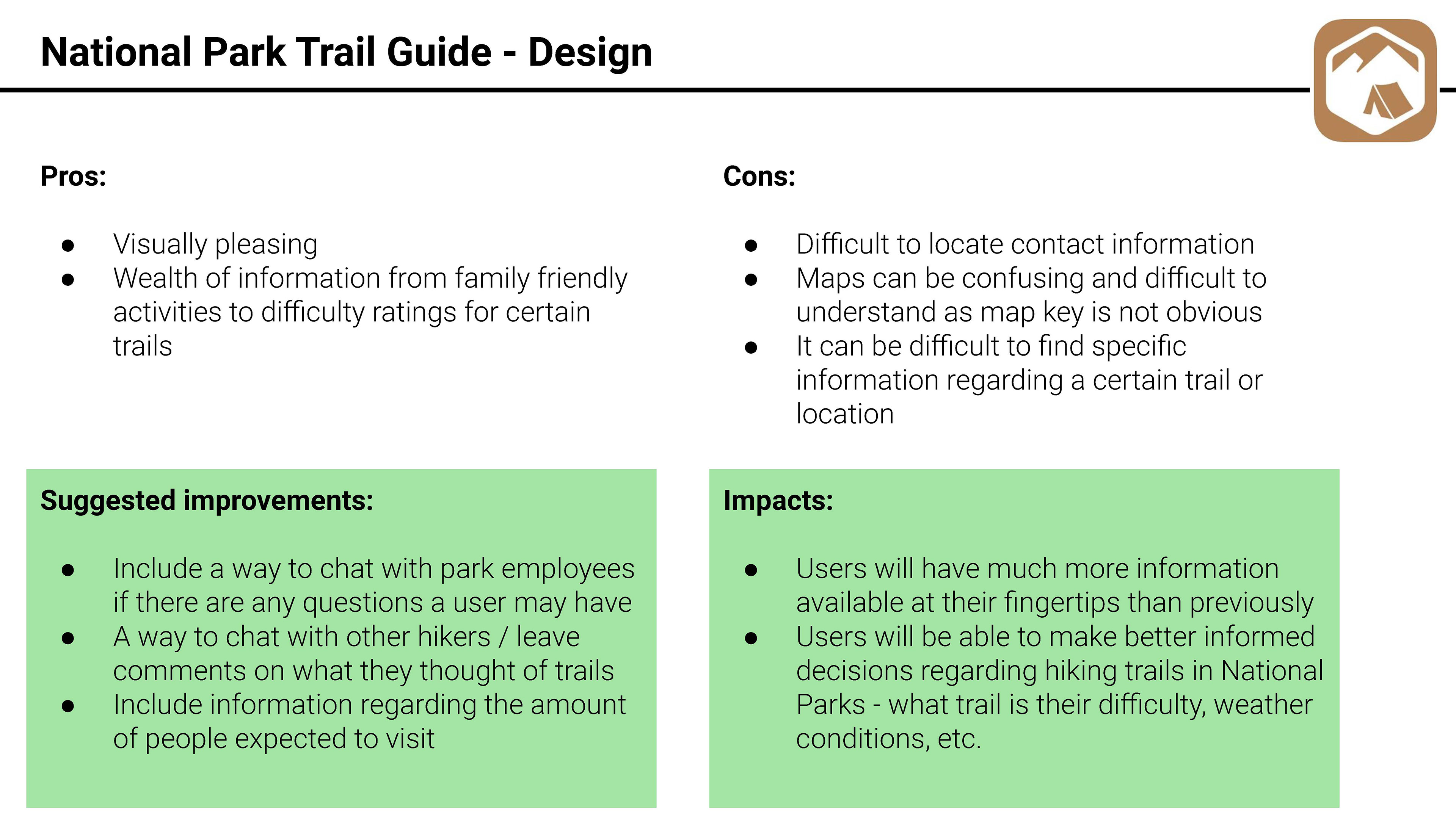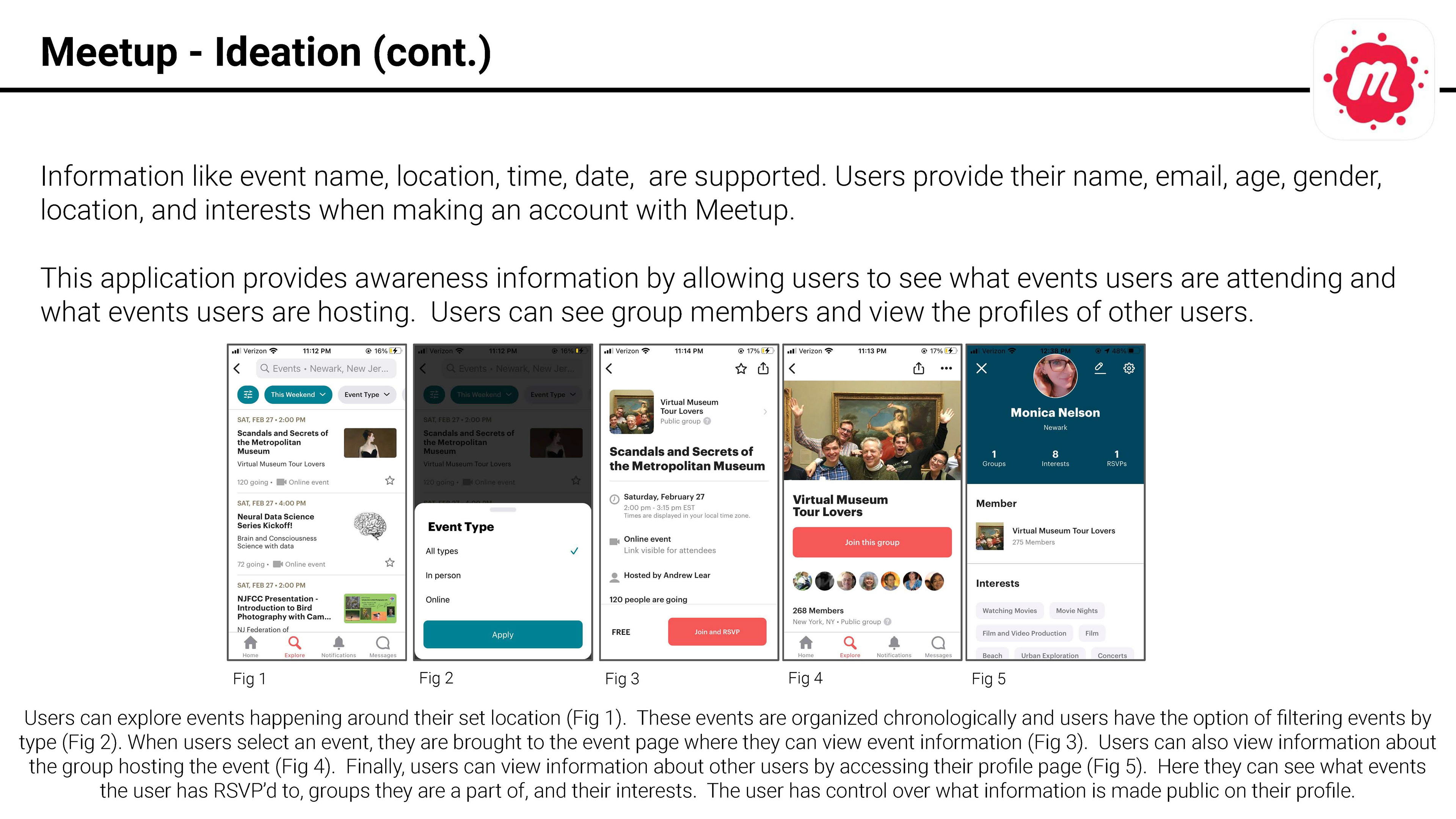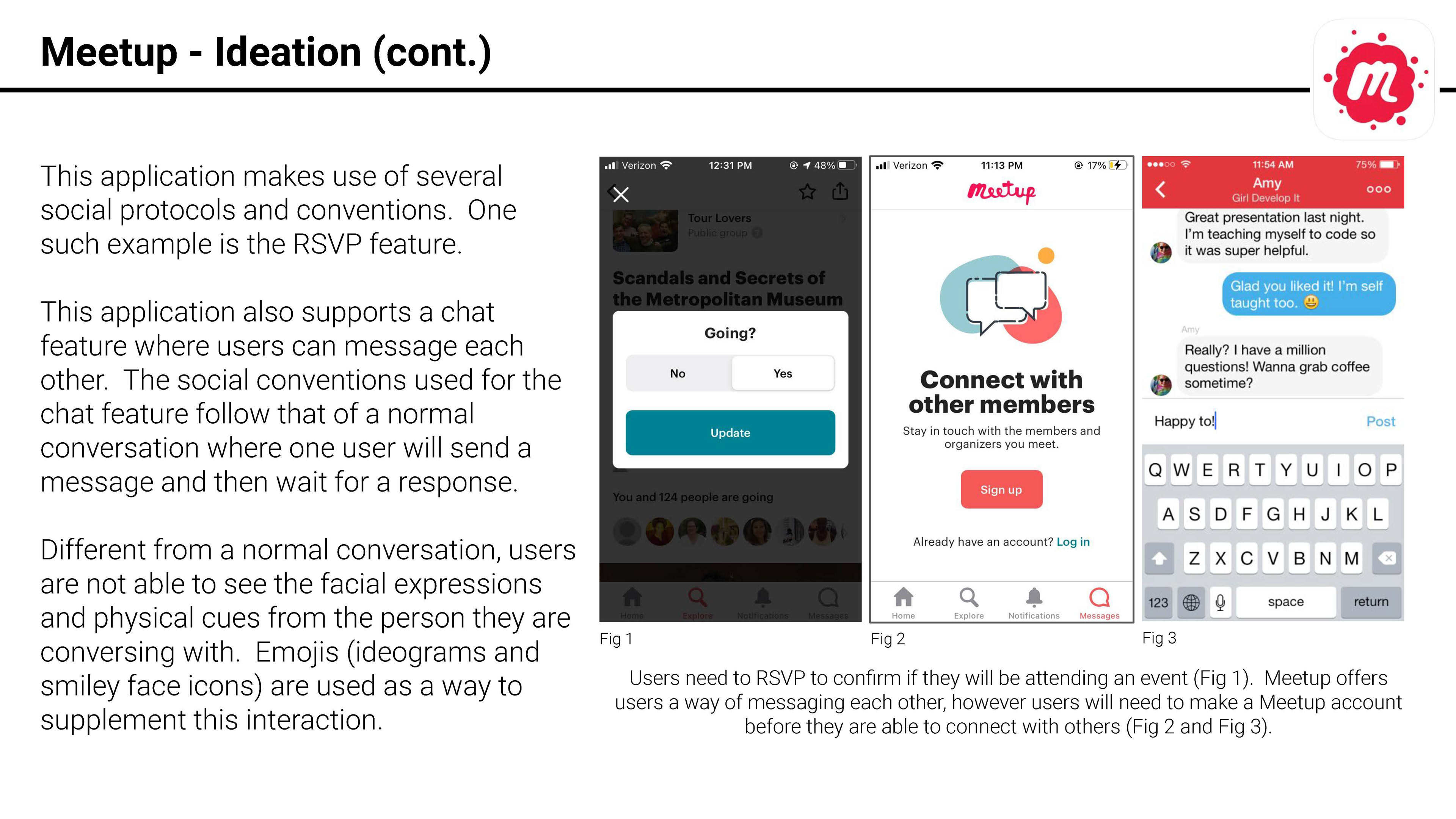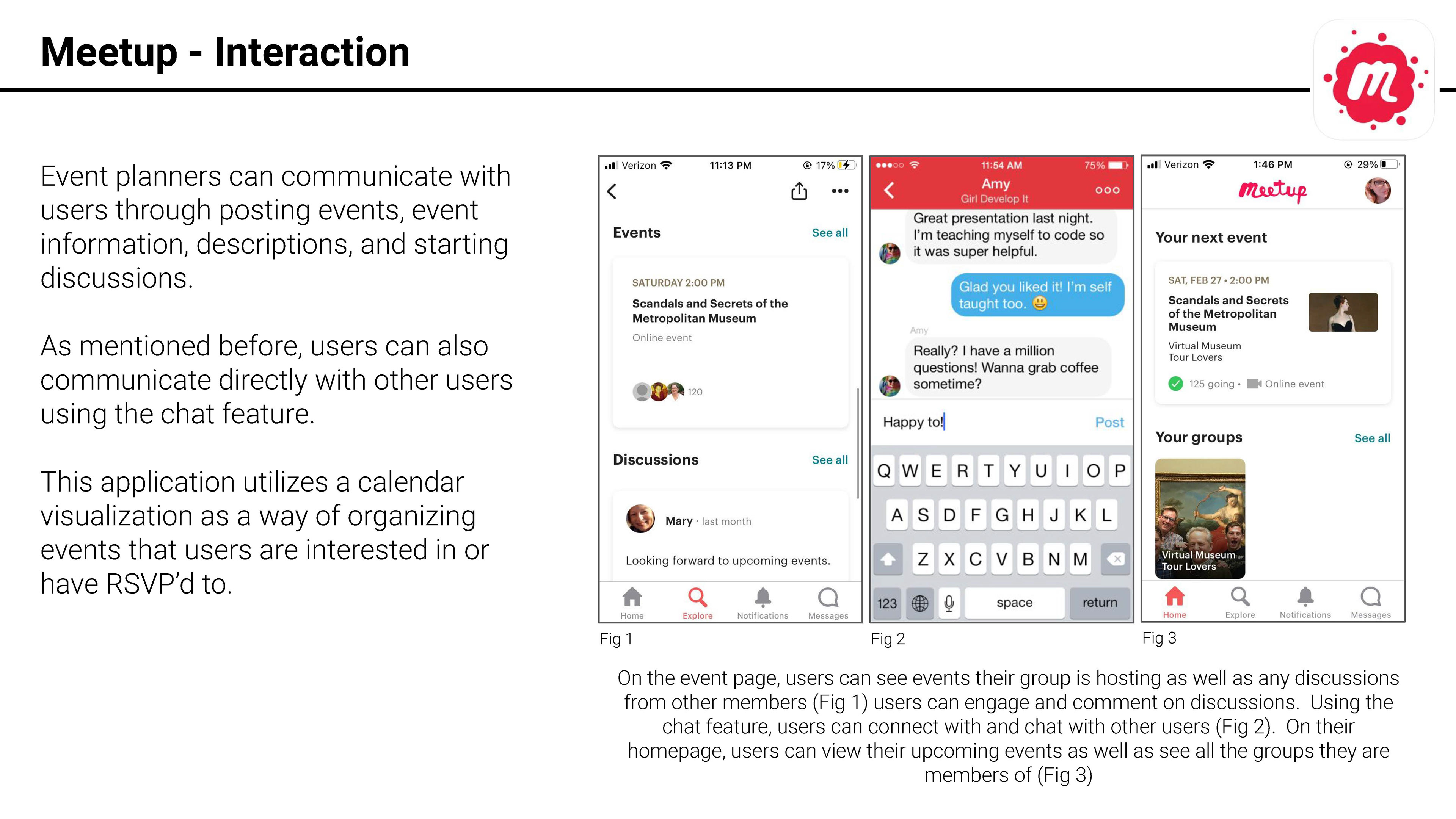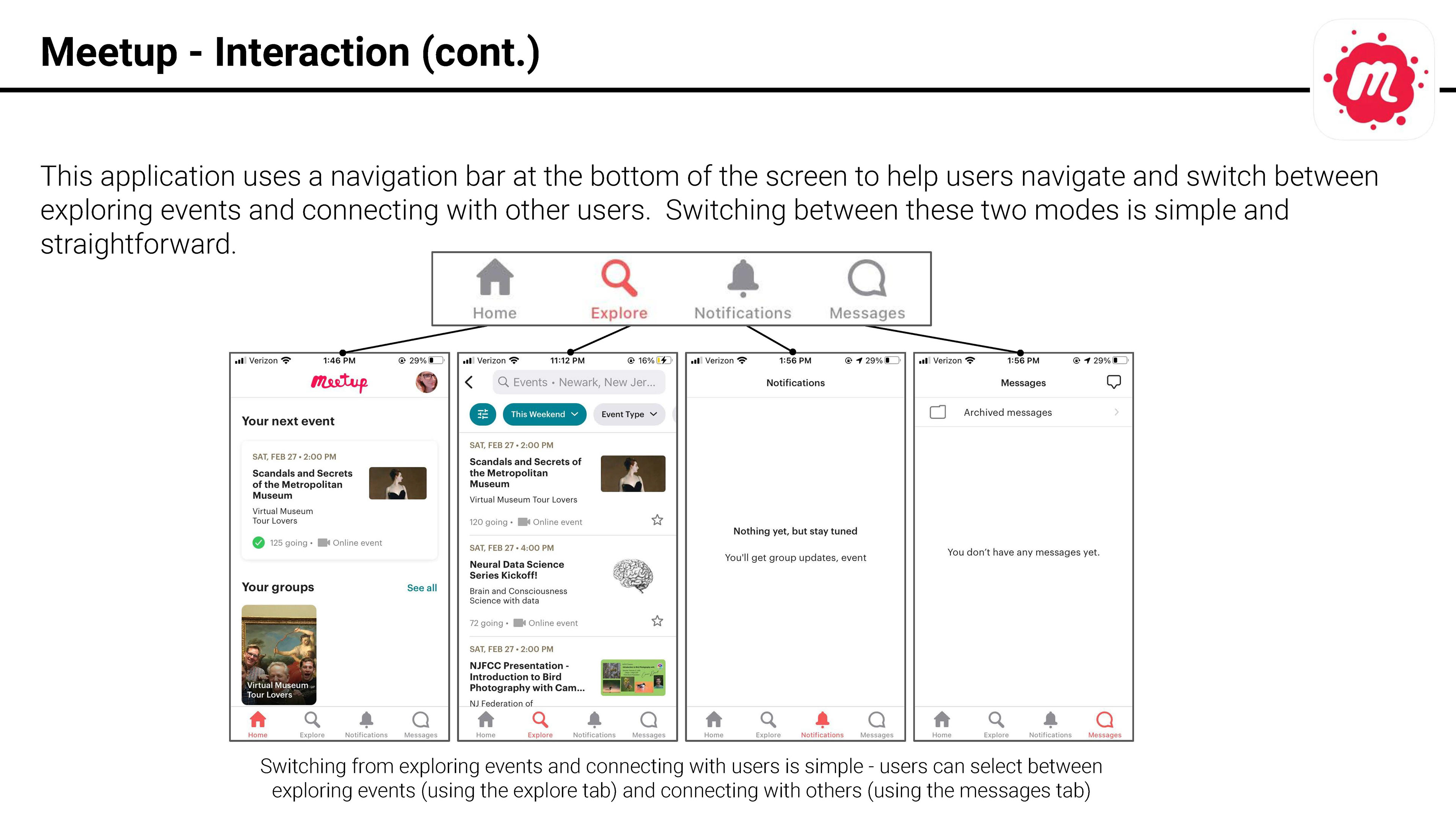 QUESTIONNAIRE AND INTERVIEWS
Two techniques for data gathering were utilized - a survey and interviews.
The goal is to gain insight about user's perception and use of applications to plan and organize hikes as well as how users connect with others who are interested in hiking and hiking activities.
The main goal of these processes is to understand:
1. How do users plan and organize hikes?
        a.  What information is most important to them?
        b.  What resources do they use?
        c.  Are those resources effective and helpful? Why?
2. How do users connect with others with shared interest in hiking?
        a.  What resources do users use to connect?
        b.  Are those resources effective and helpful? Why?
The 

questionnaire was created using Google Forms and was deployed using social media.
A total of 64 individuals completed the survey and of those, 7 individuals were interviewed.
Data visualization techniques were utilized to gain insight on user perception and wants from the results of the questionnaire. 
Themes and quotes were extracted and analyzed from the interviews.
An analysis of the quantitative and qualitative results from the questionnaire and interviews revealed insights that helped guide the design.
PERSONAS
A persona or user persona is essentially a representation of the app or software's ideal user base. Personas acts as a benchmark for UX design teams to work with in order to create the best user experience. Personas are fictitious profiles based on the type of people who would be the primary users of your product. Personas are crucial to the design and development of the product because they allow designers insights as to how potential users will interact with your product.
Personas were developed based on the interviews and will act as fictitious users of the app.  
Based on the insights and quotes extracted from the interviews, two personas were developed, 
each with their own goals, background, and narrative.
1. Heather Olson 
(Casual Hiker)
2. Ali Khan (Experienced Hiker)
A scenario for each persona was developed which describes how and why the persona would use the product to accomplish their respective goals within the context of the scenario.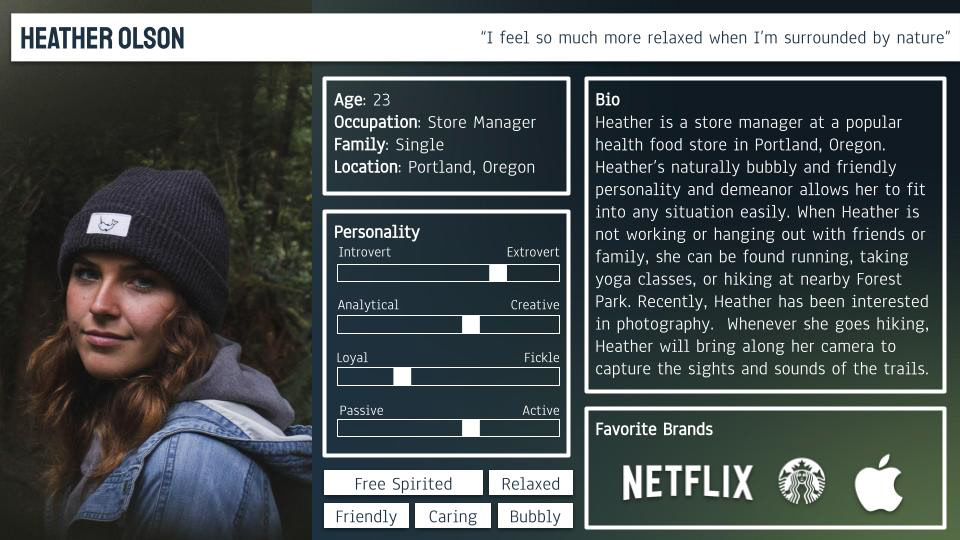 A user journey map is a visualization of the process that a person goes through in order to accomplish a goal. It's used for understanding and addressing user needs and pain points.
For each persona, touchpoints, actions, thoughts,  feelings and expectations were mapped and evaluated.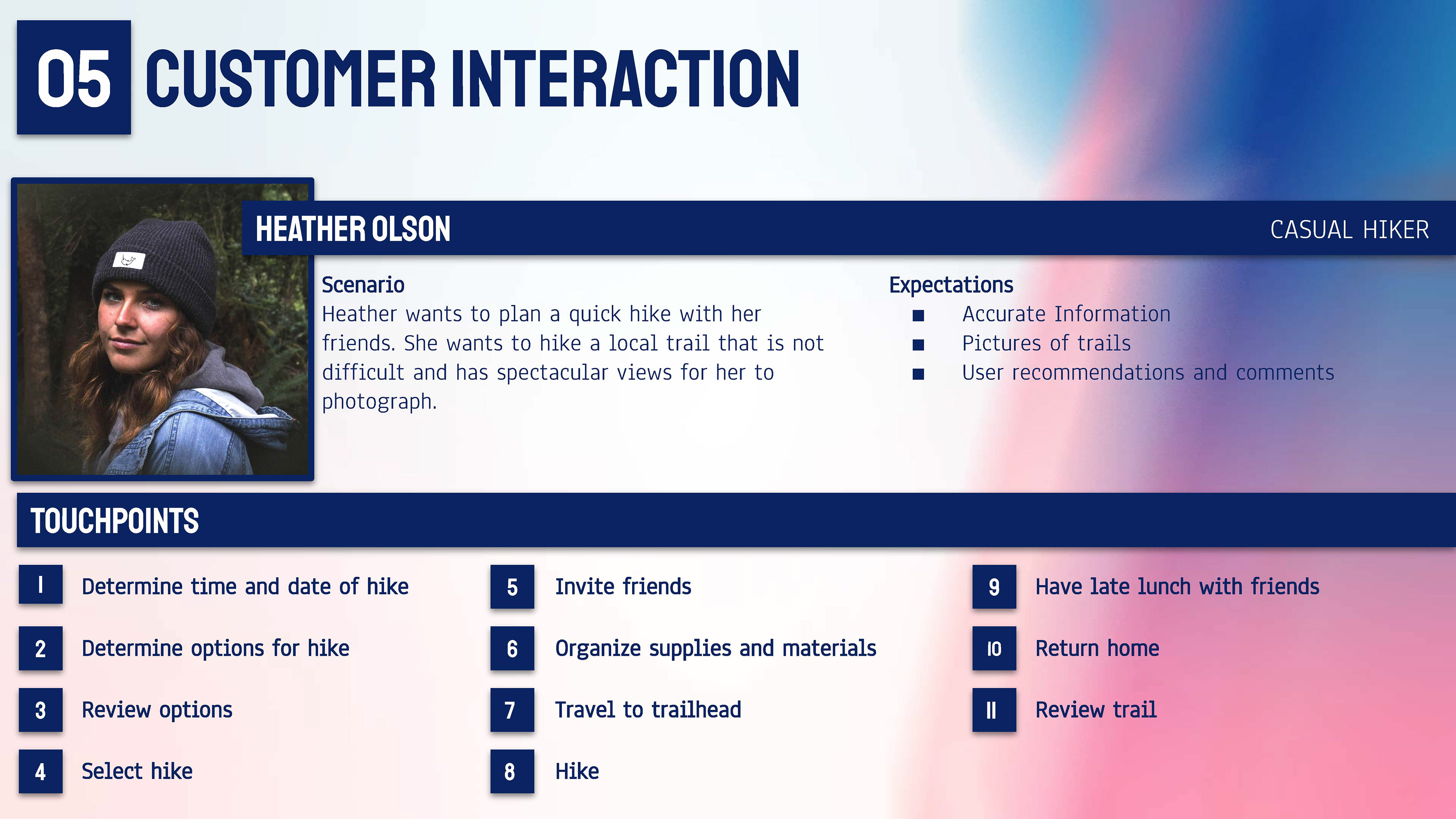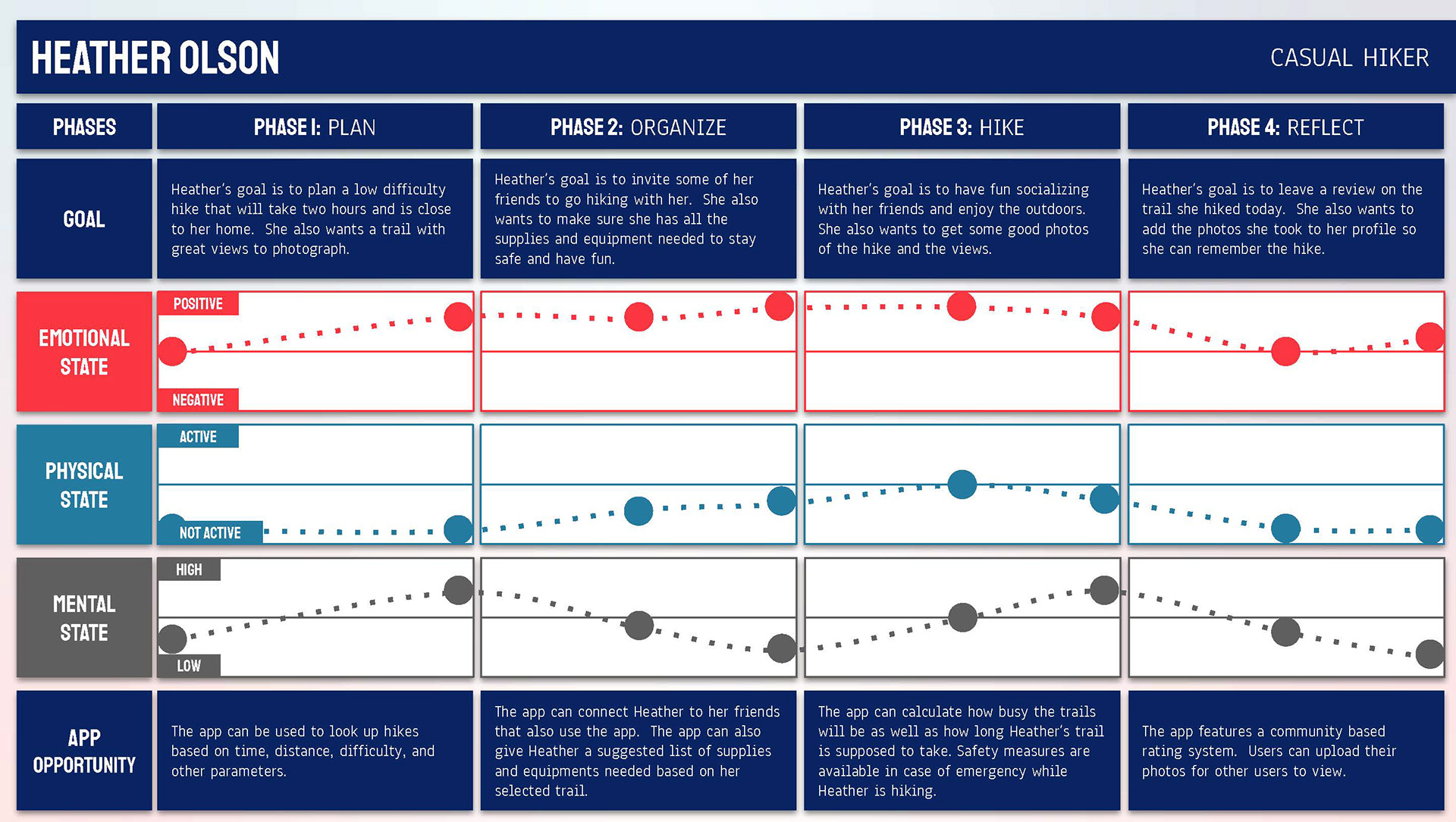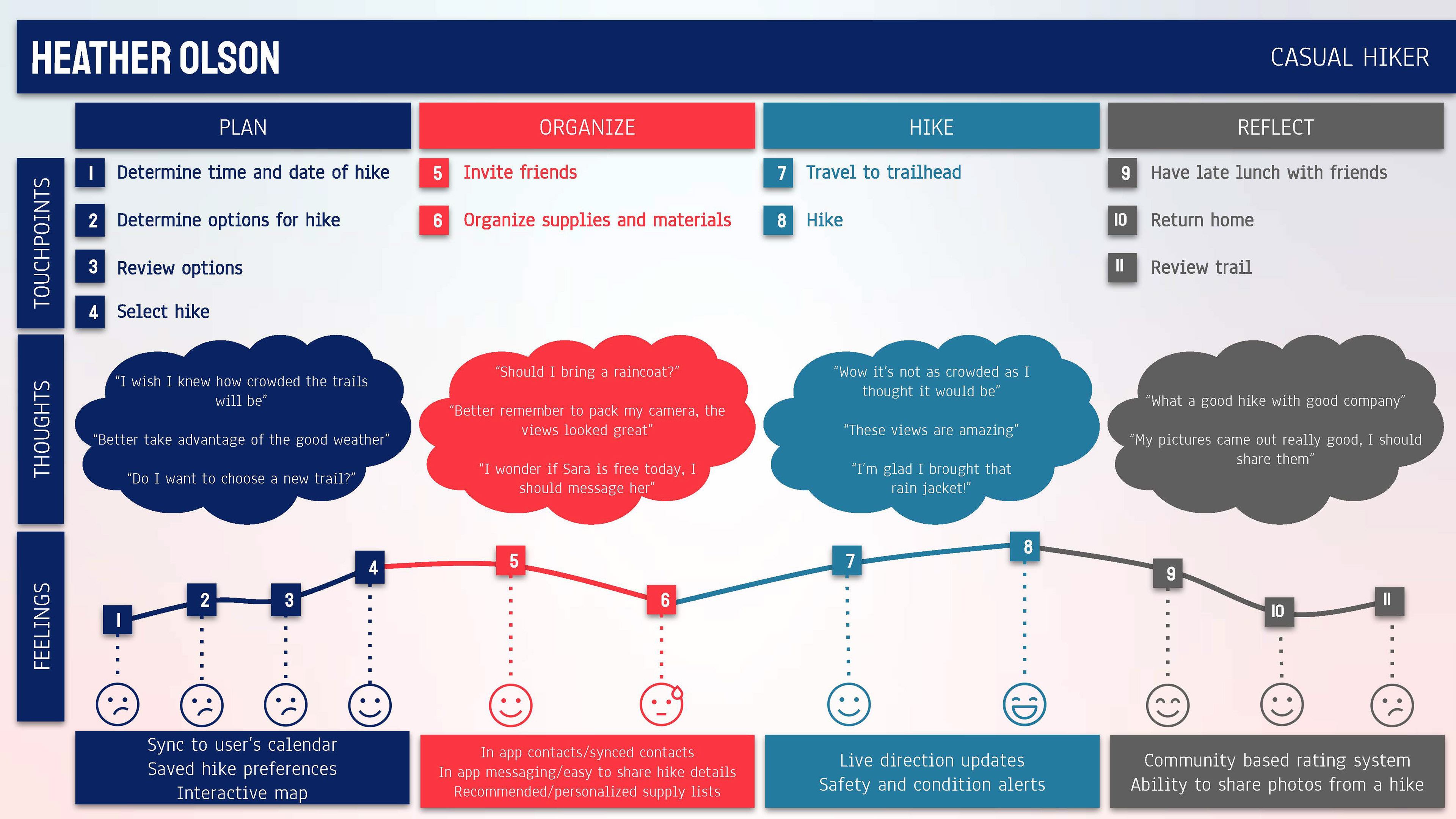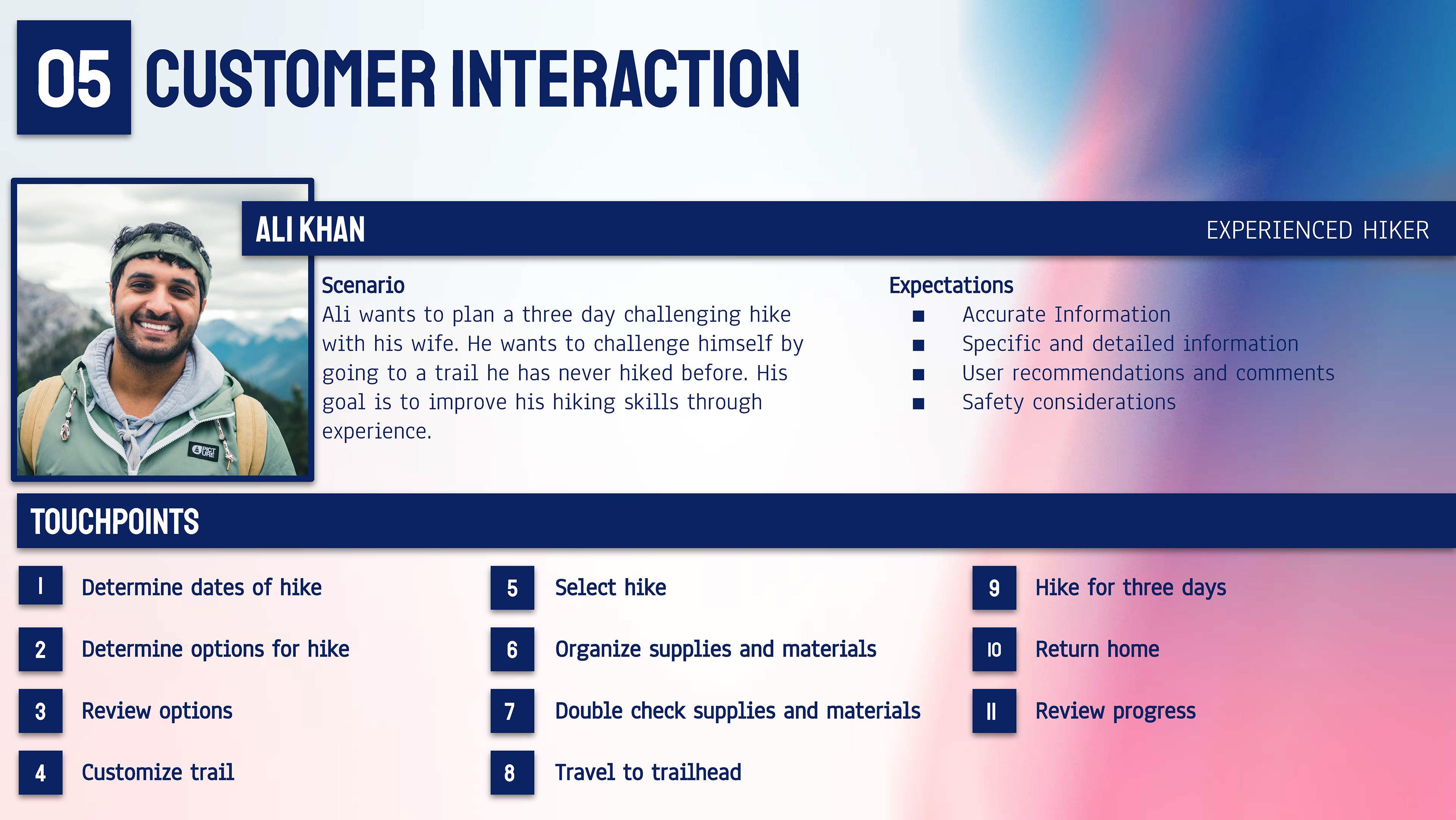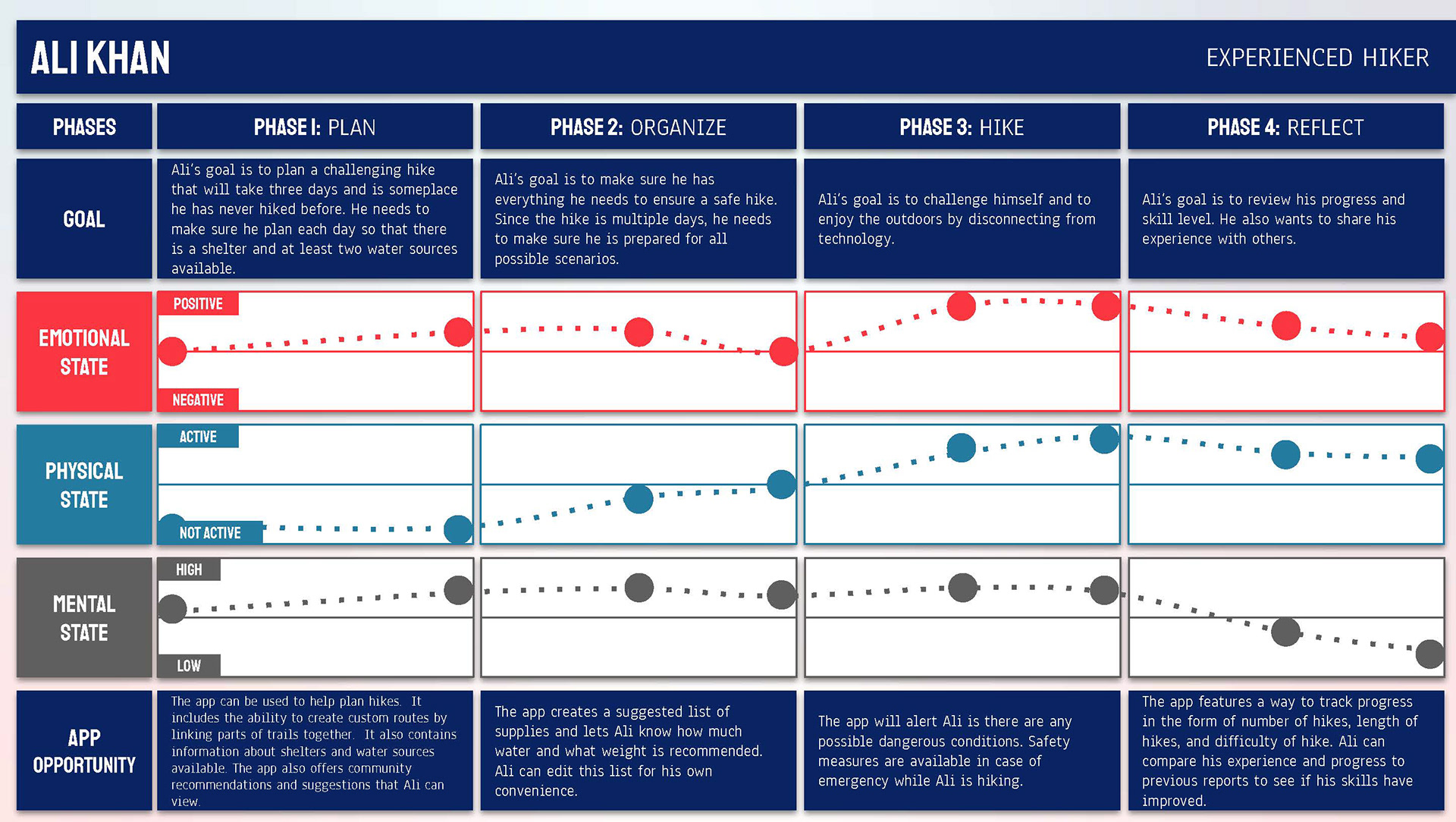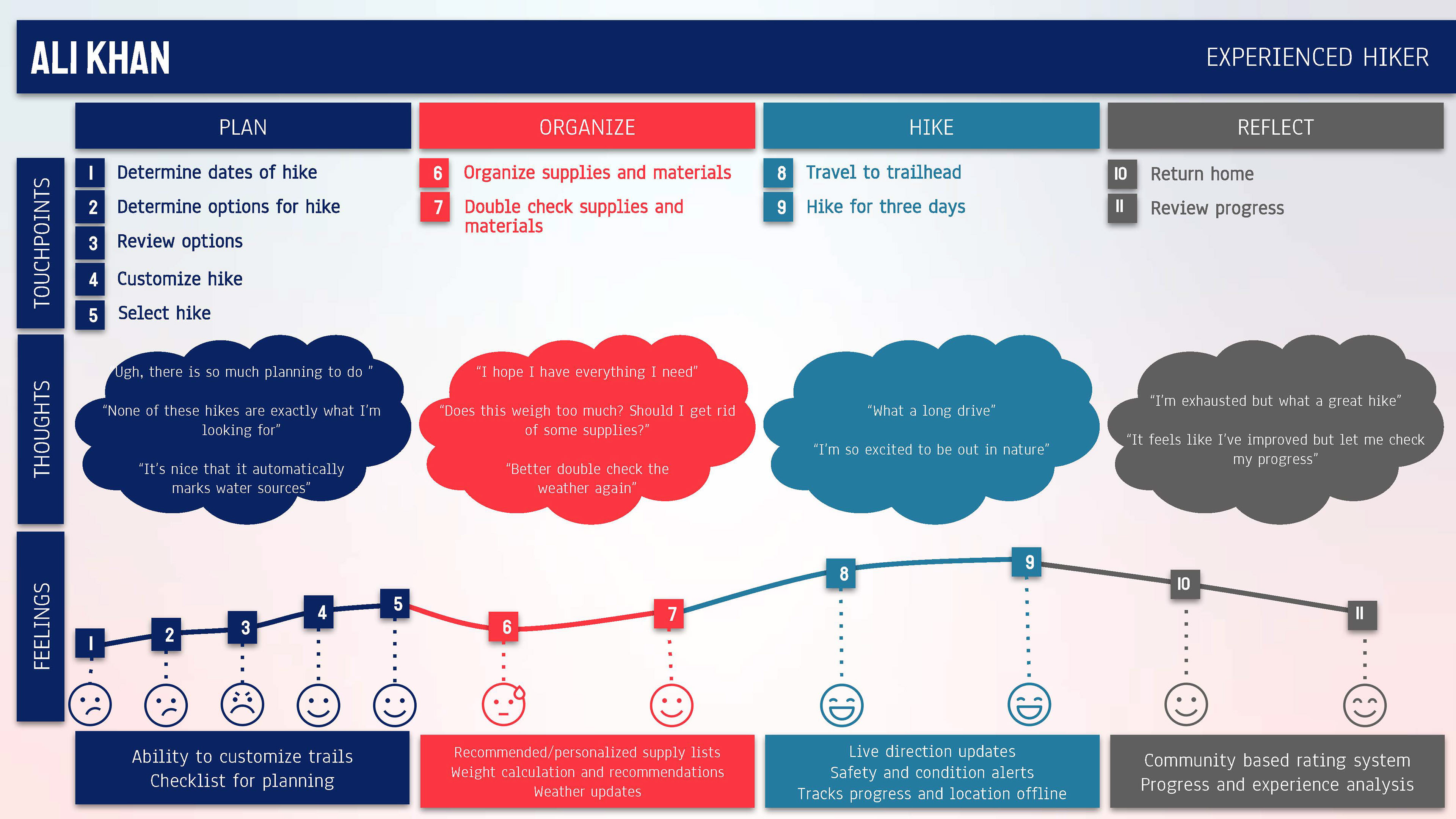 Flowcharts are used to begin designing a prototype of a product for users to use.  The in-depth research done previously on  each persona and their goals and behaviors will be helpful to this process.
User flows are visualized using flowcharts to show how the user will accomplish their goals while moving through the product.  Back-end processes will be described as well to offer a broader look at the product processes.
The following flows were explored in depth:
1. Logging into app
2. Browsing hikes using filters
3. Creating custom trails
4. Organizing supplies
5. Inviting friends
6. View feed of trail
7. Recording hike data
8. Leaving a review
​​​​​​​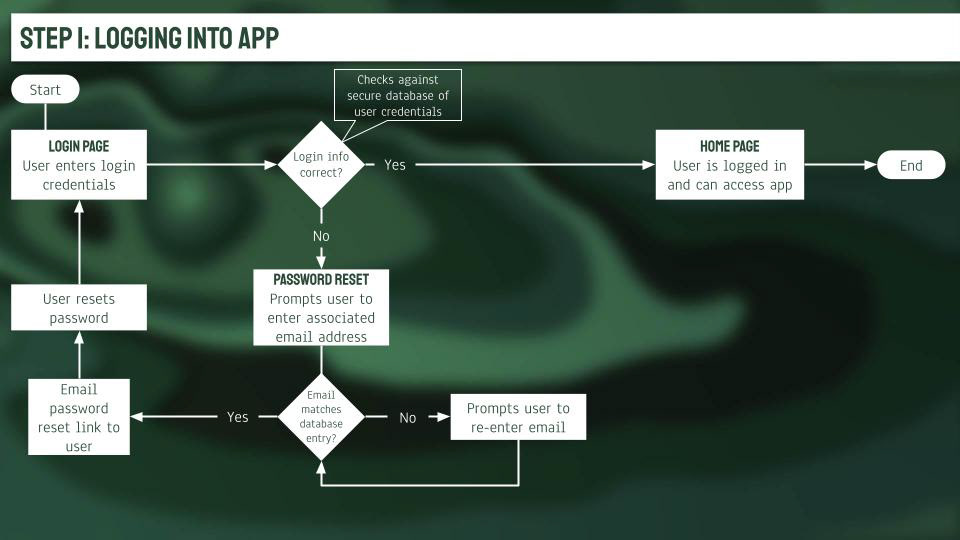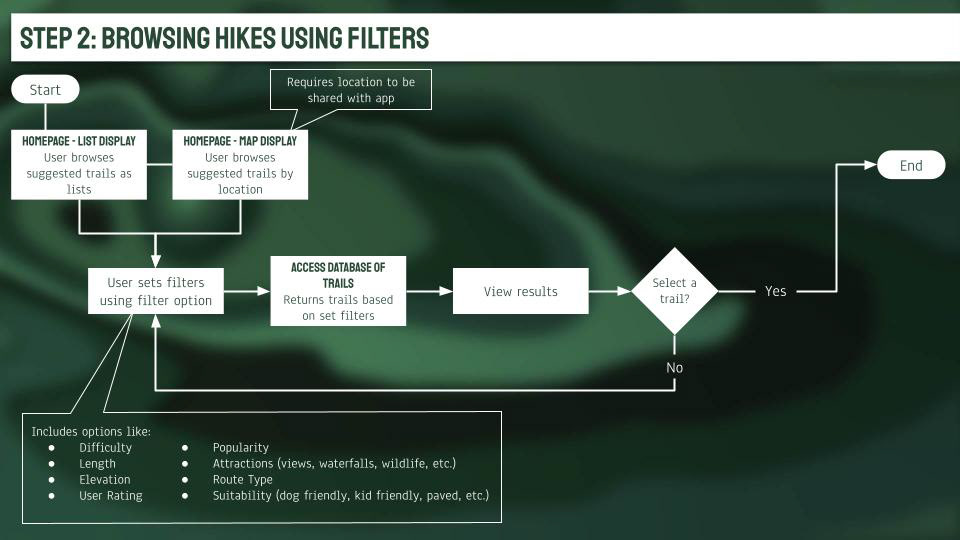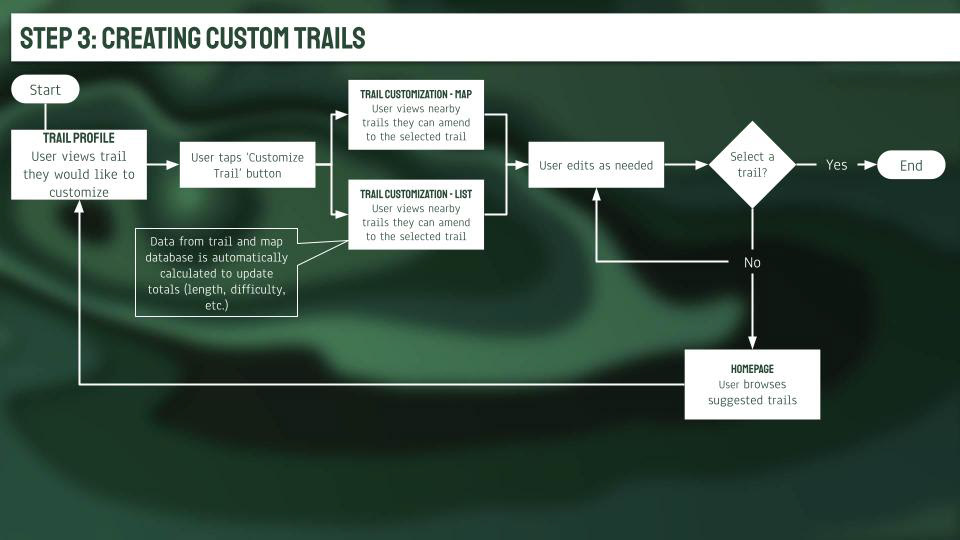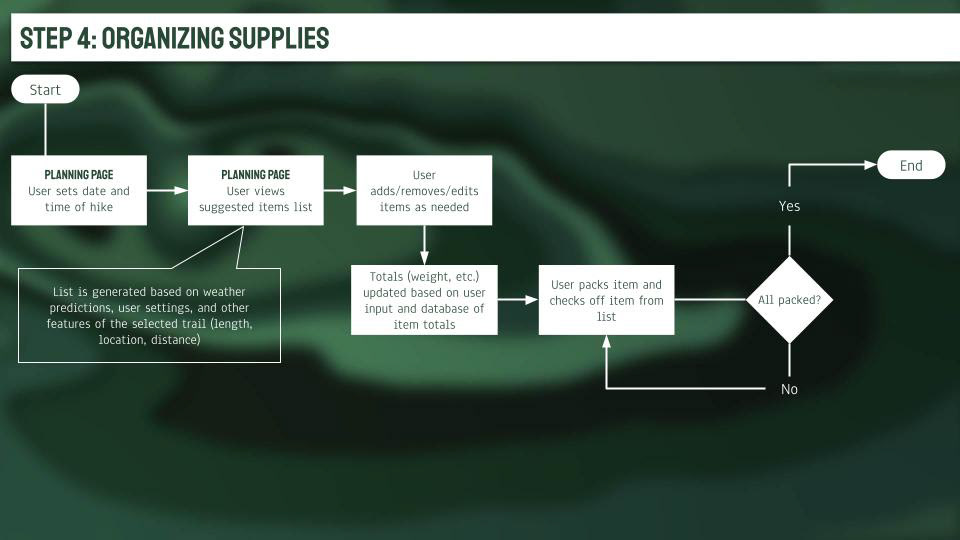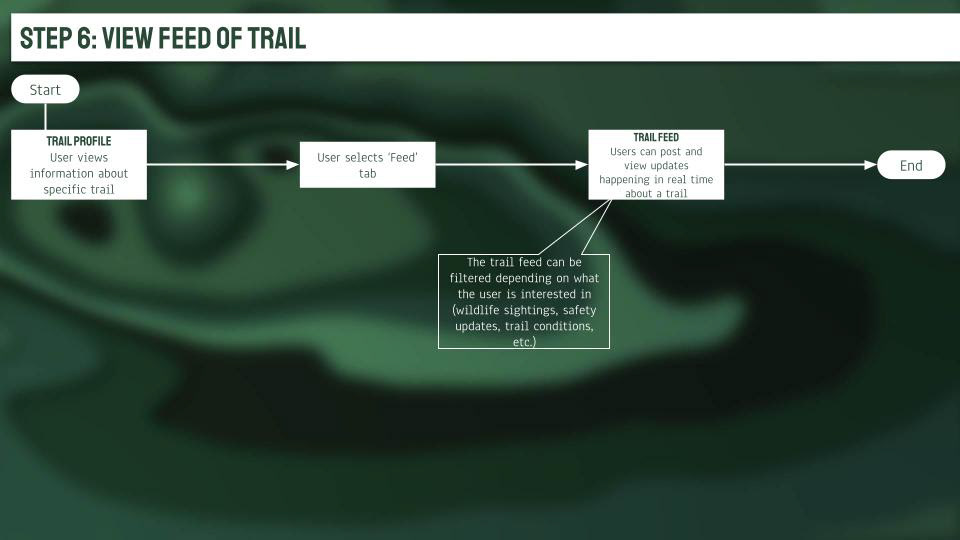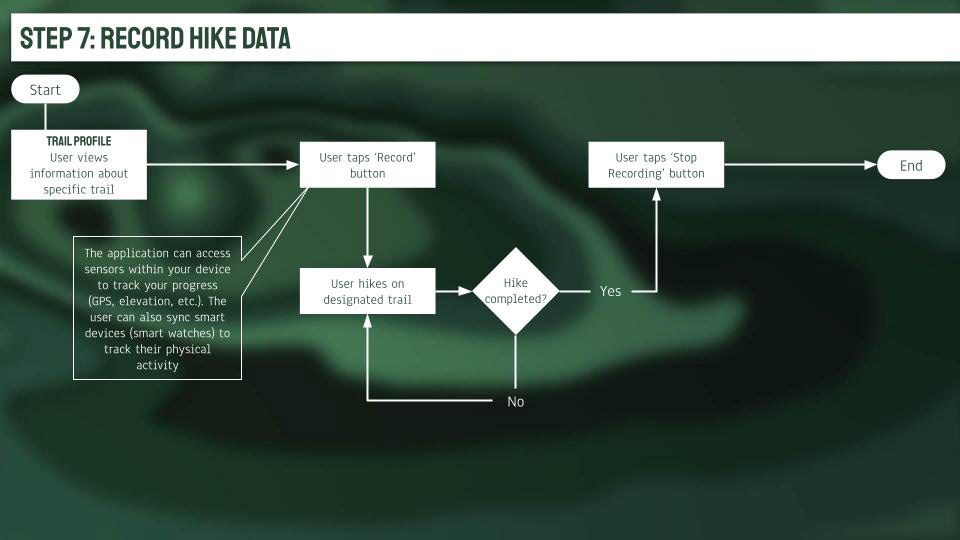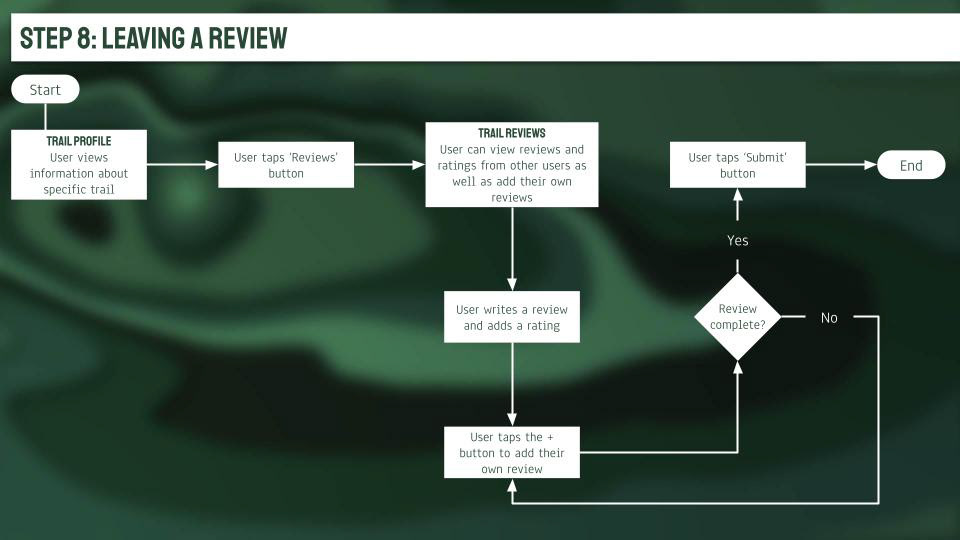 WIREFRAMES
Wireframes are simple in design, usually in black, white, and shades of gray or monochromatic. The design for this wireframe is monochromatic. A total of 36 screens were designed. Simple interactivity was added to better describe the relationship between the screens.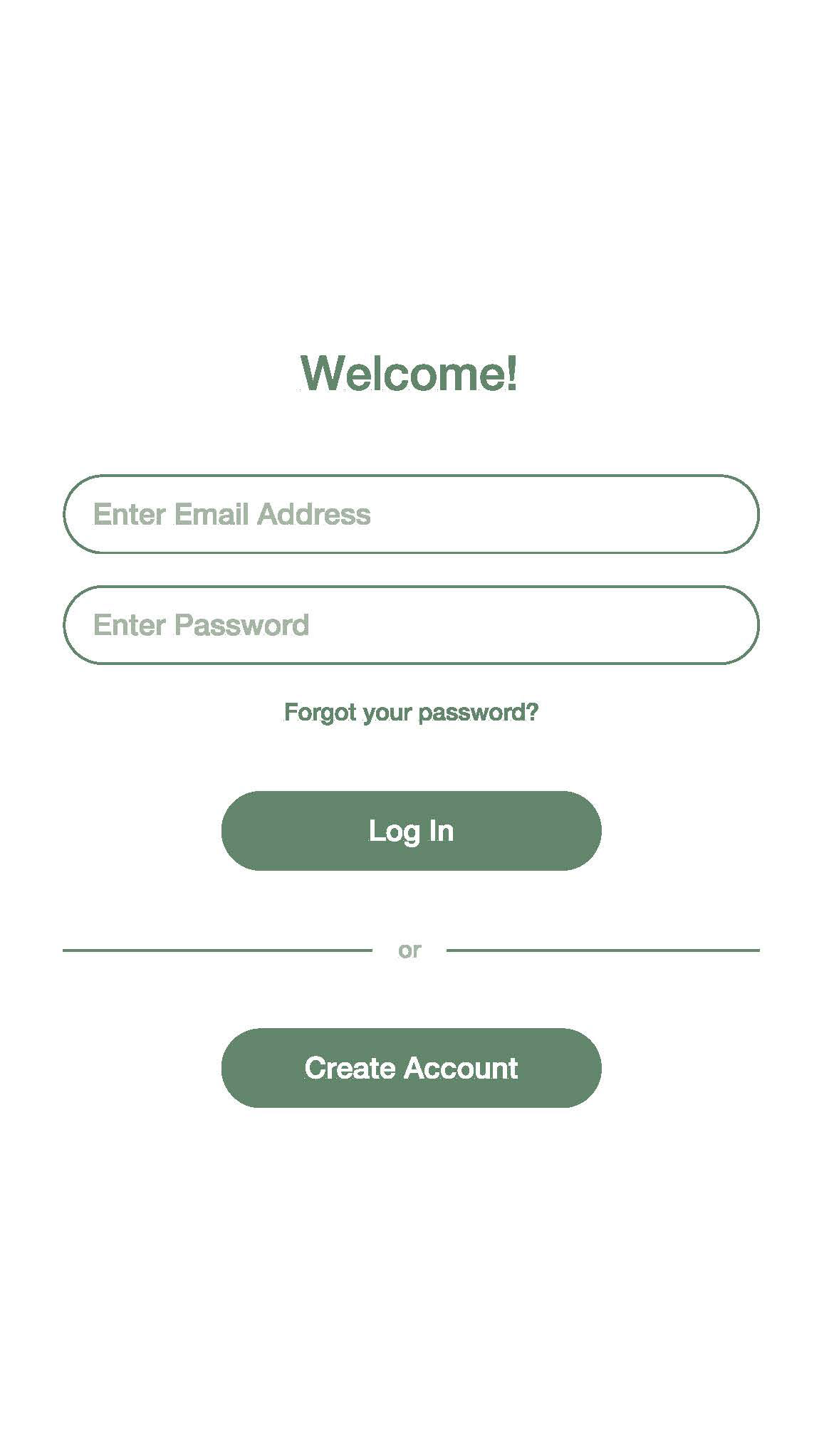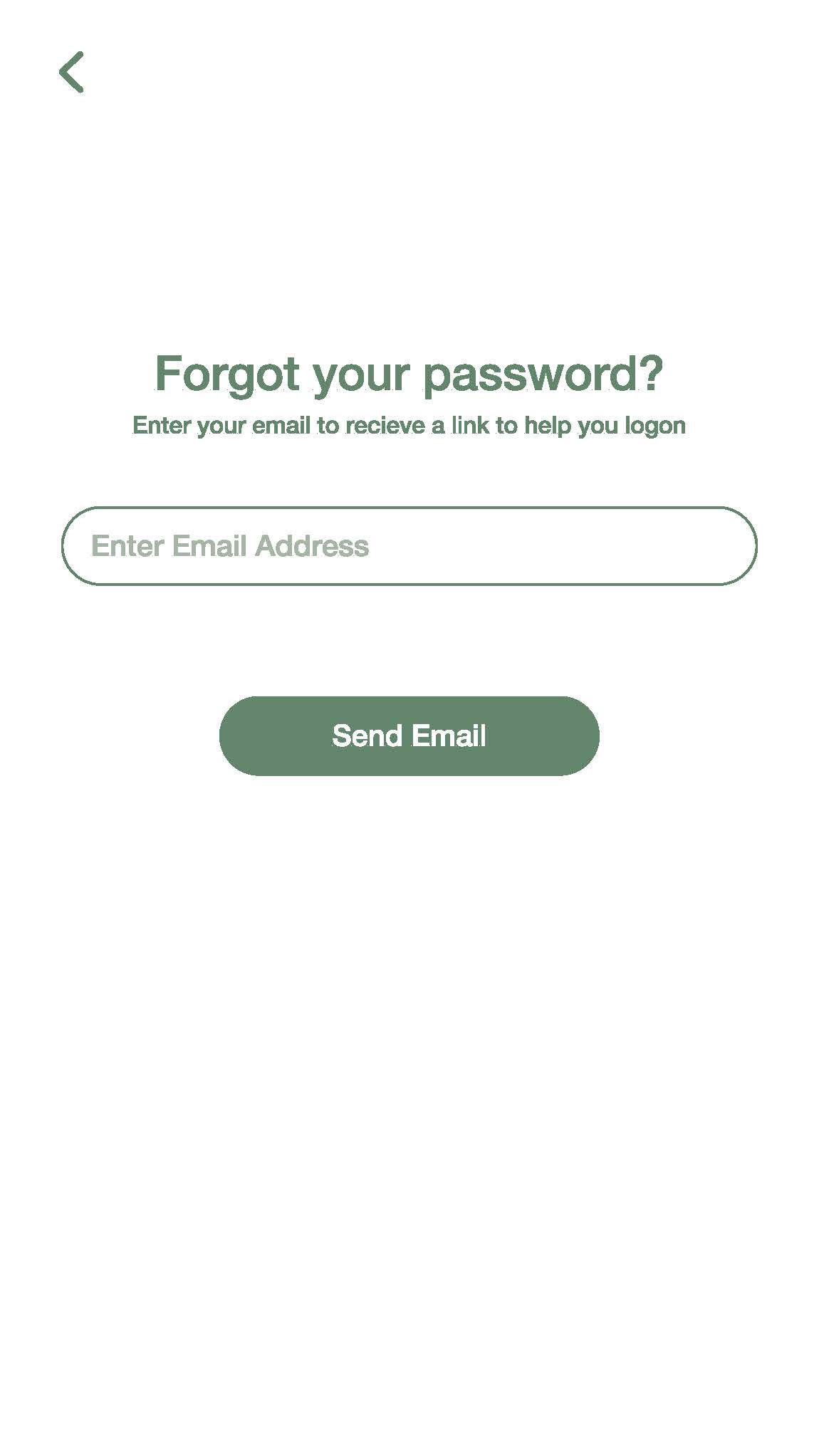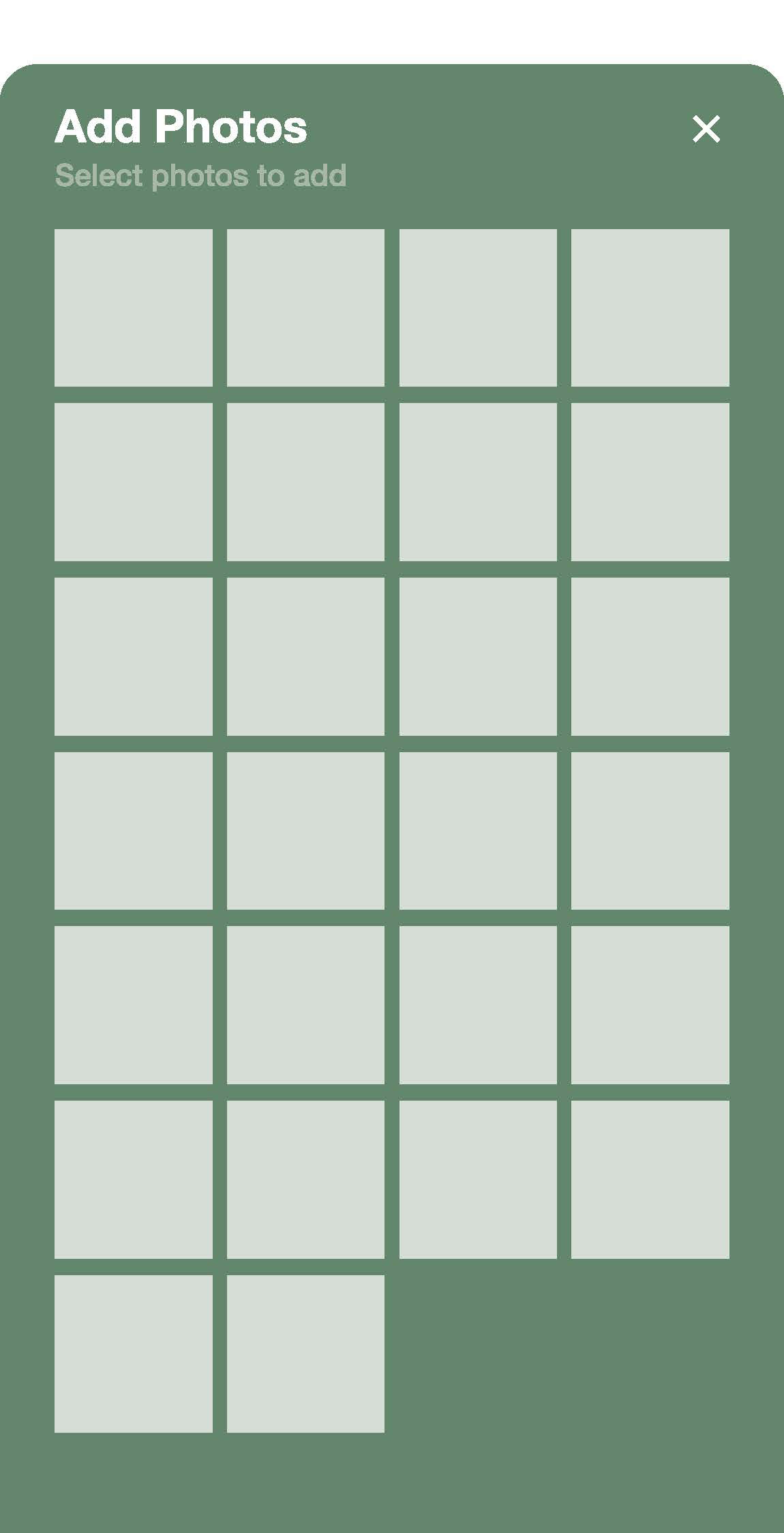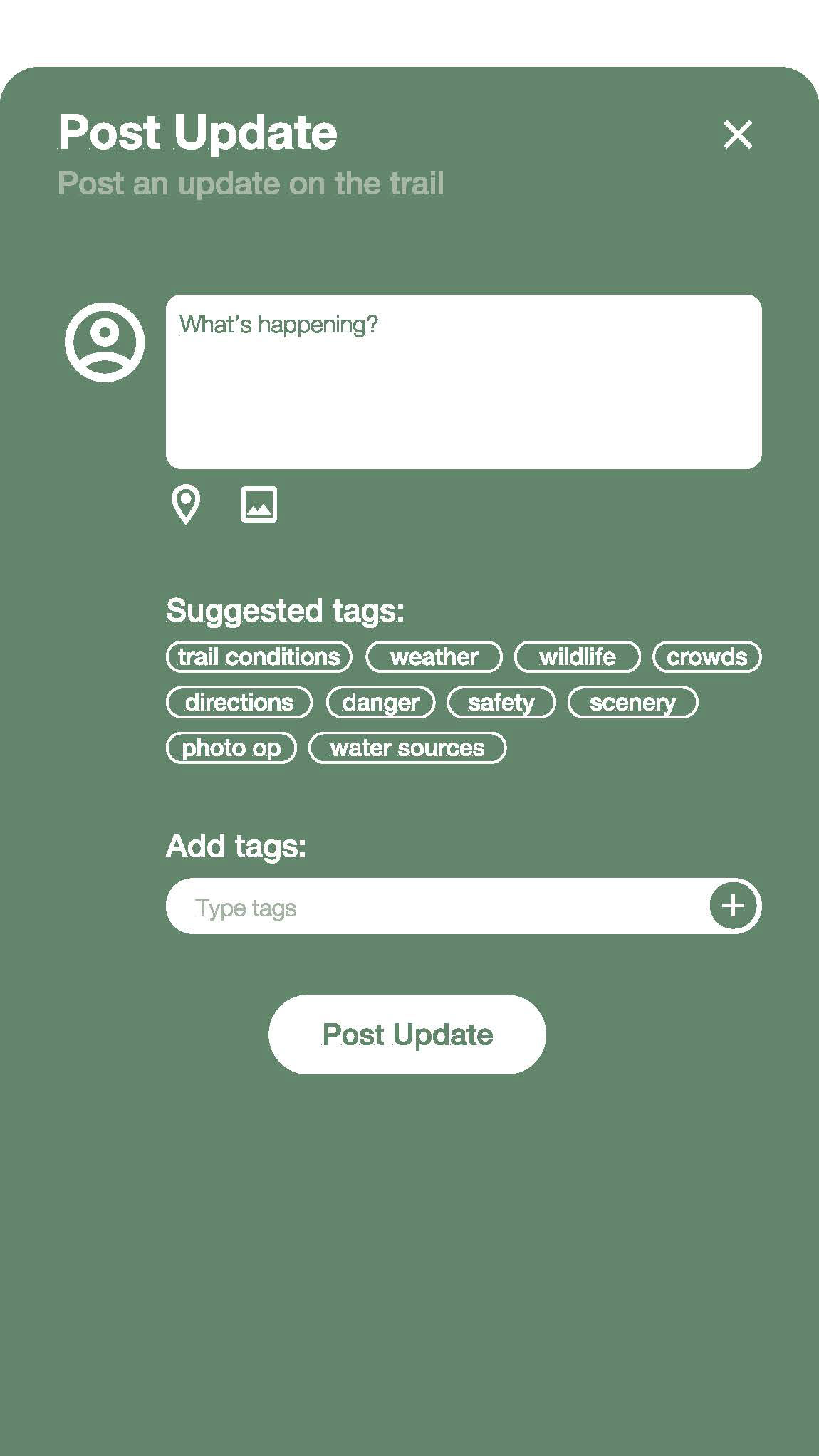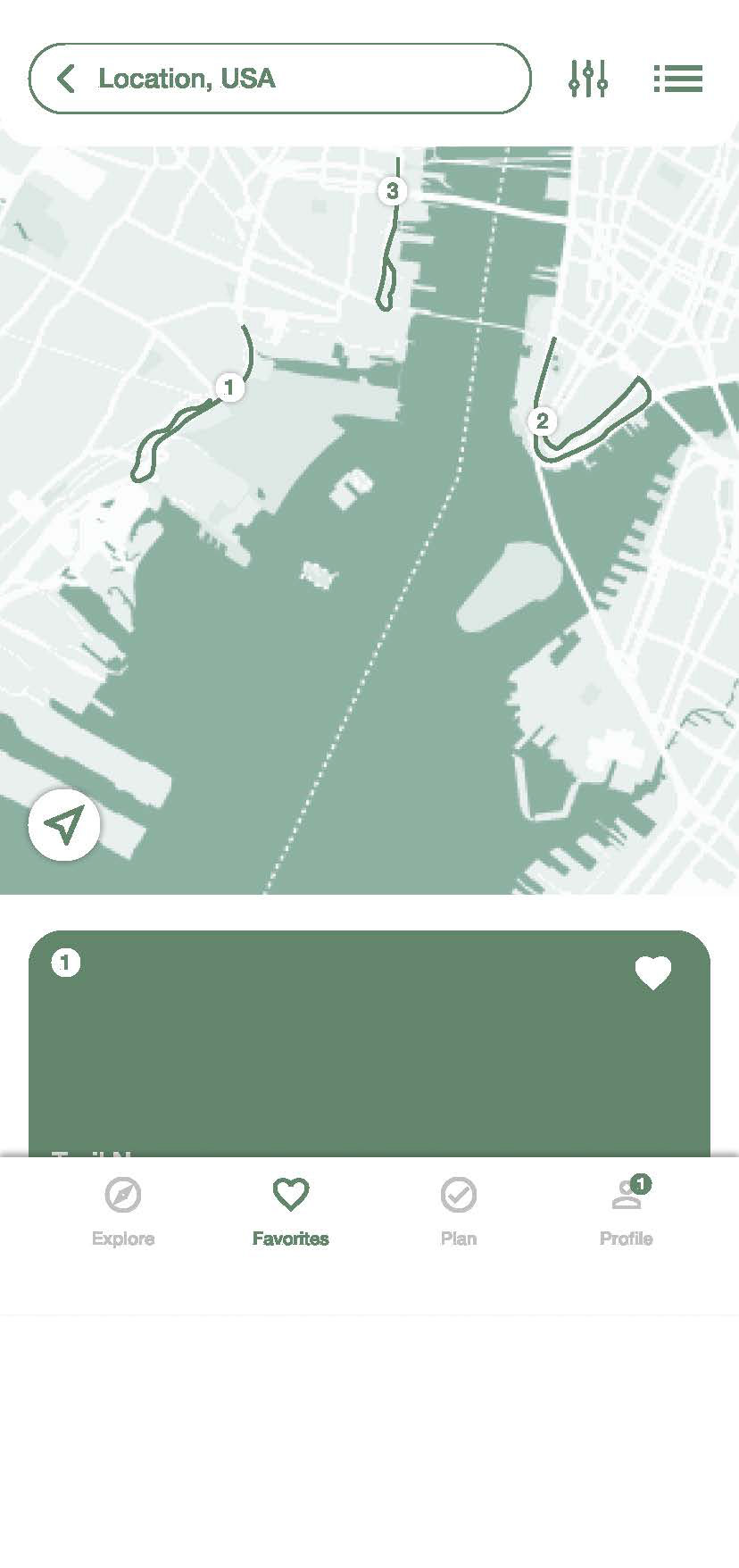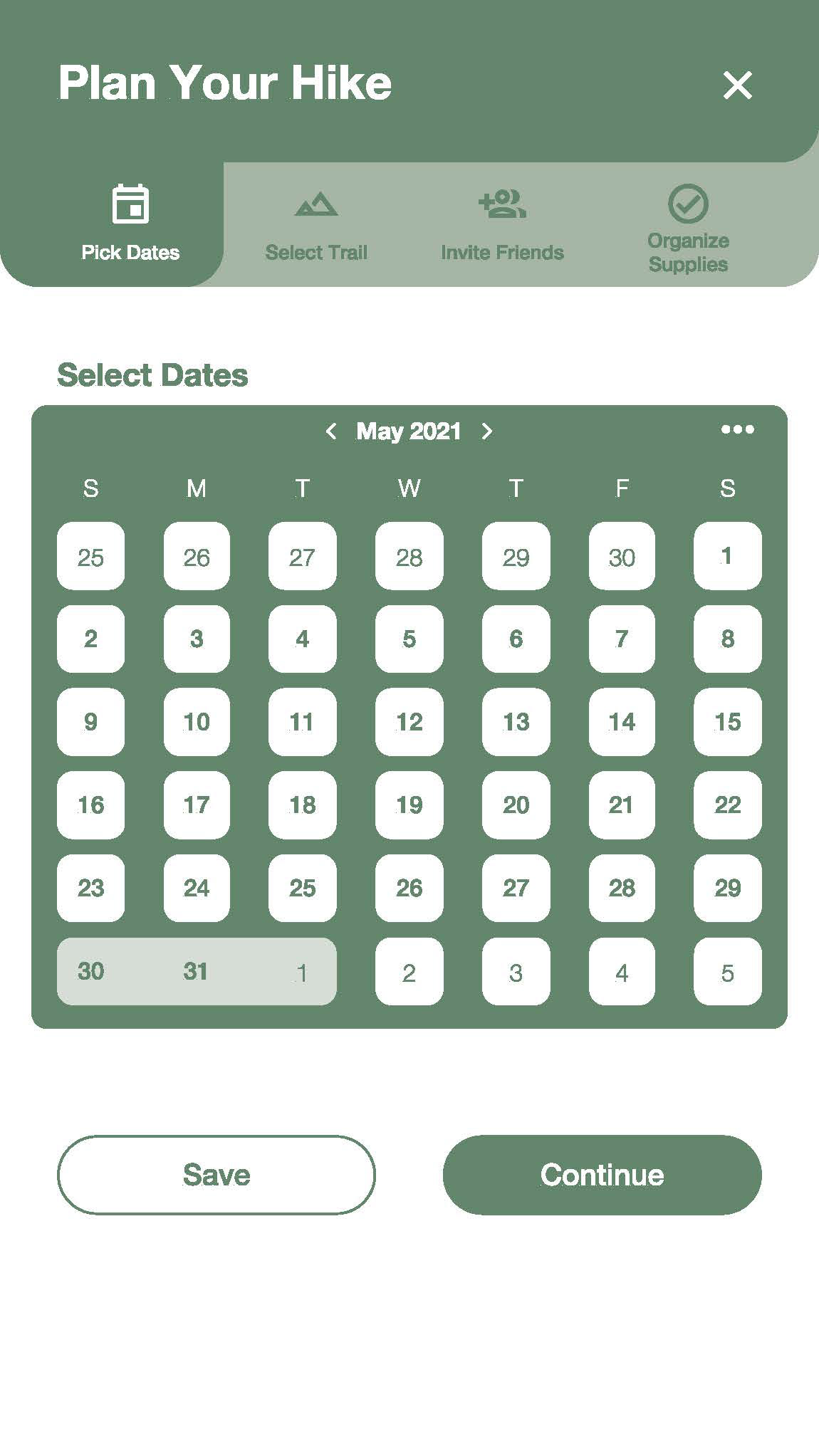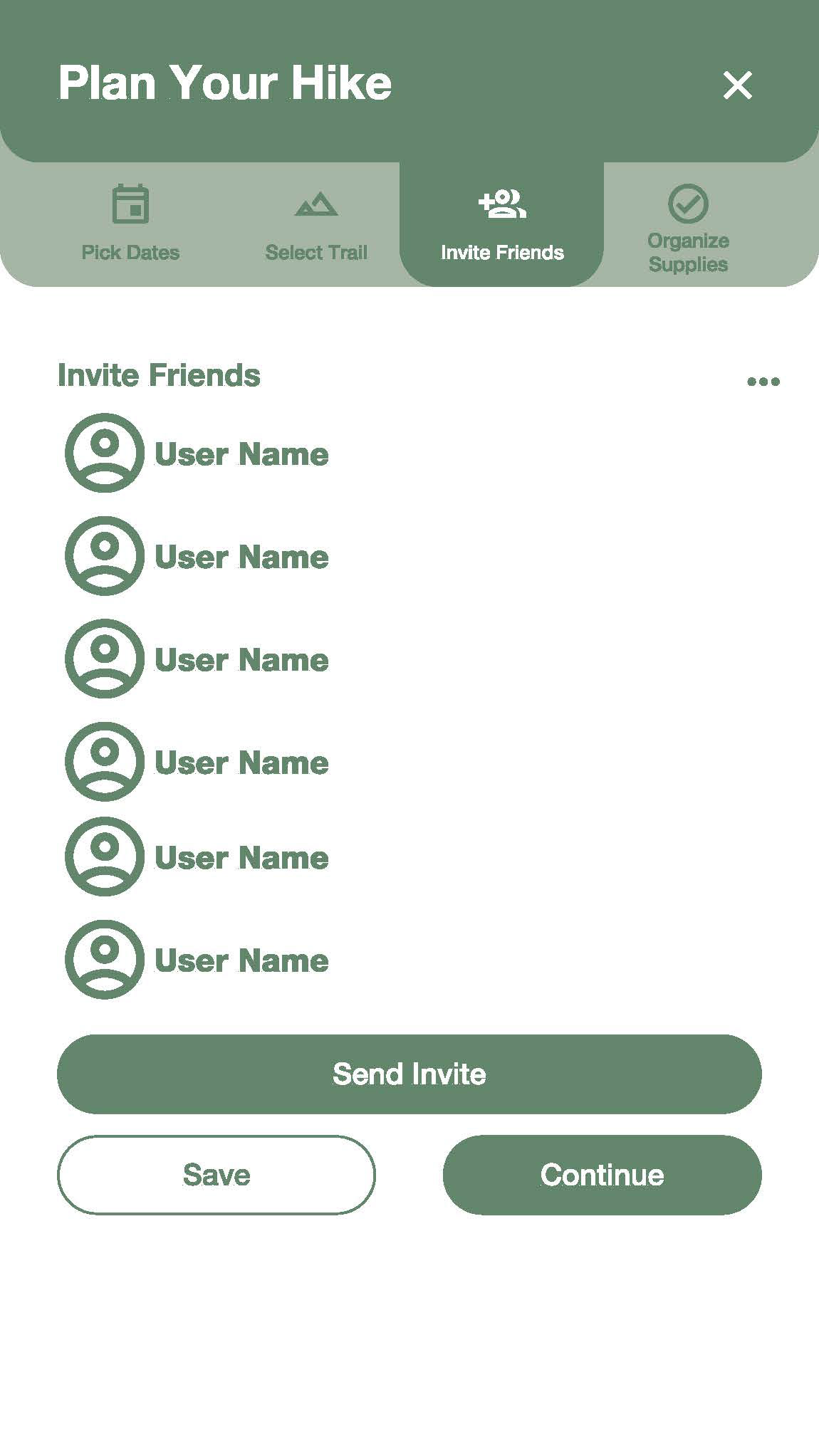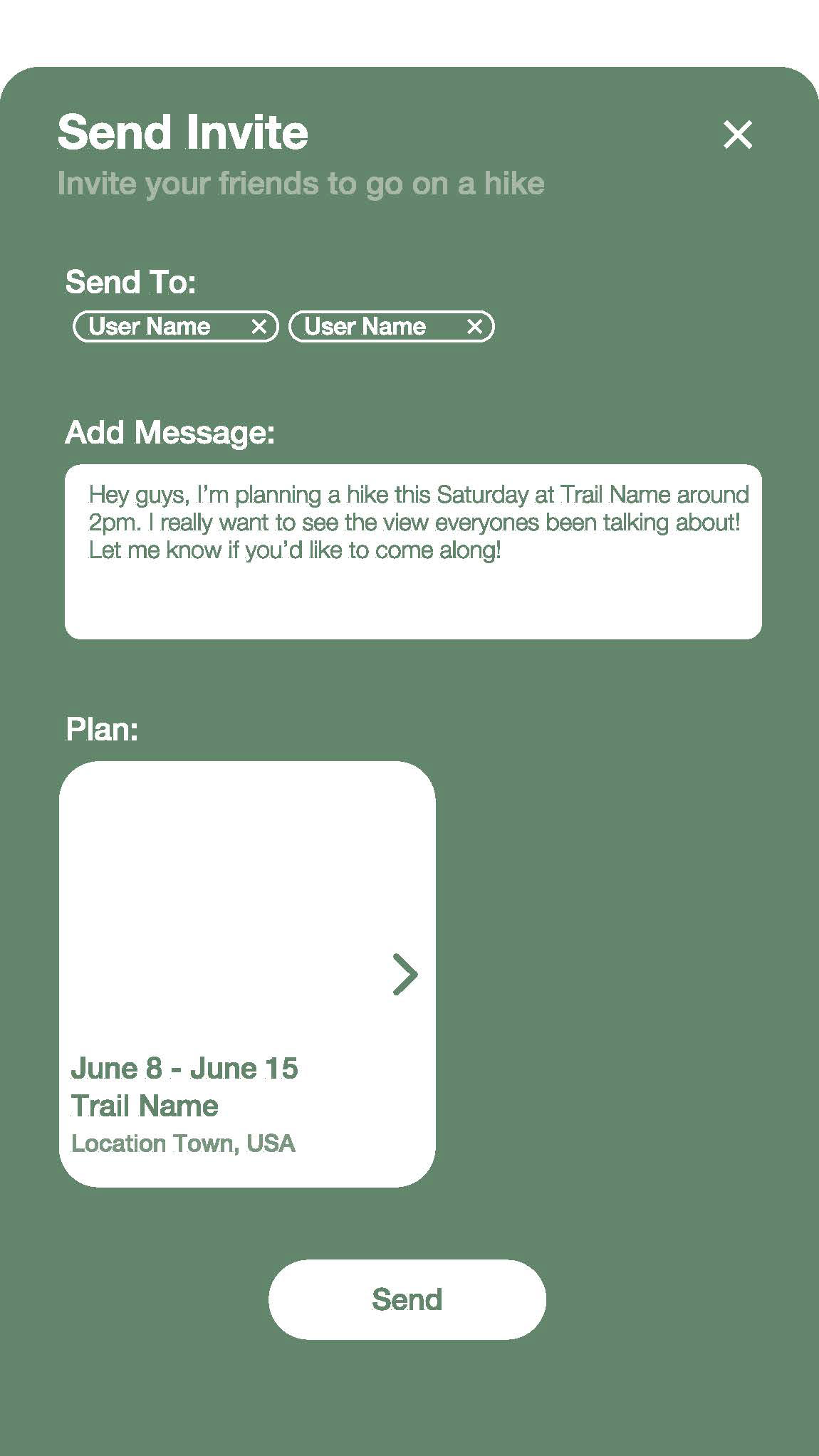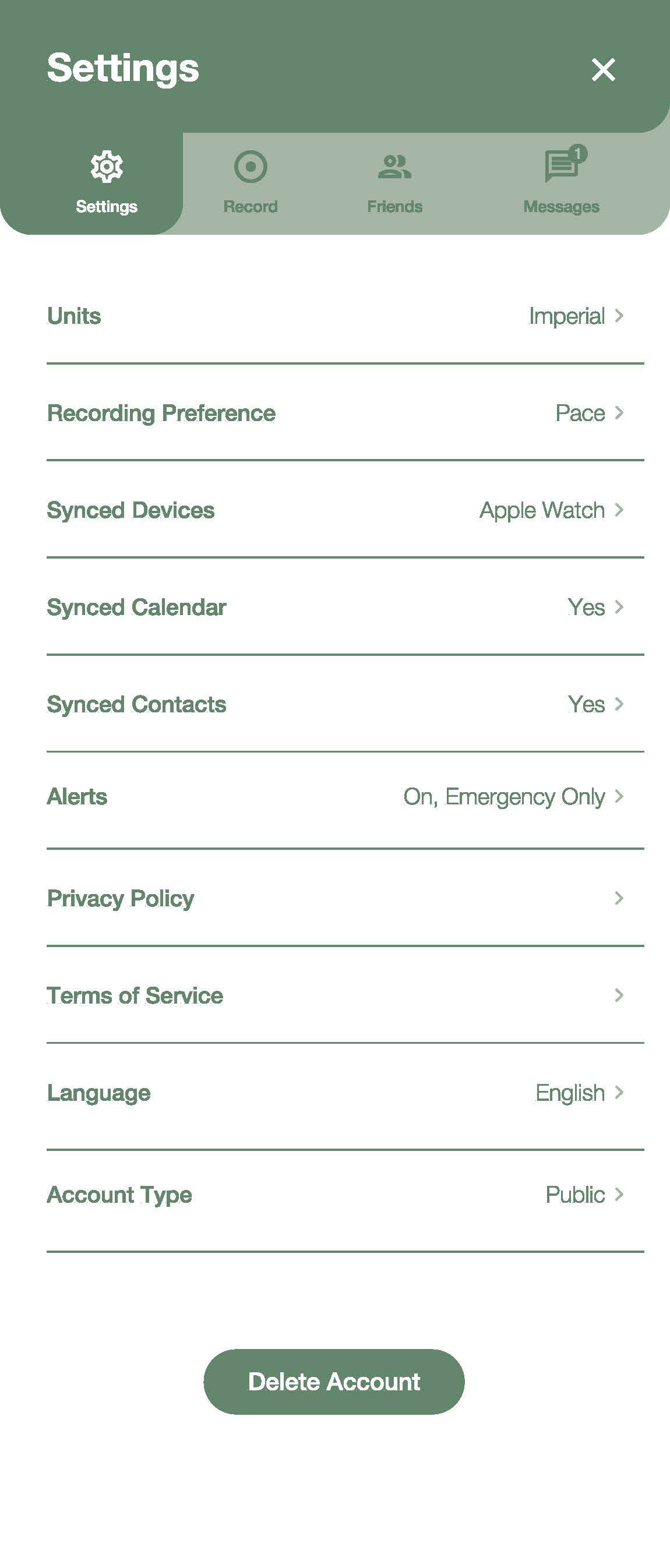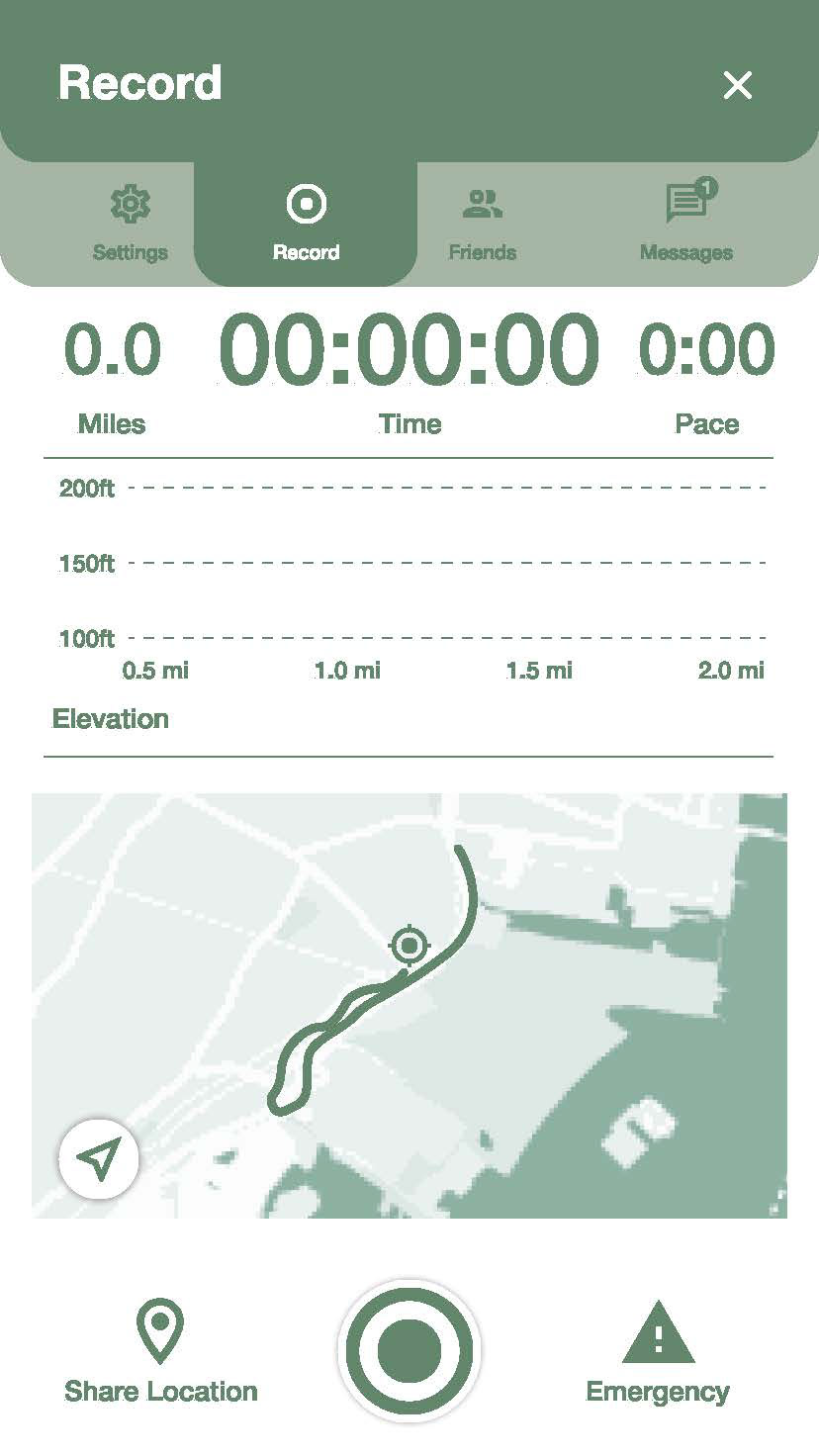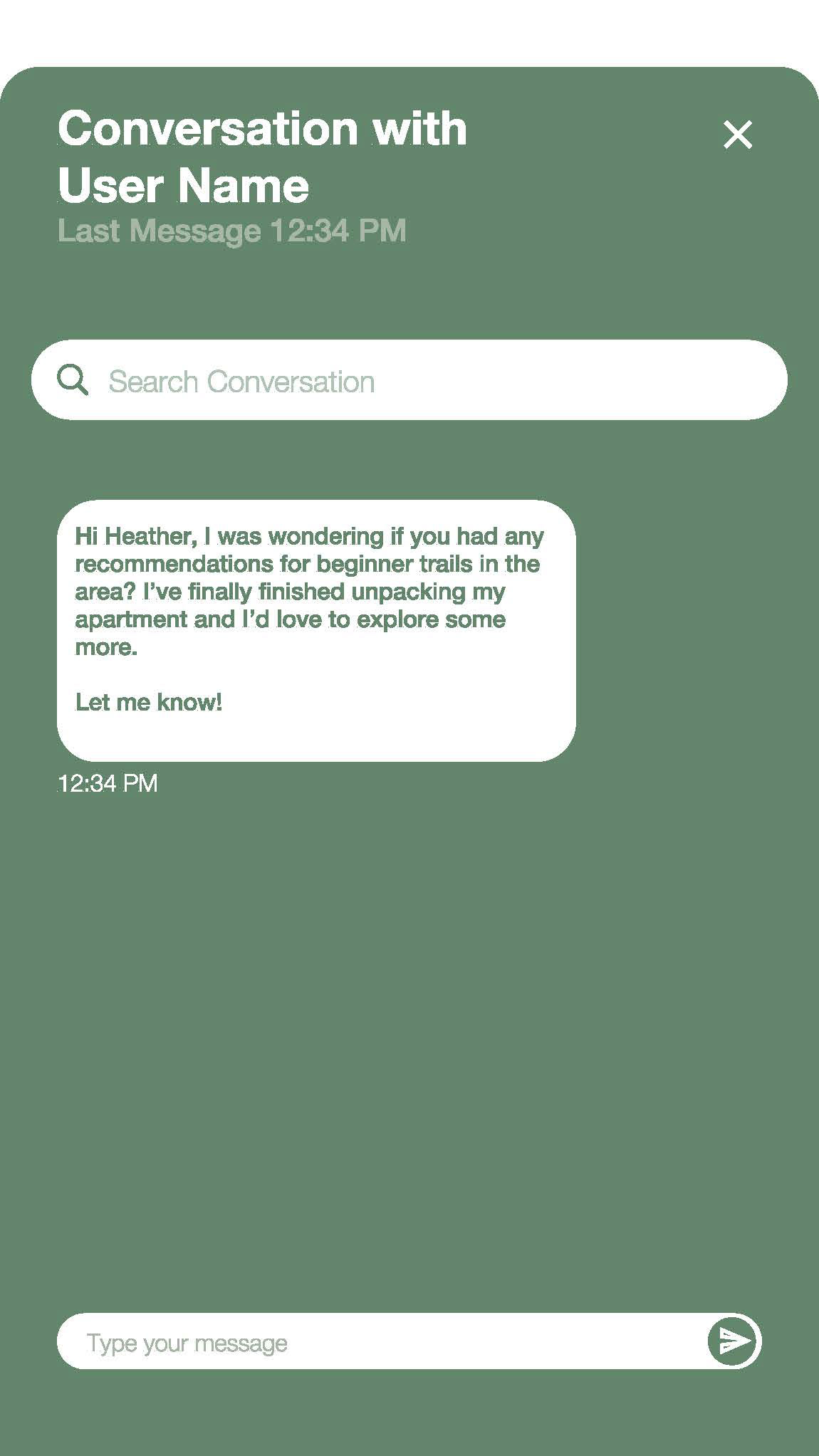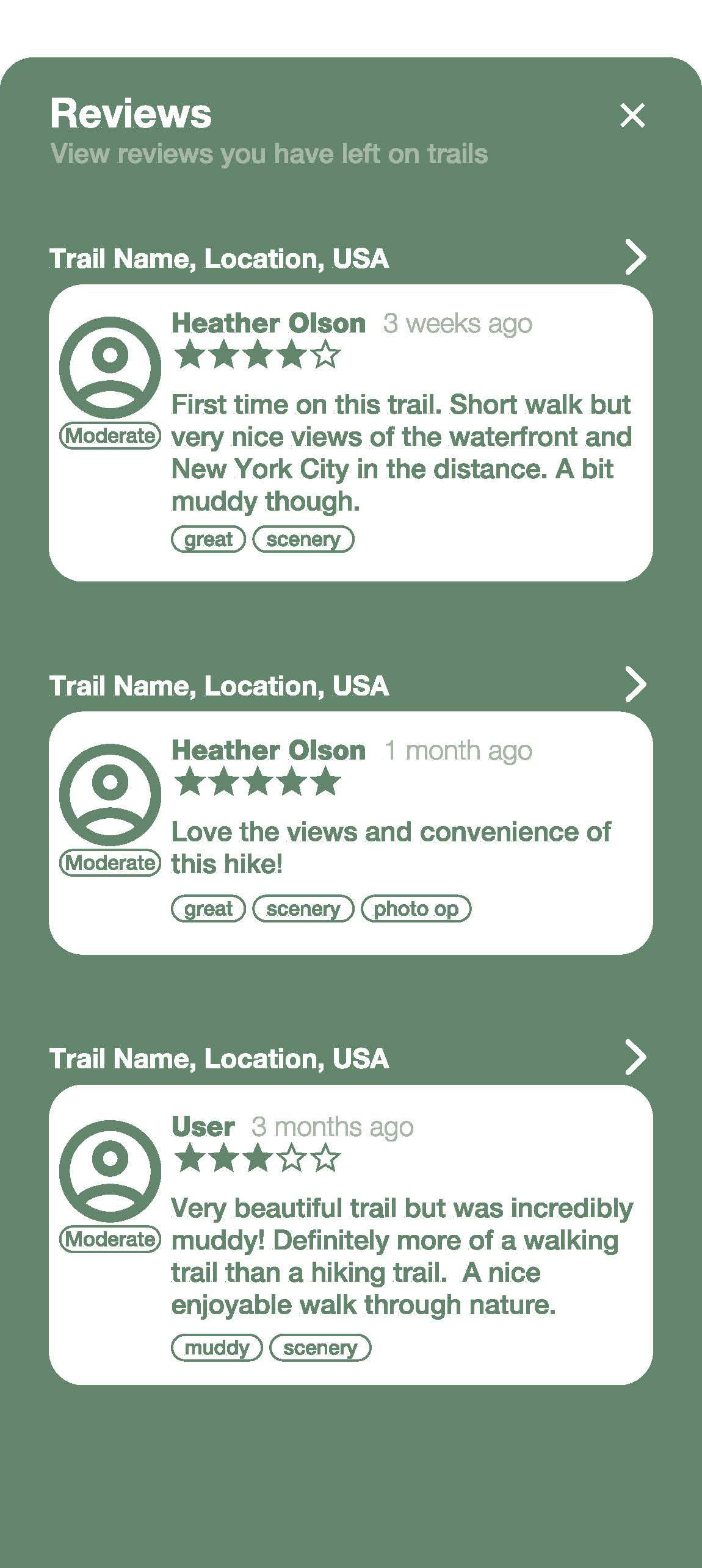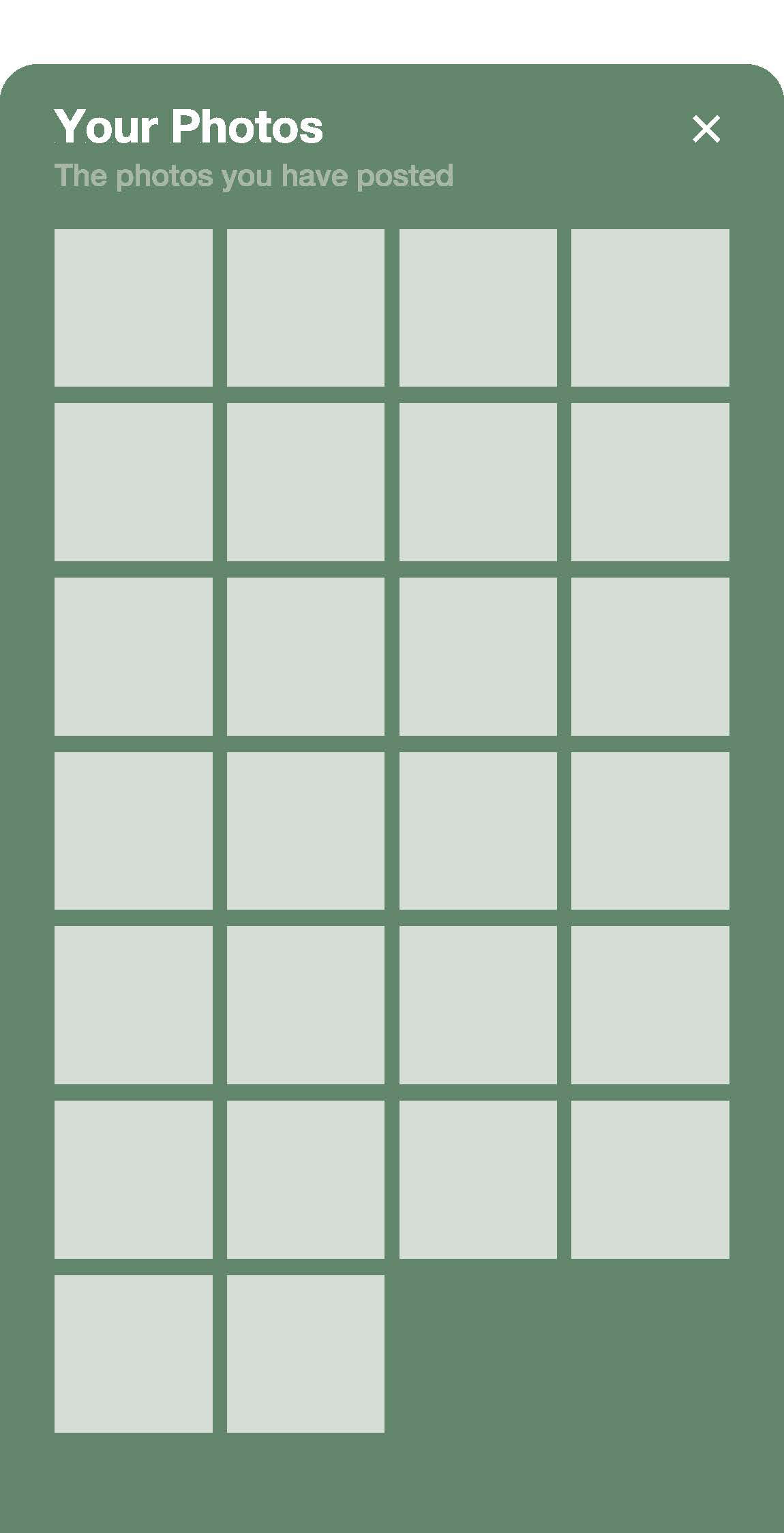 Building upon the wireframes previously designed, finalized designs were incorporated that offer the fullest and most accurate perspective of the application.  
The application identity, UI elements, and various screens of core features have been finalized and are fully realized. All design choices have been with the goal of the application in mind.  
Interactive design mockups are developed that follow the user's interaction within the proposed app as they go through each activity scenario from the previously developed user flows.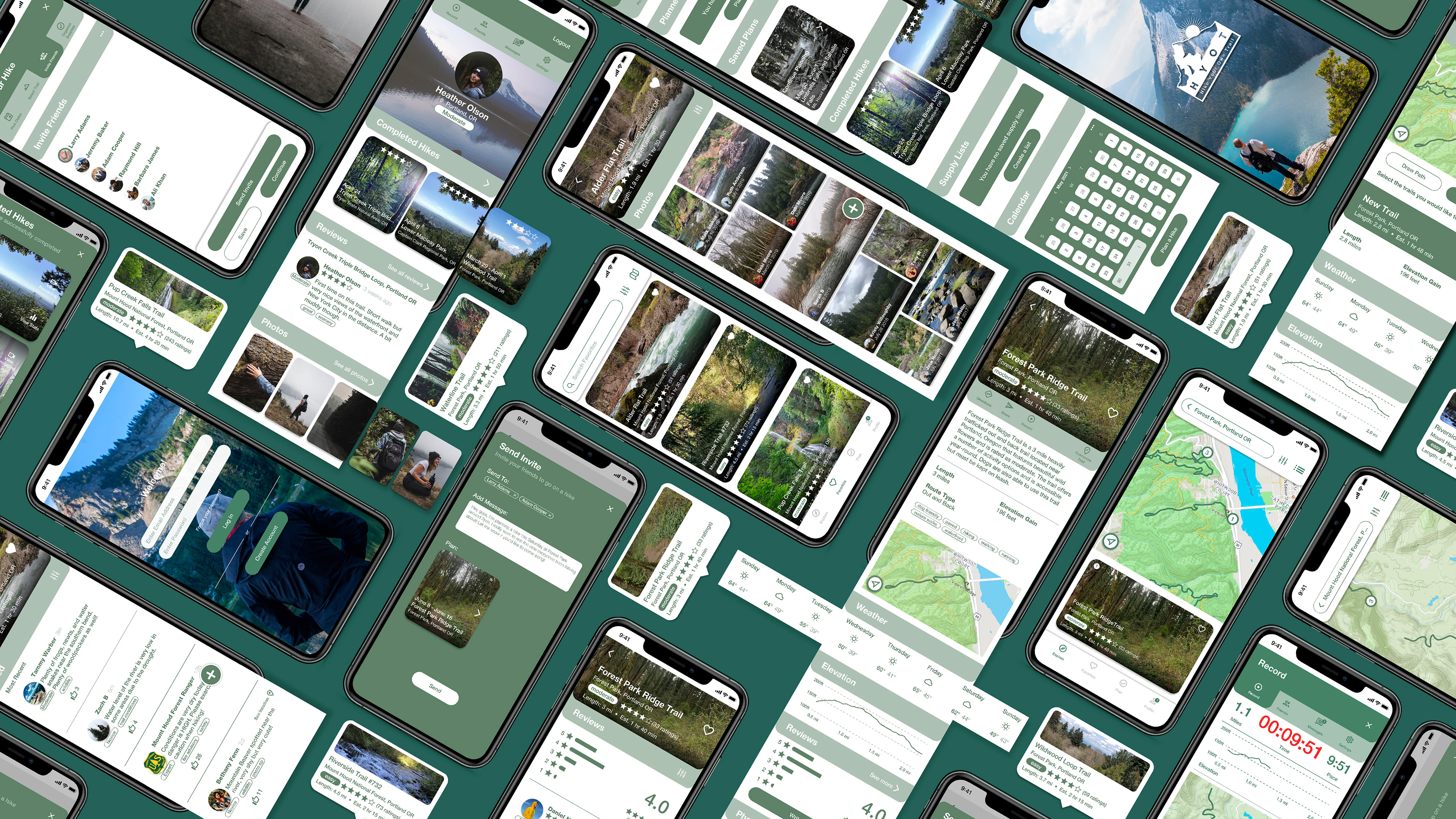 The concept of this product design allows the user to quickly and easily search for a trail and plan a hike.  A user is also able to stay safe and aware via the product while on the hike itself. 
 This product provides solutions for users like Heather or Ali who look for apps that help solve problems they face when working towards a goal. 
​​​​​​​